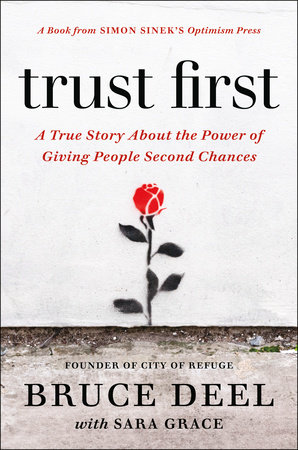 Trust First
A True Story About the Power of Giving People Second Chances
A True Story About the Power of Giving People Second Chances
A True Story About the Power of Giving People Second Chances
By Bruce Deel and Sara Grace

By
Bruce Deel

and

Sara Grace



By Bruce Deel and Sara Grace

By
Bruce Deel

and

Sara Grace



By Bruce Deel and Sara Grace
Read by
Bruce Deel

and

Simon Sinek



By
Bruce Deel

and

Sara Grace


Read by

Bruce Deel

and

Simon Sinek




Best Seller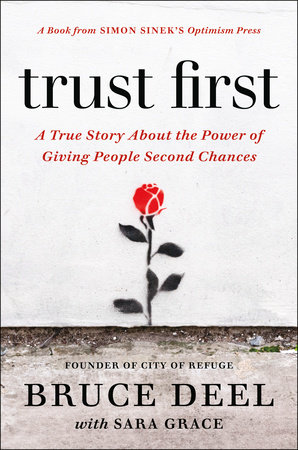 Hardcover
Jul 23, 2019 | ISBN 9780525538172
Hardcover

$26.00

Jul 23, 2019 | ISBN 9780525538172
Buy the Audiobook Download:
Praise
"Bruce's story shows us the incredible power trust plays in being a catalyst for change and serves as a reminder that everybody deserves to be treated with dignity and respect. Inspirational!"
 –Bob Chapman, CEO of Barry-Wehmiller and author of Everybody Matters
 
"Trust First inspired me beyond words. Through his nonprofit and his relentless love for the people he serves, Bruce models what a life lived for others looks like. With passionate storytelling and a posture of humility, Bruce reminds us that 'there's no expiration date on our commitment to people.' Stirring, personal, and challenging, this book will win your heart and inspire action."
–Dan T. Cathy, chairman & CEO, Chick-fil-A, Inc.
 
"Through an intimate and powerful account of a twenty-year journey, Bruce Deel affirms that radical trust is a critical investment needed to humanize the fight against poverty and injustice—trusting people to do their best, and then stepping away to allow transformation to unfold. He illustrates how we have to re-think binary notions of success and failure, thereby ensuring that individual dignity and freedom remain intact."
–Michelle Nunn, CEO of humanitarian aid organization CARE USA

"Trust First is an amazing story of the power of the true servant leadership. Practicing radical trust can transform not just those in our care, but, over time, ourselves. A beautifully written, insightful, and unforgettable book."
–Doug Parker, chairman & CEO of American Airlines 

"This book will debunk all your excuses for why you don't trust those around you. Secretly, we're not sure about others—their fundamental goodness, their motivations, and their ability to keep their word—and compounded cynicism holds us back from being great and doing great things. Bruce Deel will convince you that you can trust—even in the toughest environments."
–L. David Marquet, author of Turn the Ship Around!
 
Back to Top