Alias Grace (Movie Tie-In Edition) Reader's Guide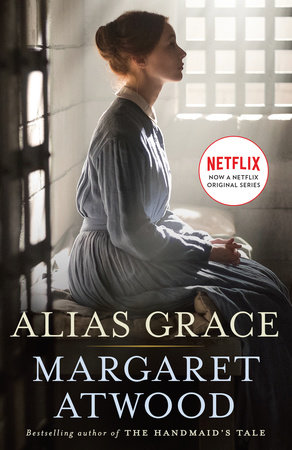 Alias Grace (Movie Tie-In Edition) Reader's Guide
READERS GUIDE
Introduction
It's 1843, and Grace Marks has been convicted for her involvement in the vicious murders of her employer and his housekeeper and mistress. Some believe Grace is innocent; others think her evil or insane. Now serving a life sentence, Grace claims to have no memory of the murders. An up-and-coming expert in the burgeoning field of mental illness is engaged by a group of reformers and spiritualists who seek a pardon for Grace. He listens to her story while bringing her closer and closer to the day she cannot remember. What will he find in attempting to unlock her memories? Captivating and disturbing,
Alias Grace
showcases bestselling, Booker Prize-winning author Margaret Atwood at the peak of her powers.
Questions and Topics for Discussion
1. This novel is rooted in physical reality, on one hand, and floats free of it on the other, as Atwood describes physical things in either organic, raw terms (the "tongue-colored settee") or with otherworldly, more ephemeral images (the laundry like "angels rejoicing, although without any heads"). How do such descriptions deepen and reinforce the themes in the novel?
2. The daily and seasonal rhythm of household work is described in detail. What role does this play in the novel in regard to its pace?
3. Atwood employs two main points of view and voices in the novel. Do you trust one more than the other? As the story progresses, does Grace's voice (in dialogue) in Simon's part of the story change? If so, how and why?
4. Grace's and Simon's stories are linked and they have a kinship on surface and deeper levels. For instance, they both eavesdrop or spy as children, and later, each stays in a house that would have been better left sooner or not entered at all. Discuss other similarities or differences in the twinning of their stories and their psyches.
5. Atwood offers a vision of the dual nature of people, houses, appearances, and more. How does she make use of darkness and light, and to what purpose?
6. In a letter to his friend Dr. Edward Murchie, Simon Jordan writes, "Not to know—to snatch at hints and portents, at intimations, at tantalizing whispers—it is as bad as being haunted." How are the characters in this story affected by the things they don't know?
7. How and why does Atwood conceal Grace's innocence or guilt throughout the novel? At what points does one become clearer than the other and at what points does it become unclear?
About this Author
Margaret Atwood, whose work has been published in thirty-five countries, is the author of more than forty books of fiction, poetry, and critical essays. In addition to
The Handmaid's Tale
, her novels include
Cat's Eye
, short-listed for the 1989 Booker Prize;
Alias Grace
, which won the Giller Prize in Canada and the Premio Mondello in Italy;
The Blind Assassin
, winner of the 2000 Booker Prize;
Oryx and Crake
, short-listed for the 2003 Man Booker Prize;
The Year of the Flood
;
MaddAddam;
and her most recent,
The Heart Goes Last.
She is the recipient of the Los Angeles Times Innovator's Award, and lives in Toronto with the writer Graeme Gibson.
www.margaretatwood.ca
Back to Top