Seven Lies Reader's Guide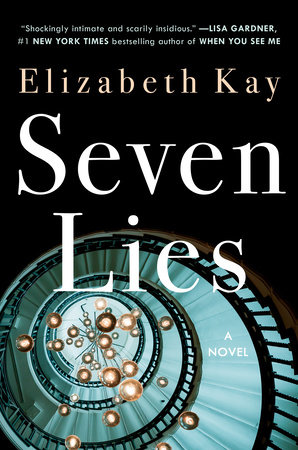 Seven Lies Reader's Guide
READERS GUIDE
Questions and Topics for Discussion
1. One of the main themes of Seven Lies is the dark complexity of female friendship. In your experience, is very close friendship possible without some degree of difficulty?

2. Jane's first lie is arguably the catalyst for the events of the novel. Would you have lied in that situation? Should friends always be honest with each other no matter how difficult the truth might be to hear?

3. At the start of chapter 2, Jane states that this is her attempt to tell the truth. To what extent do you feel that she is honest with the reader?
4. In chapter 6, Jane asserts that it's important that the reader understands her relationship with her mother. What bearing do you think this relationship has on the rest of the novel?

5. Did you find Jane a sympathetic narrator? How, if at all, did your opinion of her change as the story progressed?
6. Jane says that she never looked for other friends because she had everything she needed in Marnie. Do you think it's more important to have one really intimate friendship or a wider group of people you can rely on?
7. Jane idolizes Marnie. Do you share that view? Do you like the character of Marnie?
8. How do the themes of power and control manifest themselves throughout the novel?
9. In your opinion, which of the seven lies was the most understandable, and which the least?
About this Author
A Conversation with Elizabeth Kay
What inspired you to write Seven Lies?

Before
Seven Lies
, I had been working for nearly three years on a novel that, despite my best efforts, just wasn't coming together. I couldn't create a sense of momentum in the story, and it always felt both too confusing and too simplistic. I was inspired to start anew—which felt like giving up rather than beginning afresh—by a song in a musical. "Take It from An Old Man" from
Waitress
, which I was lucky enough to see on Broadway while visiting New York. It was one of those strange, pivotal moments that has really stayed with me.
I didn't know at first what this new project should be, but there were a few things that felt interesting to me. I wanted to explore female friendship and, more specifically, a friendship that was grounded in genuine affection. I felt that a number of recent stories had tackled friendships that were built on something negative—jealousy, for example—and I was keen to move away from that. I also wanted to look at how someone might be changed by loss, and the shock of discovering that your life isn't at all what you thought it might be. And I hoped that the book might feel a little sinister. Most of my favorite books have a dark undercurrent running throughout, and I was keen to give that a go.
And then, as soon as I sat down in front of a blank page, determined to fill it, the protagonist in
Seven Lies
came to me. Jane is stubborn and independent, but she's very lonely and quite vulnerable, too. I wanted to tell her story, and I had to work out what it was. The other characters—her mother, her sister, her husband, her best friend—began to appear around her and the story started to take shape.
Could you explain in your own words the key themes addressed in your thriller?

Most simply—and perhaps as you might expect!—it is a book about lies. It's about the lies we tell ourselves, those we tell our friends and our families, and about how little lies can evolve into something much bigger. I think, for me, it is also a book about truth. In an era of fake news, misinformation, and discussions around the authenticity of social media, I found myself wondering what the truth actually looks like. Can we accurately report on our own lives? Is there ever only one version of the truth?
I hope that it's also a book about the intensity and emotional intimacy of female friendships. I was particularly keen to explore how childhood friendships can evolve into adulthood, and what happens when they become tangled and complicated. It's also about grief and loss, themes which run through the entire story, and about the things we might find ourselves doing in our darkest moments.
Jane lies to her friend Marnie, which leads to more and more lies. In your opinion, should the truth always be told in friendships, even if it hurts?

Oh, this is a difficult one! No, I suppose I don't think you always need to be honest. I think many of us will be familiar with the first lie in this novel: pretending to like a friend's new partner who, in fact, you don't like at all. I think that's a very reasonable lie to tell! In fact, I've been talking about this novel more and more over the last few months, and it seems many of us have told this exact lie and felt no guilt about it whatsoever!
But Jane crosses a line in this book, and I'm never sure which of her seven lies is the tipping point from "reasonable" to "definitely unreasonable." Some early readers have said that they would have told the first couple of lies but would have stopped around the third or fourth. I haven't yet spoken to anyone who would tell the seventh lie!
Jane and Marnie are best friends from childhood. Do you have a close girlfriend and if so, what do you think is so special about women's friendships?

I do! I've known my best friend my entire life. I can't remember a time before I knew her. And I'm now very lucky to have a close circle of female friends. I think there's something incredibly special about strong female friendships. They are so different to familial or romantic relationships. They can be very intense and emotionally intimate, and so they can also become very complicated. You have to make yourself vulnerable to be that close to someone. And so there's the space there for real heartbreak if the relationship turns sour or ends unexpectedly.
And yet, despite all of this, we're often told that finding a romantic partner is the most important thing. I'm just not sure that's the case! At their very best, female friendships can be deep, meaningful, honest relationships. They can be life-changing and even, in some cases, life-defining.
Where did your inspiration for the darker elements in the novel come from?

Jane has experienced a great deal of loss in her life, and so she clings very tightly to the people she loves. This invariably strays into obsession sometimes, and her behavior is certainly questionable at various points in the novel. I think that, for Jane, this obsessive behavior stems from her extreme loneliness. She isn't malicious or deliberately menacing, but instead is very anxious and, at times, irrational.
I suppose this reflects one of my own greatest fears. I hate the thought of losing the people who matter most to me. I've experienced the shock of an unexpected death on a few occasions, and I wanted to explore what those extremes of emotion could do to a person.
Do you have specific rituals for writing? And where is the best place to write?

I have no fixed rituals! I tend to write in the mornings and often in my pajamas. I wrote most of
Seven Lies
on my sofa in silence with the door closed.
But I've had to learn to be flexible. Last year, a car drove into the front wall of my house, literally shoving the sofa across the room! Thankfully, no one was hurt, but I had to move out for ten weeks while everything was rebuilt. I was writing from hotel rooms, and my parents' house, and from the car, and so I learned to get by with just a laptop.
Are you already working on a new book, and if so, what can readers look forward to?

I am! I am currently working on the first draft of a new book. I hope it will become another novel that focuses on female relationships. I'd like to explore female anger in particular, because this is something that's fascinating me at the moment. But I'm still very much in the early stages, so I'm not quite sure where it will go at the moment! I always love dark, compulsive mysteries, so I'll be aiming for something that ticks these boxes.
Although this is your debut novel, you've been in the publishing world for most of your career. What made you get into publishing and how does being in the industry inform your writing?

I have always loved books. I have been reading for as long as I can remember, always with at least a couple of different titles on the go. But I had never considered a career in publishing. I came out of university and went straight into a job in the travel industry that I absolutely hated. I was really miserable for a few months. It was my now-husband who suggested that I might enjoy working with books. And he was right! I work as a commissioning editor now and I genuinely love my job.
I think that in
Seven Lies
I've written the book that I've been wanting to publish for the last few years. I'd been looking to find a dark, sinister novel that focused on female friendship. But there was nothing like that crossing my desk or coming in to the other editors on the team. And so, when I set about writing something new, I thought this seemed an interesting place to begin!
Back to Top