The Dead are Gods Reader's Guide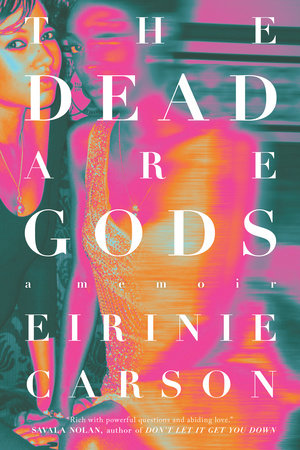 The Dead are Gods Reader's Guide
READERS GUIDE
THE DEAD ARE GODSEirinie Carson
Hardcover 978-1-68589-045-2
eBook 978-1-68589-046-9
"A gorgeous, grief-stricken remembrance … a wise reminder that we all must 'weather the storm' of loss."
—People Magazine
"It will no doubt be a light in the dark for the many of us who must also figure out how to navigate grief and proximity to death. A
stunning, stunning debut."
—Beth McColl, author of How to Come
Alive Again: A Guide to Killing Your Monsters
INTRODUCTION

From an exciting new literary voice: a memoir that explores grief, Blackness, and recovery after the death of a dear friend.
After an unexpected phone call on an early morning in 2018, writer and model Eirinie Carson learned of her best friend Larissa's death. In the wake of her shock, Eirinie attempts to make sense of the events leading up to Larissa's death and uncovers startling secrets about her life in the process.
The Dead Are Gods
is Eirinie's striking, intimate, and profoundly moving depiction of life after a sudden loss. Amid navigating moments of intense grief, Eirinie is overwhelmed by her love for Larissa. She finds power in pulling moments of joy from the depths of her emotion. Eirinie's portrayal of what love feels like after death bursts from the page alongside a timely, honest, and personal exploration of Black love and Black life.
CONVERSATION STARTERS


1. How do the emails facilitate a conversation with Larissa? Do they make her feel more real?
2. Eirinie mentions that she feels she didn't know Larissa as well as she thought towards the end of her life, saying "Did I know you at the end? Maybe this long and storied history of you and I is not enough? I should have known more" (21). Are there friendships in your life that have grown apart with time? Based on what you have read, do you think Eirinie and Larissa were the type of friends who didn't need to communicate daily to maintain a close friendship?
3. Throughout the book Eirinie addresses the story to "you," clearly meaning Larissa. How does this add to the memoir? Do you think you would feel differently about it if all the "yous" were changed to "Larissas"?
4. Eirinie talks about Larissa introducing her to a different style of music that was more in line with her Black identity: "I often wonder why as a teen I never really delved deep into my Black identity … I never thought I'd find a way into that part, never really considered it but Larissa was a conduit, and I felt welcomed into a part of life I had thought would forever be distant to me" (50). Are there parts of pop culture that help you resonate with your identity?
5. Throughout the book, Eirinie shares more details, both good and bad, about Larissa and what their friendship was like. How do these stories about Larissa and Eirinie in the past affect our perception of their friendship?
6. In chapter 11, Eirinie lists all the things she didn't like about Larissa, writing, "I don't want to lie about the type of person you were, so many of the pure joys of knowing you lie side by side with some of your worst faults" (66). Is it hard to remember the unlikable things
about a person once they're gone? Do you think it's important to remember the faults, or would you prefer to only remember the good qualities?
7. We come to understand the meaning of the title "The Dead Are Gods" in chapter 28 when Eirinie explains how she has begun to worship Larissa in her death. Larissa is her phone background, she talks to her daily, and the memoir is a dedication to their friendship. How do you interpret the title? Do you believe the dead are gods? How do you feel about Eirinie's worship of Larissa, even years after her death? Do you believe in the way Eirinie keeps Larissa alive?
8. Eirinie touches upon her Blackness in a number of ways, mentioning that her absentee father, and lack of a bond with his side of the family, made it hard for her to connect to that identity until meeting Larissa. In her childhood, she was often reminded of her whiteness, whereas Larissa highlighted her Blackness: "It seemed too difficult to tread the line between my two disparate families, I wasn't sure where I was supposed to be, which side of the line I should be erring on. Larissa was a unifier" (51). Are there parts of your identity that come out more when you're with certain people? How do you maintain a balance?
9. Throughout the memoir there are allusions to drug use, but it isn't until the end that we learn Larissa died from a heroin overdose. How does Eirinie's delayed explanation of Larissa's death impact the story? If you had known from the beginning how she died, would your view of Larissa be different?
10. Do you feel like you know more about Larissa or about Eirinie after reading this book?
ABOUT THE AUTHOR
Eirinie Carson
is a Black British writer, born to a Jamaican father and Scottish mother and raised in South East London. Her work is published in the
Sonora Review
and she is a frequent contributor to
Mother Magazine
. A member of the San Francisco Writers Grotto, Eirinie writes about motherhood, grief, and relationships. She lives in Northern California with her musician husband and their dog and two daughters.
The Dead Are Gods
is her first book.
MORE TO DISCOVER

Find more resources for your book club at www.mhpbooks.com.
Back to Top