The Return of the Native Reader's Guide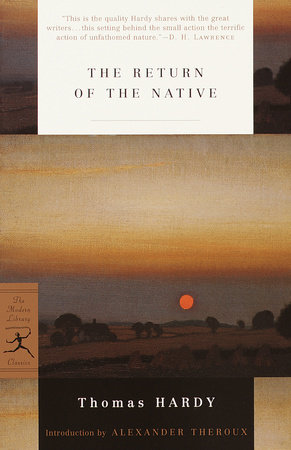 The Return of the Native Reader's Guide
READERS GUIDE
Questions and Topics for Discussion
1. What does Egdon Heath symbolize to you? How does each character relate to the heath? To what extent does the landscape control the actions of the characters or influence them? How do the characters resist or succumb to the landscape? What is the role of urban life in the novel?
2. Discuss Clym's spiritual odyssey. How does it shed light on Hardy's concerns in the novel? Would you describe Clym as idealistic? How does his attitude compare to that of the people of Egdon Heath or that of Eustacia?
3. Why does Eustacia hate Egdon Heath? Is she too headstrong? How much control does Eustacia have over events that shape her life? Over the lives of others? Do you think Eustacia symbolizes human limitation or potential? Do you think her death is a reconciliation of sorts, or not?
4. Discuss the role of fate or chance in the novel. Is Hardy sympathetic to the victims of chance in this novel? To what extent are events caused by the force of a character's personality (e.g., Eustacia), rather than by chance? To what extent do actions produce results opposite from that desired? Do you think there is a connection between this use of irony and the role of fate in the novel?
5. Discuss the novel's opening scene, in which Hardy describes Egdon Heath. How does this establish the emotional tone of the book? How does it foreshadow the action within the novel?
6. Why is Eustacia interested in Clym? How does this set the wheels of the plot in motion? How does this affect the other characters, like Thomasin and particularly Clym's mother? What is Wildeve's role in Mrs. Yeobright's fate?
Back to Top