Painted Dresses Reader's Guide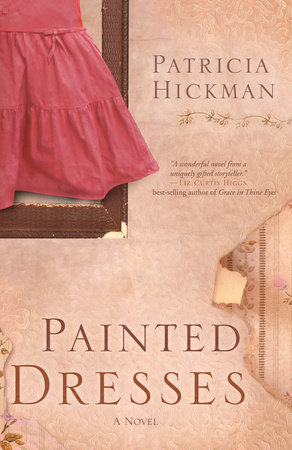 Painted Dresses Reader's Guide
READERS GUIDE
The Plain Truth
A Commentary by Patricia Hickman
I grew up in a household guided by a mother who felt that covering over the past was the best gift she could give her daughter. How I knew as a very young girl that something was off center is a mystery that defies scholarly explanation. Then when night terrors and regressive memories unpacked into my adult life as a terrifying reality, it left me asking questions. Does the human soul possess its own memory, a kind of invisible truth, or does it know things beyond our present consciousness? And if the invisible truth about each one of us is beating its way to the surface, would that explain the compelling power of human yearning? It is certainly that yearning that becomes the story we writers continue to try and tell again and again as we pick through our desires looking for the realities that shaped us.
But the yearning that sent me roving out of my hometown eventually dragged me back asking more questions and causing me to wonder if people living all around me were privately asking the same things. Who am I really? Do I have to be in the shape designed for me by human hands or is there some Great Mysterium at work reshaping me, re-parenting me, offering me a respite from a pain-stained life? It took years for me to reach the place that I could live with some obvious conclusions drawn while realizing that most of us have to live most of our lives with most of our questions unanswered. To remember back to the neighborhood where my expedition started and to begin from there to create a narrative worthy of those questions meant I had to resist the temptation to answer them all; instead I wanted to encourage us all to ask out loud the questions inside of us that seem to have been planted in our hearts on purpose, like the tiniest potato seed tucked underground spitting out spidery vines that bud and then root until a spade breaks the surface, the crop finally dragged out.
The fact of the matter is that the plain truth is a love child of place and time that can't be birthed one second too soon.
Questions and Topics for Discussion
1. Painted Dresses' opening scene unfolds inside the mind of the protagonist, Gaylen Syler-Boatwright. Her memories reveal an obsession with a sister whom she is obviously shunning. How does memory serve the story in eventually connecting Gaylen permanently with Delia?
2. When the family patriarch, James Syler, passes away, the family members that gather to remember his life seem to know less about him than the outsiders who gather around his grave to tell stories about him. What does this tell us about Gaylen and Delia and their relationship with their father?
3. Three photographs that Gaylen takes from her mother's house serve as a sort of surrogate to the wounded child inside of her. Are her memories about her mother at the start reliable and what things are subtly revealed about Fiona to us that Gaylen doesn't realize until much later?
4. Gaylen's awareness of her aunts' resentment toward her mother doesn't keep her from clinging to them. What does this say about family ties and the power of bloodlines?
5. Delia has an undiagnosed mental problem that causes her family to try and badger her into acting normal, like them, although to no avail. But she has moments of awareness where she sees through the façade of their lives like a seer. What sort of themes does this paradox convey throughout the story?
6. Truman Savage, Gaylen and Delia's half-brother, is first described as the boy erased from their lives. This perception seems to cause Gaylen to sympathize with Truman. What do you think is the importance of this emotional response in the book?
7. Delia is angered by Sophie Deals and shoots her, thus inciting Gaylen to over protect and take her sister along with her to hide out at Amity's cottage. Although Gaylen has pulled away from her family to try and reinvent herself, what does this response prove about her?
8. Gaylen's affair with Max is the one scandal she is determined to hide from all family members. She has been known as the "good girl" in the family, a reputation she sees as much a burden as an obligation. At what point do we realize that she is weary of carrying the burden? How is her response similar to what her mother taught her? How difficult is it to be different from our upbringing?
9. What is the significance of the Painted Dresses the sisters discover at Amity's cabin?
10. The small dress painted red would be a curiosity to Gaylen but for the notation left behind by Amity that her mother, Fiona, was going to burn it. The violent and permanent act of burning a child's dress ignites more than curiosity in Gaylen. Did it seem that Amity left the note behind on purpose for Gaylen to find? Is the color significant?
11. Luce Dawson is the first person Gaylen and Delia visit to drop off a painted dress. There is a sense of loss and pain in the story behind the dress and then with each dress's story that follows. Dresses represent the seasons and traditions of a woman's life and the rituals that surround them. What stories would your closet tell if given the chance to talk?
12. Gaylen's daisy tattoo becomes a symbol of something not revealed until later on in the story. The fact that it was selected by Delia seems to represent Delia's connection to Gaylen. Gaylen's yearning for connection, though, has led her away from Delia. What is the meaning behind the daisy tattoo to the story?
13. Braden Boatwright is the character who is most outside of the inner circle of Gaylen's pain. Why might Gaylen push him away while allowing Max inside?
14. Truman Savage, Sr. has pushed the memory of his oldest son out of his life and is unnerved by Gaylen and Delia's sudden appearance. Why would a parent feel that it is more important to guard the shame of abuse instead of going public to prevent future crimes against other children?
15. Gaylen and Delia finally visit Truman in Angola Prison in hopes of prying the truth out of him. He asks personal questions of the women as if they've never parted even though Gaylen and especially Delia have no memory of him. But he never confesses to the crimes against either of them or against any of the other children he has raped. Why do you think the author chose not to have him confess his crimes?
16. Gaylen starts her journey as an unreliable narrator, denying her past as she had been taught to deny it from birth up. But denying herself the identity she inherited from her family hobbled her as a woman. It was as if she was trying to live a half-life, erasing it as she went. What did she finally resolve in the process? What did she learn about herself? About love? About God?
17. In spite of the tell-tale aftershocks in Gaylen's life–night terrors, a conflict in details about how Truman left, the dress her mother tried to destroy–Gaylen was still the last to realize what happened to her as young child. Was her unwillingness to see her life eyes-wide-open a form of denial much like grief? What was her loss? What did she do to regain her footing again?
Back to Top