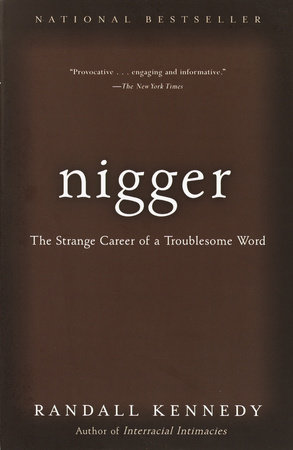 TEACHING GUIDE
NOTE TO TEACHERS
In
Nigger: The Strange Career of a Troublesome Word
, Harvard Law School professor Randall Kennedy grapples with a key term in the lexicon of race relations. He traces the history of the word nigger, showing that it has been primarily deployed as an insult, probably the most notorious racial epithet in America, and perhaps, the world. Kennedy also demonstrates, however, that people have used the term nigger in other ways. Some have written or spoken the word in order merely to document its usage. Others have written or spoken the word in order to condemn it. Still others have written or spoken the word in order to attempt to transform its meaning, to convert it from a negative slur into a positive gesture of solidarity. Hence, in music and movies, on playgrounds and subways, one can hear and see people greeting others as nigger (or niggah), not in enmity, but in friendship. All of these uses are intensely controversial. Many observers believe that everyone should refrain from using nigger given its history, its continued deployment as a wounding slur, and the very real risk that it will hurt feelings regardless of the intentions of a given speaker or writer. Kennedy describes and assesses these arguments and counterarguments. Along the way he brings readers face-to-face with intense debates over such issues as the propriety of assigning to students Mark Twain's
Huckleberry Finn
(in which the word appears 215 times), the wisdom of imposing special speech codes on college campuses, conflicting ways of defining nigger in dictionaries, and contending approaches to disciplining those who respond violently to racial insults.
Kennedy advances his own views regarding these subjects. He also describes alternative viewpoints. Moreover, he offers a detailed discussion that will enlighten any reader regardless of that reader's ultimate conclusions.
ABOUT THIS AUTHOR
Randall Kennedy is a professor at Harvard Law School who served as a law clerk to Supreme Court Justice Thurgood Marshall. His previous book, Race, Crime, and the Law, was awarded the Robert F. Kennedy Book Prize in 1997. He can be reached via email at rkennedy@law.harvard.edu.
TEACHING IDEAS
The questions, assignments, and discussion topics that follow are designed to guide your students through their study of
Nigger: The Strange Career of a Troublesome Word
. The book should enrich their understanding of race relations, the power and complexity of language, and contending perspectives on free speech and its limits. The book can also usefully frame dialogues in and out of the classroom amongst all communities and races. Careful study of Kennedy's book should inspire students to examine their own lives and the values and customs of their own communities.
DISCUSSION AND WRITING
In the opening pages of his work, Kennedy poses a number of questions that can be asked of your students both before and after reading the book.
1.) How should nigger be defined? Is there only one meaning of the word? How has the meaning or meanings of the word evolved over time? What does this term mean to you personally? What do you think it means to your parents' generation? What does it mean to those in other racial communities? Does its meaning vary depending upon age, race, community, class, and setting?
2.) Is nigger part of the American cultural inheritance that should be preserved? Should we ban books from the 19th century such as
Huckleberry Finn
that contain the word? What about books from the 20th century such as
To Kill a Mockingbird
or
Uncle Tom's Children
or
Invisible Man
? What about contemporary works such as the movie
Rush Hour
?
3.) Why does nigger generate such powerful reactions? Is it a more hurtful epithet than chink, kike, honkey, wop, mick, gook, turban-head? Why are such words so plentiful? Should nigger be treated differently that other racial or ethnic slurs?
4.) Should Kennedy have used "the n-word" instead of nigger in his book? Should the title have been "The N-Word"? Does the title or seeing the word throughout the text of the book offend you? Why do you think that Kennedy used nigger in the title?
5.) Should blacks be able to use the word nigger in ways forbidden to others? Why or why not?
6.) Under what conditions, if any, should a person be ousted from his or her job or school for saying nigger?
7.) How should we go about changing the destructiveness of the word nigger?
SUGGESTED ACTIVITIES
You might want to consider:
a) Organizing a debate regarding one or more of the cases presented in Kennedy's book.
b) Asking students to do research on other derogatory epithets.
c) Assigning writing assignments on the protection of speech and the limits of speech.
REVIEWS
"An analytical tour de force that challenges readers to go beyond ideology to resolve the most vexing questions of race and justice."—
American Lawyer
"[Kennedy] can make [legal] decisions and reversed reversals into tense intellectual drama. . . . He's made his case: that this 'troublesome' word is only a word. And that words—like people—can always change."—
Newsweek
"The best way to get rid of a problem is to hold it up to the bright light and look at all sides of it, and that's what Kennedy does in this book. He takes a lot of poison out of the word while he's doing it. . . . This is the way to get rid of words like 'nigger' and all the contemptible ideas that go with it."—Andy Rooney, "60 Minutes"
"Calm, correct, informative."—
The New York Observer
"Kennedy's commitment to racial justice is plain, and so is his impatience with the subverting of empiricism by the theatrics of the underdog. . . . He frequently throws the cold water of common sense upon issues that are too often cloaked in glib histrionics."—
The New Republic
BEYOND THE BOOK
1.) In an episode of the television show "Boston Public", Marla Hendricks, a black teacher, wants Danny Hanson, who is white, to be fired for discussing the word nigger in his classroom. She says the following, "That word has always stood for hatred coming out of a white mouth. No teacher in any school is good enough to erase that in a sensitivity class." Do you agree with her? Should it make a difference if Danny Hanson was black?
2.) Is a commercial television show an appropriate forum in which to explore the issue posed by the "Boston Public" episode? What do you think the program hoped to achieve? Has it succeeded?
3.) Do you feel we should be discussing the word? Do you feel we should be hiding from the word? What do you think about discussing this word in the classroom? How does it make you feel? Awkward? Annoyed? Empowered?
4.) Is there an important distinction between "nigger" and "niggah"?
5.) What is your reaction to hearing nigger or niggah in rap lyrics sung by blacks? How about when used in skits by black comedians? What if you heard nigger or niggah in a routine performed by a white comedian on "Saturday Night Live" or Comedy Central?
6.) Andy Rooney of "60 Minutes" has said that "the best way to get rid of a problem is to hold it up to the bright light and look at all sides of it, and that's what Kennedy does in this book." Do you agree? Disagree? Why?
OTHER TITLES OF INTEREST
An American Dilemma
, Gunnar Myrdal
Black Culture and Black Consciousness
, Lawrence W. Levine
The Black Image in the White Mind
, George M. Fredrickson
From Slavery to Freedom
, John Hope Franklin
Huckleberry Finn
, Mark Twain
100 Banned Books
, Nicholas J. Karolides, Margaret Bald & Dawn B. Sova
Invisible Man
, Ralph Ellison
Race Rules
, Michael Eric Dyson
Random House Historical Dictionary of American SlangShadow and Act
, Ralph Ellison
The Souls of Black Folk
, W.E.B. DuBois
Uncle Tom's Cabin
, Harriet Beecher Stowe
Uncle Tom's Children
, Richard Wright
Up from Slavery
, Booker T. Washington
Back to Top