Jefferson's Children Teacher's Guide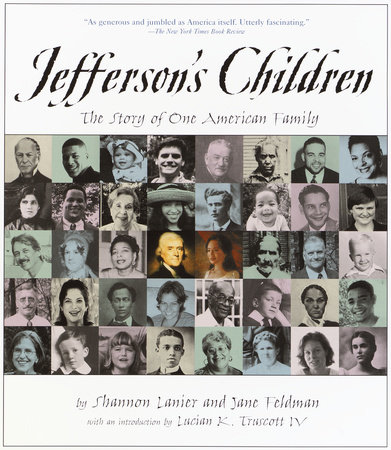 Jefferson's Children Teacher's Guide
TEACHING GUIDE
ABOUT THIS BOOK
Personal testimonies from descendants of Thomas Jefferson and Sally Hemings pose important questions about equality, freedom, and family.

On October 31, 1998, the Associated Press broke the news that there was finally scientific proof for what many people already knew was true, but others would not believe: Thomas Jefferson had a relationship with his slave Sally Hemings after the death of his wife. This DNA link was proven through the Eston Hemings line.
Jefferson's Children
is the story of the Jefferson and Hemings families, and their efforts to be recognized and united as proud descendants of this great American genius. Some discovered their heritage through written family records, and others have based their beliefs on oral histories. Regardless of their sources, many descendants of Thomas Jefferson and Sally Hemings want the world to know that skin color isn't what makes a family.
Thomas Jefferson wrote about equality. He believed in freedom. Yet, he owned slaves. This contradiction in character raises many questions among historians and descendants as they unravel the "truth" about this complex man. Did he indeed father children with his slave, Sally Hemings? How would he view the issues of racism among his ancestors today?
ABOUT THIS AUTHOR
A descendant of Thomas Jefferson and Sally Hemings,
Shannon Lanier
grew up believing that he had inherited the best of both worlds. Now a communications major at Kent State University, he was the host of the Emmy Award—winning television show Real Exchange, which explored issues important to young people.
Jane Feldman
is a professional photographer whose work has gained international attention in the field of advertising and in the nonprofit arena with organizations that promote youth empowerment. She is the author/photographer of the Young Dreamers series.
TEACHING IDEASPRE-READING ACTIVITY

In the introduction to Jefferson's Children, Lucian K. Truscott IV says, "You will learn in these pages that when [Jefferson] helped to create this nation, he also created a family that looks like America." (p. 12) Discuss Jefferson's role in creating America. Ask students to read the Declaration of Independence. Then ask the class to explain Truscott's statement.
THEMATIC CONNECTIONS: Questions for Group Discussion
Family
–Amanda Pettiford believes that "You have to be friends before you're family. I think family means more than just blood." (p. 77) Discuss why it is important for families to be friends. Read what Jane Randolph Schluter says about family. (pp. 74—75) Discuss the difference between "family history" and a "sense of family." Though Schluter feels uncertain about the relationship between Jefferson and Hemings, she gladly embraces the Hemings descendants because they accepted her without judgement. How does this reflect the true meaning of family? Discuss the friendships that have developed from the reunion at Monticello.
Racism
–Members of the Jefferson/Hemings family have experienced both overt and subtle acts of racism. Locate personal testimonies in the book that reveal different types of racism. Daniel Hemmings says, "I had to overcome racism because I was brought up in a prejudiced environment." (p. 68) How is prejudice a learned behavior? Edgar Forrest Love says, "Education helped set my spirit free." (p. 91) How can education help our nation overcome racism? Discuss the wisdom in Daniel Hemmings's plan to "break the cycle of racism." (p. 68)
Brotherhood
–Ask students to define brotherhood. How do Jefferson's words "all men are created equal" promote brotherhood? Beverly Gray, an oral historian, says, "I think that this coming together of family can do more for brotherhood than multicultural diversity can ever do because it's family." (p. 23) Read aloud Martin Luther King's "I Have a Dream" speech. Discuss what King would think about the reunion of the Jefferson/Hemings family.
Pride
–Jane Floyd says, "I will always be proud to be black because black people have so many virtues–perseverance, integrity, a keen sense of humor–by reason of having overcome mistreatment." (p. 86) Ask students to think about the many virtues of their family. How does pride promote a sense of family? How might a false sense of pride hurt a family? Debate the issue of pride as it relates to the Jefferson/Hemings family.
Courage
–After Thomas Jefferson died, Sally Hemings remained in Charlottesville and cared for his grave. Discuss the courage it took for her to stay in Virginia and the hardships she probably faced. Many of her descendants left their black families and became white in an effort to gain more opportunities. Discuss how changing one's identity takes a special type of courage.
CONNECTING TO THE CURRICULUM
Music
–Thomas Jefferson loved music and was an accomplished violinist. His favorite composer was Corelli. Ask students to research this composer and find examples of his works. What are the special qualities of Corelli's music? Thomas Jefferson is said to have had a large collection of music. What other Baroque composers might be represented in the Jefferson music library?
Art
–The Encyclopedia Americana says that Monticello is one of the finest surviving examples of the Classical Revival style of architecture. Have students locate other examples of this type of architecture (for example, the University of Virginia). Ask them to make note of the distinct qualities and characteristics of these building designs. How has Jefferson's eye for design continued to influence architecture in the United States?
Math
–Ask the class to review the personal testimonies in Jefferson's Children. Take note of the number of ancestors who believe that Jefferson was the father of Sally Hemings's children, and the number who believe that he wasn't. In addition, record the number of people who are undecided. Then construct a graph that illustrates the families' beliefs regarding their heritage. Discuss how a graphic illustration of these opinions might promote dialogue among the family members. Would the graph be likely to effect any change?
Language Arts
–Ask students to locate poems about family and brotherhood. Then ask them to select a poem that might be appropriate to read at the next Jefferson/Hemings reunion at Monticello. Students should share the poems in class and give reasons for their selections.
When the Jefferson and Hemings families gathered on the grounds of Monticello in 1998, the news media were there. Shannon Lanier feels that the media focused on the sensational aspects of their story. Ask students to use the Internet to locate
some of these newspaper articles. Then have them use information from the personal testimonies in the book to write a news article that focuses on
the positive outcomes of that weekend.
Social Studies
–William Dalton, a Jefferson descendant through Sally Hemings, says, "These days, when I look in the mirror, I don't see black or white, I see A-M-E-R-I-C-A. I see America, and what America is. This is the face of AMERICA." (p. 105) Ask students to collect photographs from magazines and newspapers and create a collage entitled "The Face of America." How many different cultures are represented? Discuss the difference between nationality and race. Then define "American."
Have students research Jefferson's life. Have them focus on his interest in architecture, music, literature, writing, politics, and science. Then take the class on a virtual field trip to Monticello (www.monticello.org). How does Monticello represent every aspect of Jefferson's life?
Science
–Dr. Eugene Foster conducted genetic testing on male Hemings family members and established a "strong likelihood" that Thomas Jefferson did father at least some of Sally Heming's children. Ask students to use books in the library or on the Internet to discover how genetic testing is conducted. Why can't scientists be absolutely certain of Jefferson's parentage of Hemings's children? Instruct students to find out how science is being used today to prove parentage. How might such studies help to resolve some social issues in the United States today (for example, child support)? How can genetic studies prove helpful in studying hereditary diseases and birth defects?
Career Exploration
–Historians, scientists, and archaeologists are contributing to the study of the relationship between Thomas Jefferson and Sally Hemings. Have students find out the course of study in each of these disciplines as it relates to genealogy. What tools and evidence do these people use to prove their theories?
GETTING WORD

"A family story is a legacy. . . . It has to be passed on."
The Getting Word oral history project is a vital part of Monticello today. Its mission is to unearth and record the histories of the many African American families that lived and worked at Monticello.
The Monticello oral history project grew out of recognition of the importance of oral traditions and their preservation.
Below are a few genealogy activities that can start students researching their own families and help them understand the importance of knowing their own family history.
Dan Jordan, president of the Thomas Jefferson Memorial Foundation, says, "What we do know is that the best way to connect with people is through story. Often, the most powerful story is the one that's about your own family." (p. 112) Ask students to talk with, in person or by telephone, the oldest member of their family. Instruct them to inquire about special family stories that have been passed down through generations. Invite students to share their stories in class. How does it make you feel to know these stories about your family?
Explain Beverly Gray's statement, "A family story is a legacy. It doesn't belong to one person. It has to be passed on." (p. 22) What is your role in keeping your family stories alive? How might your family stories affect future generations?
•Students may enjoy creating a simple family tree. How far back can they record their lineage without specific research? Then have them make a plan for family research. This plan should include family documents such as bibles, birth and death certificates, photographs, diaries, and letters. Make a list of family members to interview. Encourage students to view this type of family research as a long-term project.
•Ask students to bring an old family photograph to class. Then ask the class to study the picture and determine the possible date of the photography based on clothing, hairstyle, items in the background, etc.
•The authors of Jefferson's Children hope that the book will encourage dialogue among the Jefferson and Hemings families so that change can take place. How can family stories create dialogue? How can dialogue contribute to the resolution of differences?
VOCABULARY
Ask students to search for unfamiliar words and to attempt to define them from the context of the sentence. Such words may include:
genealogist
(p. 71),
miscegenation
(p. 78),
amalgamated
(p. 86),
fomented
(p. 96),
vitriolic
(p. 110),
obelisk
(p. 115), and
sacrosanct
(p. 135).
OTHER TITLES OF INTERESTRELATED TITLES
BY THEME
Another Way to Dance
Martha Southgate
Racism • Pride
Dell Laurel-Leaf / Grades 7 up / 0-440-21968-X
Burning Up
Caroline Cooney
Family and Relationships • Racism • Courage
Delacorte Press / Grades 7 up / 0-385-32318-2
The Secret of Gumbo Grove
Eleanora E. Tate
Family and Relationships
Genealogy • Cultural Diversity
Starfire / Grades 5 up / 0-553-27226-8
Spite Fences
Trudy Krisher
Family and Relationships • Racism • Courage
Dell Laurel-Leaf / Grades 7 up / 0-440-22016-5
BACKGROUND READING
BY THEME

The Last Silk Dress
Ann Rinaldi
Civil War South
Starfire / Grades 7 up / 0-553-28315-4
Nightjohn
Gary Paulsen
Pre—Civil War South
Dell Laurel-Leaf / Grades 7 up / 0-440-21936-1
The Slave Dancer
Paula Fox
1840s
Dell Laurel-Leaf / Grades 6 up / 0-440-96132-7
Words by Heart
Ouida Sebestyen
1910 West
Dell Laurel-Leaf / Grades 5 up / 0-440-22688-0
Oh, Freedom!
Casey King Osborne
Civil Rights Movement
Knopf / Grades 5 up / 0-679-89005-X
COPYRIGHT
Prepared by Pat Scales, Director of Library Services, the South Carolina Governor's School for Arts and Humanities, Greenville, South Carolina.
ADDITIONAL RESOURCES
http://www.monticello.org
http://www.monticello.org/gettingword
http://www.monticello-assoc.org
http://www.jefferson-hemings.org
Back to Top