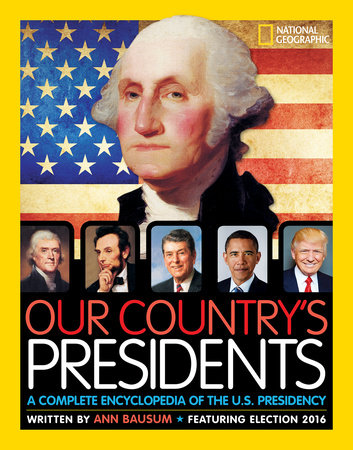 Our Country's Presidents
A Complete Encyclopedia of the U.S. Presidency
All You Need to Know About the Presidents, From George Washington to Barack Obama
A Complete Encyclopedia of the U.S. Presidency
All You Need to Know About the Presidents, From George Washington to Barack Obama
By Ann Bausum

By
Ann Bausum
By Ann Bausum

By
Ann Bausum
By Ann Bausum

By
Ann Bausum
By Ann Bausum

By
Ann Bausum
Best Seller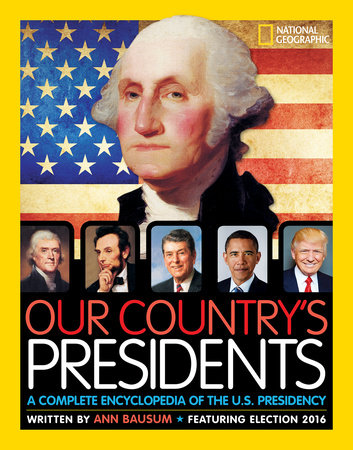 Jan 10, 2017 | ISBN 9781426326851
Jan 10, 2017 | ISBN 9781426326851 | Middle Grade (10 and up)

Jan 08, 2013 | ISBN 9781426310898 | Middle Grade (10 and up)

Jan 10, 2017 | ISBN 9781426326868 | Middle Grade (10 and up)

Jan 08, 2013 | ISBN 9781426310904 | Middle Grade (10 and up)
*This title is not eligible for purchase to earn points nor for redemption with your code in the
Reader Rewards
program
Buy the Hardcover:
People Who Read
Our Country's Presidents

Also Read
Inspired by Your Browsing History
Praise
"A clear, colorful design; a variety of sidebars; and rich historical material make this a solid, go-to resource for information on the presidents… VERDICT Whether for research or casual reading, this is an excellent ready reference on the presidents for most libraries." — School library Journal Starred Review

"This book is a complete reference about each of the presidents from Washington to Trump. The images, quotes, and captions scattered throughout the pages make this book pleasing to the eye. Sidebars give snapshots of the presidency with interesting facts, including presidential nicknames like "Handsome Frank" for Franklin Pierce and "The Donald" for Donald Trump… Government teachers at both intermediate and secondary levels will find plenty to share from this book." — School Library Connection

"…an inherently fascinating read and an excellent reference for students and kids of all ages. Simply stated, "Our Country's Presidents" is unreservedly recommended for personal, family, school and community library collections." – Children's Bookwatch

"Lavish use of period and modern illustrations, quotes, solid research, and the kind of offbeat facts so dear to readers young and older are included…" — Booklist (Review of 2004 Edition)



.
Back to Top