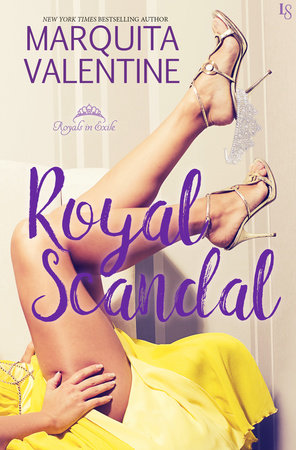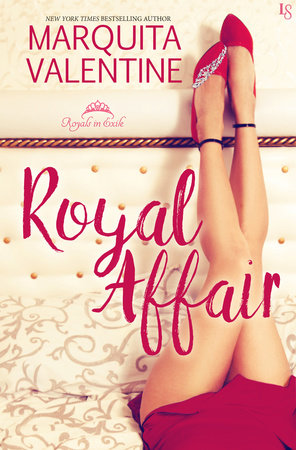 Royals in Exile Series :
Titles in Order
Book 2
A sheltered princess goes wild—and makes the best mistake of her life—when she falls for a roguish reporter in this fun, sexy romance from the bestselling author of Royal Scandal.

Online muckraker Brooks Walker has a reputation for exposing the political elite. Now he's set his sights on the Sinclair siblings, who've been embroiled in their fair share of drama ever since their exile to North Carolina. But Brooks has never been afraid to get his hands dirty—until he meets a royal wallflower at a charity ball who makes him reconsider everything. Is Brooks feeling guilty because he knows all the sordid details of her family's history? Or because he's putting their relationship first, before his journalistic integrity?

As the "spare" twin, Princess Charlotte has always been the responsible one. So when her sister finally agrees to fulfill her duty as queen, Charlotte gives herself permission to break a few rules by flirting with the very off-limits CEO of Walker Media. Brooks is the worst sort of man to start an affair with, but Charlotte just can't help it. The trouble is, since she's no good at playing games, soon she's tiara over heels in love. And when Brooks comes clean, Charlotte must decide whether his confession is worth a royal pardon.

Praise for Royal Affair

"The perfect princess story for readers who love a strong heroine and a wonderfully written novel!"—Sarah Robinson, author of the Kavanagh Legends series

"Sexy, quirky, and fun! This book had me intrigued from the very beginning. Marquita Valentine gives us a forbidden romance that overcomes all odds, giving us off-the-charts chemistry that'll melt your heart."—New York Times bestselling author L. P. Dover

"A princess that needs rescuing, and a villain that needs to become her knight. A match made in heaven. Addictive series!"—New York Times bestselling author Melanie Moreland

"For those who love the royalty read such as myself, I definitely recommend Royal Affair."—Harlequin Junkie

"Royal Affair is light and fun! While it can be read as a stand-alone, it would help you understand this family."—The Book Disciple

"This book was just so refreshing! And that cover, I don't know why, but I absolutely love the covers for this series! I really can't wait for the next book in the series, as the whole Sinclair family is entertaining and rather quite delightful."—Obsessive Book Nerd

"One of my favorite themes to read about is Royalty and Cinderella type tales. Royal Affair by Marquita Valentine was refreshing in a way as it still followed suit but [with] a gender reversal."—The Phantom Paragrapher

"Marquita Valentine has never stopped surprising me with how good each new book of hers is."—Collectors of Book Boyfriends & Girlfriends

"Oh man, what fun this book was!"—Addicted to Romance

Praise for the novels of Marquita Valentine

"Take the Fall is a sexy, emotional, heartfelt read. I adored this book and can't wait for the next!"—New York Times bestselling author Monica Murphy

"Crackling with tension, intrigue, and romance, this story has it all. Your heart will pound, you'll laugh, you'll feel, and you'll definitely swoon."—New York Times bestselling author Katy Evans, on When We Fall

Includes an excerpt from another Loveswept title.
Book 1
Fairy tales do come true—and so do tabloid scandals! Bestselling author Marquita Valentine kicks off a juicy contemporary romance series with a novel about a prince whose best-laid plans go deliciously awry when he marries the maid next door.

Forced to flee to the United States with his siblings after their parents' assassination, Crown Prince Colin Sinclair takes it upon himself to become the caretaker of his family while hiding out near Charlotte, North Carolina. But after a decade in hiding, the secret's out and Parliament demands that Colin wed a princess of their choosing. Unwilling to play their game, Colin decides to marry an American instead, and he has the perfect candidate in mind.

As a home-service professional, Della Hughes doesn't believe in storybook endings. But when her best friend and secret crush reveals that he's a flesh-and-blood prince, she doesn't know what to think. Still, she'll do anything for Colin, including becoming his wife—in name only, of course. But when their plans to stay purely platonic go by the wayside, their fake honeymoon turns all too real. After a week of white-hot nights, Della can no longer deny her feelings—not with a happily ever after so tantalizingly close.

Praise for Royal Scandal

"A sweet and sexy modern-day spin on the classic Cinderella story."—Heidi McLaughlin, New York Times bestselling author of Blow

"For any of those royalty romance fans, I highly recommend Royal Scandal."—Harlequin Junkie

"I'm definitely interested in the next book in the series!"—Somewhere Lost In Books

"I absolutely loved this book! This is a mix of a modern Cinderella and British monarchy story. This love story is swoon-worthy . . . you can't stop reading!"—Books & Boys Book Blog

"With a sweet, sexy romance, a fantastic cast of characters and a plot that will keeps your eyes planted in this story, Marquita Valentine creates an excellent book with Royal Scandal."—JoJo The Bookaholic (five stars)

"Once again I am a total sucker for anything that is geared towards hopeless romantics."—Book Plus Heart

"I love Marquita's work and look forward to her stories."—FMR Book Grind

"Hot, funny, and emotional too, Royal Scandal is an absolutely wicked fantasy from the first page to the last. I'm in love with this story, the characters, and this world! Marquita Valentine perfectly captures the magic of romance and royalty."—Katy Evans, New York Times bestselling author of the REAL series

Includes an excerpt from another Loveswept title.
Royals in Exile Series:

Bundles & Boxed Sets
Royals in Exile Series:

Related Titles
Other Series You Might Like
Back to Top
Visit other sites in the Penguin Random House Network