Ashley Wolff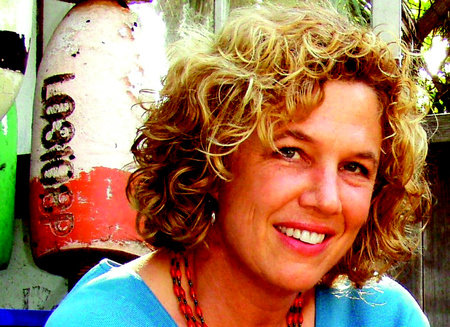 Photo: © Sabin Russell
About the Author
Ashley has been an artist since she declared herself one at the age of 5. 
She grew up in Middlebury Vermont. Ashley's ties to Vermont remain strong and she still spends part of every year in Middlebury.  Even as a high school student, Ashley planted a huge vegetable garden and had a "hot" compost pile in a chicken wire cage.
She received her BFA from the Rhode Island School of Design in 1979 and her first job after college was working as a graphic artist at a small newspaper in Vermont. There she met her husband, Sabin Russell and together they moved to San Francisco in 1980.
Sabin Russell is a reporter at the San Francisco Chronicle.
 
 Before becoming a full time author/illustrator, Ashley worked at The Pacific Sun newspaper in Marin County.  Throughout her years in California Ashley has continued to paint large-scale indoor and outdoor murals throughout the SF Bay area.
 
Ashley is the author and/or illustrator of over 55 children's picture books including Baby Beluga, Stella and Roy Go Camping, Me Baby, You Baby, The Wild Little Horse, Who Took the Cookies from the Cookie Jar?, I Call My Grandma Nana and the beloved  Miss Bindergarten Series. Her books have won numerous state and national awards.
 
For 24 years one of Ashley's favorite pastimes is traveling to schools all over the US, speaking to children about writing, drawing and using their imaginations to help them find their own paths to the future.
 
Ashley  lives next door to a community garden plot in San Francisco, has a large back yard garden and keeps 4 worm bins busy with her kitchen scraps.