Careers at Penguin Random House
Our dedicated team of publishing professionals is committed to helping authors realize their very best work and to finding innovative new ways of bringing stories and ideas to audiences worldwide. To explore job openings at Penguin Random House, visit our Careers website here.
Our Social Impact
We bring people together by amplifying storytelling and diverse voices, not only in the books and in the authors we publish, but also within our company, by working to create the most equitable and inclusive home where all are welcome and where every person is empowered to be themselves and to share their perspectives. For more information about our commitment to Diversity, Equity & Inclusion, view our 2022-2023 DEI Report.

2023 Penguin Random House U.S. Workforce Composition
At Penguin Random House, we strive to have a workforce that reflects our society as an essential part of our mission to create books for everyone. Today we are releasing our fourth annual workforce demographics report to share our progress, along with updates on our actions.

Here is a snapshot of PRH's current workforce makeup*:
This chart shows the breakout of the company's employees by race in both 2022 and 2023, alongside U.S. population and industry benchmarks.
 We extracted the data associated with our Editorial and Marketing & Publicity teams as these roles directly shape and support the content we publish, including our efforts to publish and promote a more diverse population of creators. As you can see by our data, we're continually striving to make progress in this area while recognizing that certain demographics need additional focus.
This chart shows the racial makeup of our population at different career levels, with our 2022 data included for comparison. While our entry-level population continues to racially diversify, there has also been a notable increase in diversity of our company leadership, specifically within our Executive Teams- the leaders that report directly to the U.S. Board.
This next chart shows the racial makeup of the company's new hires over the last six years. We have seen a net increase in overall racial diversity within our new hires since 2019. However, since 2020, the percentage of new hires in the White demographic has stayed fairly flat. Additionally, there have been various fluctuations within the multiple BIPOC new hire demographic categories over the past three years including a notable steady decrease in the percentage of Black new hires. As a result, we are redoubling our efforts and placing additional focus where necessary—through tailored recruitment and outreach—in pursuit of our goal of having our new hire demographics match U.S. Census working age demographics by 2024.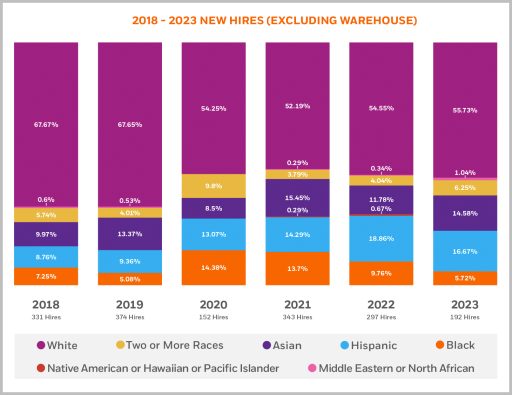 Updates on Our Actions
As our demographics show, while we are making progress, we still have a long way to go when it comes to making our workforce representative of society. We've centered our efforts on creating more routes to publishing and increasing transparency and access. Within the past two years, we've expanded our Recruitment Outreach and Partnerships teams and campus recruiting efforts.
We've continued to grow our presence at Minority Serving Institutions including Howard University, North Carolina A&T State, Spelman College, Morehouse, Savannah State, and University of Maryland, Baltimore County while maintaining ongoing partnerships with schools including Boston College, CCNY, Columbia, Duke, NYU, Pace, Temple University, and more. We also partner with "need-blind" colleges such as Amherst, Barnard, Princeton, St. John's, Williams, and Yale, who don't use an applicant's financial status in their acceptance decisions.
We have used social and digital media to help attract more candidates from different backgrounds through resources like our "How to Get into Publishing" guide, "Day in the Life" video series and newly revamped PRH Careers site that help candidates outside of book publishing get a better sense of what we do. Our job descriptions, interview questions and processes are continuously evaluated by our teams to ensure they are inclusive for candidates from all industries and backgrounds.
Additionally, we've continued to increase our efforts to reach mid-level professionals who are interested in making a career shift through Publishing Pathways, an educational program geared towards to mid-level BIPOC and/or disabled professionals who are interested in transitioning to the publishing industry from other fields.
Increasing diversity within Penguin Random House and the publishing industry is only one piece of the ongoing work. All employees—especially those from historically marginalized groups—should feel consistently supported and valued through retention, promotion, and development opportunities. We have enhanced our onboarding process with more resources and guidance for managers so that new employees are set up for success at Penguin Random House from day one. At the other end of the employee cycle, we are fine-tuning our exit interview process to help gather additional useful data and make that data more easily reportable. This feedback will help us continue to pinpoint gaps in our systems and other places where we may be falling short.
To support current employees in their career journeys, our Learning & Development and HR teams are working together to help departments ensure their processes support a respectful, inclusive, and equitable work environment, and to help managers develop their skills to foster the career growth of their direct reports.
At Penguin Random House, increasing the diversity of our workforce will continue to be a core strategic priority for our company, and we and look forward to sharing our progress with you along the way.
Our Approach to Diversity, Equity & Inclusion
At Penguin Random House, our mission is to create books for everyone. We believe diverse voices should be elevated and amplified within our community and beyond. Every day, we work to build an equitable, inclusive, and psychologically safe work environment for all employees.
Our approach to diversity and inclusion in our business focuses on these five priority areas, or pillars:
Leadership Investment in Diversity & Inclusion: Hold leaders accountable for implementing PRH's DEI vision, setting goals, achieving results, and being role models.
Diversity & Representation: Ensure that attraction, sourcing, and recruitment is done through a DEI lens, making our employee population more representative of society.
Career Growth: Integrate DEI into talent development, performance management, advancement, and retention efforts.
Psychological Safety and Belonging: Create a psychologically safe, inclusive work environment through comprehensive learning & development programs and concise DEI communication.
Content & Marketplace: Demonstrate a measurable companywide increase in content we're acquiring, publishing, and promoting by diverse contributors with the ultimate goal of publishing books that reflect the world we live in.
These pillars are the guiding principles by which Penguin Random House works to foster a more diverse, equitable and inclusive company culture. In our 2022-2023 DEI Report, you will find a selection of the programs and initiatives that are underway in support of these overarching pillars.
Back to Top