Dana Reinhardt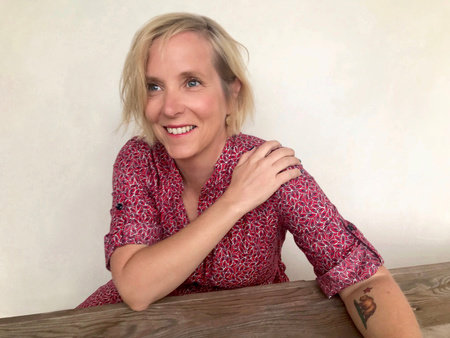 Photo: © Chelsea Hadley
About the Author
A Brief Chapter In My Impossible Life is my first novel.

There's nothing like the first time something wonderful happens to you, like, for example, when you sit down to write your first novel and it actually gets published.
I guess there's nothing quite like the first time something just awful happens to you either. Those are moments you aren't likely to forget.

So by way of introducing myself to you, let me share with you a list of my firsts:

My first love was a boy named Matthew in my pre-school class. He was very funny looking with a huge head of unruly curls, crooked teeth and rather prominent nostrils, but I loved him nonetheless. My best friend married us underneath a tree in the play yard and we used rubber bands as our wedding rings. Years later, when I arrived at college 3,000 miles away from that preschool play yard, I found him again. He had absolutely no idea who I was. That really pissed me off.

My first pet was a dog named Smokey. When he was two, he died after being bitten by a rattlesnake.

My first heartbreak was: see above.

My first earthquake was the big earthquake of 1971, or so I thought until today. I've carried around this story all my life about how I was such a sweet and mellow baby that I slept right through the big earthquake of 1971. But just now, when I went on the Internet to get the exact date of the big earthquake of 1971 I learned that it occurred on February 9th. I was born on March 11th. Hmmm….
I would like to take this opportunity to apologize to everyone to whom I've told that story about sleeping through the earthquake.

My first time crying so hard in a movie that my Dad had to carry me out of the theater was when I saw Pete's Dragon. I cried on and off for days. It' s happened since. Well, not the part about having to be carried out of the theater by my father. I'm too big and he's too old and his back is too weak. But I mean the part about crying for days. (Okay so I'm a big cryer in movies. I even cried in The Nutty Professor.)

And while we're on the subject of crying, of really, really crying…

My first big cry over a book was Bridge to Terabithia. It made me want to be a writer.

My first big cry over a play was Death of a Salesman. It made me want to be anything but a salesman.

My first time on a moped lasted about 10 seconds. I drove it right into a brick wall and broke my wrist. I was fifteen. That was also my first time on Morphine and I asked the doctor to marry me.

My first concert was The Who's final tour in 1983. I think they've had at least four more final tours since then.

My first job was working as a waitress at a dive where celebrities used to come and eat breakfast in their sweatpants. Eventually, the fact that celebrities came to eat breakfast in their sweatpants caught on, and there would be a line up the block. Pretty soon the celebrities stopped wearing sweatpants to breakfast.

My first husband is Daniel Sokatch. He's cute. And funny. And really nice. He'll always be my first husband no matter what, but I'm counting on there not being a second. Or a third…

My first child is my daughter Noa. Sometimes after spending the day with her my face hurts from smiling so much. (My second child is my daughter Zoe and she's every bit as wonderful as my first.)

My first time writing my own biography for Random House's "Author Spotlight" was today.

Thanks for reading.