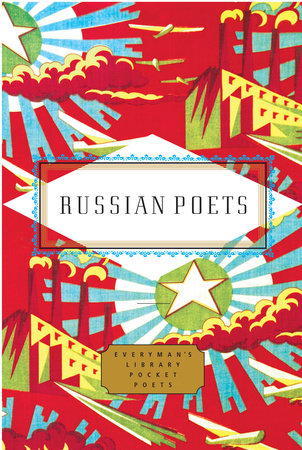 Russian Poets
Edited by
Peter Washington
Edited by
Peter Washington
Best Seller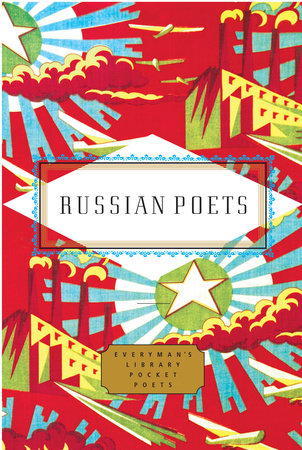 May 12, 2009
|
ISBN 9780307269744
Buy the Hardcover:
YOU MAY ALSO LIKE
QUICK VIEW
The Plague, The Fall, Exile and the Kingdom, and Selected Essays
Hardcover
$28.00
QUICK VIEW
Letters to a Young Poet
Hardcover
$16.00
QUICK VIEW
Death in Venice
Paperback
$14.00
QUICK VIEW
Plays, Prose Writings and Poems of Oscar Wilde
Hardcover
$25.00
QUICK VIEW
Poor Folk and Other Stories
Paperback
$15.00
QUICK VIEW
The Early Stories of Truman Capote
Paperback
$16.00
QUICK VIEW
A Mencken Chrestomathy
Paperback
$22.95
QUICK VIEW
The Portable Dorothy Parker
Paperback
$24.00
QUICK VIEW
Selected Stories of Anton Chekhov
Paperback
$18.00
QUICK VIEW
How Much Land Does a Man Need? and Other Stories
Paperback
$18.00
Table Of Contents
Foreword

THE MUSE

BORIS PASTERNAK A Definition of Poetry
ALEXANDER PUSHKIN Echo
AFANASY FET To the Muse
BORIS PASTERNAK Poetry
VLADISLAV KHODASEVICH Stanzas
ALEXANDER PUSHKIN The Poet
BORIS PASTERNAK 'Thus they begin'
MARINA TSVETAYEVA 'Poems grow'
SERGEI ESENIN 'I am the last village-poet'
ALEXANDER PUSHKIN Exegi Monumentum
ANNA AKHMATOVA The Muse €
BORIS PASTERNAK For Anna Akhmatova
ALEXANDER BLOK To Anna Akhmatova
ANNA AKHMATOVA For Alexander Blok
OSIP MANDELSTAM On Akhmatova
VELIMIR KHLEBNIKOV
'The Dostoyology of racing clouds!'
MIKHAIL LERMONTOV
In Memory of A. I. O[doevsk]y
ALEXANDER PUSHKIN To a Poet
NIKOLAI NEKRASOV From Princess Volkhonskaya
JOSEPH BRODSKY To Urania
FYODOR TYUTCHEV Silentium!
OSIP MANDELSTAM Silentium
NIKOLAI GUMILEV I and You
NIKOLAI NEKRASOV 'Happy that easy-tempered bard I call'
ALEXANDER PUSHKIN 'Eyes open wide, the poet weaves'
FYODOR TYUTCHEV 'Nay, in a poet put no trust'
MARINA TSVETAYEVA From The Poet
ALEXANDER BLOK To the Muse
MARINA TSVETAYEVA 'For my poems'
MIKHAIL LERMONTOV The Poet
E. A. BARATYNSKY The Muse
KONSTANTIN BATYUSHKOV To My Friends
OSIP MANDELSTAM 'Air sucked dry, bread turning to mould'

NATIVE LAND

MIKHAIL LERMONTOV Native Land
MIKHAIL LERMONTOV A Prophecy
ALEXANDER PUSHKIN The Prophet
JOSEPH BRODSKY From A Part of Speech
PETER VYAZEMSKY The Russian God
ALEXANDER BLOK Russia
ALEXEY TOLSTOY The Convicts
ALEXEY TOLSTOY 'Land of mine, where I was bred'
ALEXANDER PUSHKIN Message to Siberia
FYODOR TYUTCHEV The Beggar
VELIMIR KHLEBNIKOV Russia and Me
MARINA TSVETAYEVA 'Longing for the motherland'
ALEXANDER BLOK The Kite
ANDREI VOSNESENSKY Mother
FYODOR TYUTCHEV 'These poor hamlets, humbly faring'
ANDREI BELY Russia
MARINA TSVETAYEVA 'As you fought for your fatherland'
MIKHAIL LERMONTOV 'Farewell to Russia's unwashed features'
BORIS PASTERNAK 'We are few'
VELIMIR KHLEBNIKOV 'Moscow's a crazed old skull'
ANNA AKHMATOVA From Northern Elegies
FYODOR TYUTCHEV Russia
OSIP MANDELSTAM Petersburg Stanzas
NIKOLAI NEKRASOV 'The capitals are rocked with thunder'
ALEXANDER BLOK From Retribution Book 2, I & IV
VELIMIR KHLEBNIKOV The Moscow of the Future
MARINA TSVETAYEVA 'Above the church tower there are clouds of blue'

BLACK EARTH

OSIP MANDELSTAM Black Earth
ANNA AKHMATOVA Native Soil
MARINA TSVETAYEVA 'Some forebear of mine was a violinist'
BORIS PASTERNAK Spring
IVAN BUNIN Russian Spring
AFANASY FET 'Skies again are deep and bare'
VLADIMIR MAYAKOVSKY The Problem of Spring
FYODOR TYUTCHEV Spring Waters
FYODOR TYUTCHEV Spring Storm
FYODOR TYUTCHEV First Leaf
ANNA AKHMATOVA 'The lime-trees by the open door'
VELIMIR KHLEBNIKOV 'Alive with glad tidings'
ALEXANDER PUSHKIN 'Day's rain is done'
ANNA AKHMATOVA Garden
MARINA TSVETAYEVA Garden
ALEXANDER BLOK Illusion
ALEXANDER BLOK Autumn Day
INNOKENTI ANNENSKY Poppies
ALEXANDER PUSHKIN Autumn
ANNA AKHMATOVA Bezhetsk
ALEXANDER PUSHKIN Winter Morning
ALEXANDER PUSHKIN Fountain at Tsarskoye Selo
OSIP MANDELSTAM 'The pear and the cherry blossom'
MARINA TSVETAYEVA Elder
AFANASY FET 'I have come to you to greet you'
VLADIMIR MAYAKOVSKY Night
FYODOR TYUTCHEV At the Imperial Village
ANNA AKHMATOVA Statue in Tsarskoye Selo

TRA¨ UMEREI

BORIS PASTERNAK Tra¨umerei
AFANASY FET 'Expect to-morrow to be fair'
AFANASY FET Never
ALEXEY TOLSTOY At the Ball
MIKHAIL LERMONTOV The Dream €
VELIMIR KHLEBNIKOV The Opium Smoker
MARINA TSVETAYEVA The Window
OSIP MANDELSTAM Seashell
AFANASY FET Signs
OSIP MANDELSTAM 'Sleeplessness'
MARINA TSVETAYEVA From Insomnia
ALEXANDER BLOK The Stranger
VELIMIR KHLEBNIKOV Beast ò Number
FYODOR TYUTCHEV Wave and Thought
AFANASY FET 'Up in the hay one evening, darkling'
FYODOR TYUTCHEV Italian Villa
ALEXANDER PUSHKIN To the Fountain of the Palace of Bakhchisarai
FYODOR TYUTCHEV The Fountain
BORIS PASTERNAK In the Wood
MIKHAIL LERMONTOV The Sail
FYODOR TYUTCHEV Sea Dream
ALEXANDER PUSHKIN To Vyazemsky
KONSTANTIN BALMONT Drowned
ALEXANDER PUSHKIN To the Sea
FYODOR TYUTCHEV You My Sea Wave
ALEXANDER BLOK The Sailor
VELIMIR KHLEBNIKOV 'The shining shower dripping from the oar'
ALEXANDER PUSHKIN Arion
JOSEPH BRODSKY North Baltic
FYODOR TYUTCHEV Sea and Rock
FYODOR TYUTCHEV On a Still Night
NIKOLAI GUMILEV The Captains
AFANASY FET 'All, all that once was mine is mine forever'
MIKHAIL LERMONTOV Hope

ON LOVE

JOSEPH BRODSKY On Love
ALEXEY TOLSTOY 'My little almond tree'
VELIMIR KHLEBNIKOV The Song of One Come to Confusion
MIKHAIL LERMONTOV The Crag
ANNA AKHMATOVA 'You're like a strange and very strict diet'
ANNA AKHMATOVA The White Bird
BORIS PASTERNAK What We Had
FYODOR SOLOGUB 'The stifling day was harsh and hot'
VELIMIR KHLEBNIKOV A Foppish Proposal
MARINA TSVETAYEVA 'I've dissolved for you, in that glass over there'
ANDREI VOZNESENSKY Her Shoes
AFANASY FET 'When she her crimson lips uncloses'
ANDREI VOSNESENSKY Dead Still
AFANASY FET 'Whispering'
ALEXANDER PUSHKIN To Olga Masson
ALEXANDER PUSHKIN The Beauty
ALEXANDER BLOK 'She came in from the frost'
ALEXEI KOLTSOV The Nightingale
ANNA AKHMATOVA A Ride
ALEXANDER PUSHKIN K***
FYODOR TYUTCHEV Last Love
ALEXANDER BLOK Snow Wine
OSIP MANDELSTAM Birth of the Smile
AFANASY FET Snake
ANNA AKHMATOVA 'I share my room'
MARINA TSVETAYEVA House

WHAT IS THE USE OF TIME?

VLADISLAV KHODASEVICH 'What is the use of time and rhyme?'
AFANASY FET Swallows
ALEXANDER PUSHKIN To ––
ALEXEY TOLSTOY 'Do you remember, Mary'
ALEXANDER BLOK Do You Remember
ALEXANDER PUSHKIN 'As soon as roses fade'
ANDREI BELY Euthanasia
VASILY ZHUKOVSKY Song
MIKHAIL LERMONTOV Testament
PETER VYAZEMSKY 'I have outlived most things and people round me'
OSIP MANDELSTAM Lost in the Sky
FYODOR TYUTCHEV On His Brother's Death
ALEXEY TOLSTOY 'Outside it is blowing and raining'
FYODOR TYUTCHEV The Shadow
FYODOR TYUTCHEV Riverscape
SERGEI ESENIN Last Lines
VELIMIR KHLEBNIKOV 'Nations, years and every creature'
YAKOV POLONSKY The Swan
FYODOR TYUTCHEV The Past
ALEXANDER PUSHKIN 'Do not sing to me again'
ANDREI VOSNESENSKY Ballad of the Full Stop
NIKOLAI ZABOLOTSKY Goodbye to Friends
AFANASY FET By the Fireside
MARINA TSVETAYEVA 'Make merry, my soul, drink and eat!'
INNOKENTI ANNENSKY Black Spring
VALERY BRYUSOV Orpheus and Eurydice
JOSEPH BRODSKY In Memoriam
ALEXANDER PUSHKIN May 26, 1828

List of Poets
Acknowledgments
Be the first to know!
And go from well-read to best read with book recs, deals and more in your inbox every week.
And go from well-read to best read with book recs, deals and more in your inbox every week.
Dismiss
Thanks!
Something awesome is on its way.
Back to Top
Become a Member
Start earning points for buying books! Just for joining you'll get personalized recommendations on your dashboard daily and features only for members.
Find Out More
Join Now
Sign In
Success!
Your account has been created. Upload book purchases, access your personalized book recommendations, and more from here.