The Chemistry of Tears Reader's Guide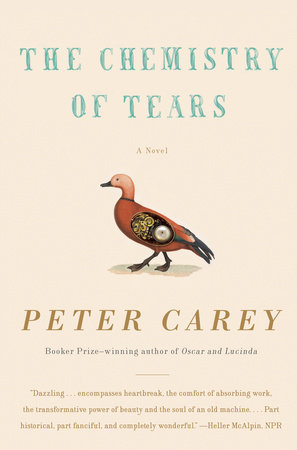 The Chemistry of Tears Reader's Guide
READERS GUIDE
The questions, discussion topics, and reading list that follow are intended to enhance your reading group's discussion of
The Chemistry of Tears,
a novel that explores love and obsession in two drastically different eras from two-time Booker Prize–winning author Peter Carey.
Introduction
From two-time Booker Prize–winning author Peter Carey comes a novel that explores the depths of love and obsession in two people separated by two hundred years yet united by an artifact of astonishing detail and beauty.  
Museum conservator and horologist Catherine Gehrig is mourning the death of her longtime lover—a married coworker—when she is tasked with a peculiar project intended to let her heal away from the museum's day-to-day operations and gossip mill. Her assignment is to reassemble a delicately constructed and intricately detailed automaton from Germany circa 1850. As she lays out the various parts, she discovers a series of journals by the man who commissioned the mechanical creature: Henry Brandling, a proper English gentleman desperate to bring some joy to his ill son. Soon, Catherine is consumed by Henry's writings, his adventures in Germany, and his desperation to return a miracle to his son.
Questions and Topics for Discussion
1. We are told the story through two different narrators: Catherine Gehrig and Henry Brandling. Are they reliable?
2. How are the lives of Catherine and Henry similar? How do they differ, aside from their time periods and locations?
3. Why do you think Catherine is drawn to Henry's story with such curiosity? Do you think her state of grief affects the way she reacts to his journals? If so, how?
4. How do grief and loss function in the novel as a whole? What are some of the ways Catherine and Henry—or any of the other characters—cope with grief in their lives? How does this affect the mood and atmosphere of the novel?
5. Catherine is a horologist, used to dealing with many fine mechanical parts. How is her personality suited to this? How is it not?
6. Despite difficult circumstances at home, Henry Brandling begins his trek as an optimist, even saying "Brandling would see the glass half full even when it lay in shards around his feet" (p. 55). Do you think Henry is naive? Or is this a useful attitude for him to take in the face of hardships?
7. Carl emerges as an interesting and important character, particularly to Henry. How do Henry, Herr Sumper, and Frau Helga each view Carl? How do you view Carl?
8. Were you surprised when Henry violently beats Sumper (p. 93)? Were there any earlier indications that Henry would be prone to such rage? How would you characterize Henry's and Sumper's reactions the following day?
9. What reactions did you have to the scene between Catherine and her lover's sons? What do you make of Noah and Angus's gift to Catherine?
10. How would you characterize Catherine's relationship with Amanda? How does it compare with Henry's relationship with Sumper?
11. Eric Croft plays a central role in many aspects of Catherine's life, which leads her to call him "an awful meddler" (p. 176). Do you agree or disagree? Do you think his motives are selfless, or does he have his own agenda?
12. What do you think the title The Chemistry of Tears might refer to?
About this Author
Peter Carey has twice won the Booker Prize: for
Oscar and Lucinda
in 1988 and for
True History of the Kelly Gang
in 2001.
The Chemistry of Tears
is his twelfth novel. He was born in Australia and lives in New York City.
Suggested Reading
The Thousand Autumns of Jacob de Zoet
by David Mitchell;
Never Let Me Go
by Kazuo Ishiguro;
The Tiger's Wife
by Téa Obreht;
Oryx and Crake
by Margaret Atwood;
The Chess Machine
by Robert Löhr
Back to Top