Girls in White Dresses Reader's Guide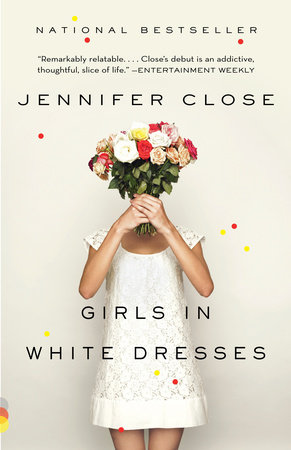 Girls in White Dresses Reader's Guide
READERS GUIDE
The questions, discussion topics, and reading list that follow are intended to enhance your reading group's discussion of
Girls in White Dresses
, Jennifer Close's rollicking, irreverent, and poignant debut.
Introduction
"Girls in White Dresses is about a group of smart, funny, unapologetically grouchy, always-hungover female friends who kvetch their way through one another's weddings and showers, stare blearily at one another's offspring, sometimes barely tolerate one another's men but nonetheless have one another's backs through thick and thin. Jennifer Close has written an unsentimental, frank novel about female friendship—its permanent, lifelong loyalties and unconditional love." —Kate Christensen, PEN/Faulkner Award–winning author of The Great Man and The Astral  
Wry, hilarious, and utterly recognizable, Girls in White Dresses tells the story of three young women grappling with heartbreak and career change, family pressure and new love—all while suffering through an endless round of weddings and bridal showers.  
Isabella, Mary, and Lauren are going to be bridesmaids in Kristi's wedding. On Sunday after Sunday, at bridal shower after bridal shower, they coo over toasters, eat tiny sandwiches, and drink mimosas. They're all happy for Kristi, but they do have the ups and downs of their own lives to cope with. Isabella is working at a mailing-list company, where she's extremely successful, and wildly unhappy. Mary is in love with a man who may never love any woman as much as he loves his mother. And Lauren, a waitress at a midtown bar, finds herself drawn to a man she's pretty sure she hates.  
With blind dates and ski vacations, boozy lunches and family holidays, relationships lost to politics and relationships found in pet stores, Girls in White Dresses pulls us deep inside the circle of these friends, perfectly capturing the wild frustrations and soaring joys of modern life.
Questions and Topics for Discussion
1. Which character did you relate to most closely, and why?
2. How does Close use humor to convey character? Are the women themselves funny, or the situations they find themselves in?
3. Ambivalence—toward jobs, men, apartments, and children—is a recurring theme in Girls in White Dresses. Why do you think that is?
4. What did Isabella learn from JonBenét?
5. Several of the characters keep some pretty big secrets, such as the way Abby keeps her friends away from her hippy parents. How does this affect Abby's life? How do the book's other secrets affect the characters?
6. What is the metaphor of the peahen?
7. On page 98, Isabella thinks about her young nephew, Connor, "All he wanted was to know what to expect. His world didn't look like he'd thought it would, and she understood. How could he keep calm if he couldn't see?" Who else does this describe?
8. Why does "the ham" become so significant for Lauren?
9. Mary wonders why nobody warned her that during her first year as a lawyer, "You will be constantly afraid." (page 120) What role does fear play in the women's lives?
10. "Kristi and Todd stood with their shoulders touching, wrapped in the cloth. It reminded Isabella of the way that Lauren and Kristi used to huddle together, whispering and laughing at jokes that only they understood." (page 174) Why does Isabella get so emotional during the "chuppah within a chuppah" wedding scene?
11. Connect the dots between Shannon, Dan, Barack Obama, and the contestants on "The Biggest Loser." Why is hope so important?
12. Throughout the book, questions of identity pop up. For example, when a friend gets divorced and decides to keep her married name, Isabella thinks it may be because, "She's afraid no one will remember who she is." (page 249) How do these characters determine who they are? By the end, who seems to have created the strongest sense of self?
13. What is the turning point for Isabella in her relationship with Harrison?
14. Why is Lauren ready to call the turtle Mark gives her Rudy, when she wouldn't use that name for the goldfish?
15. Discuss the last scene. How have the women changed over the course of the book? Who is the most satisfied with her life?
16. Where do you imagine Isabella, Mary, and Lauren will be in five years?
About this Author
Jennifer Close earned her MFA at The New School in New York City. She lives in Washington, D.C.
Suggested Reading
Something Borrowed
by Emily Giffin;
Little Earthquakes
by Jennifer Weiner;
Circle of Friends
by Maeve Binchy;
The Joy Luck Club
by Amy Tan;
How to Make an American Quilt
by Whitney Otto;
Pride and Prejudice
by Jane Austen.
Back to Top