History of a Pleasure Seeker Reader's Guide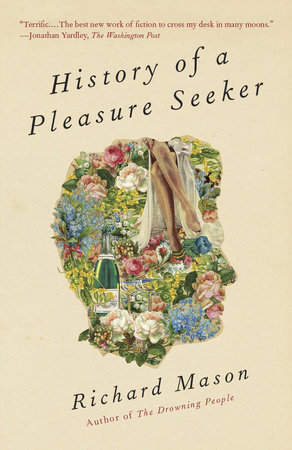 History of a Pleasure Seeker Reader's Guide
READERS GUIDE
The questions, discussion topics, and reading list that follow are intended to enhance your reading group's discussion of
History of a Pleasure Seeker
, the elegant, beguiling, and erotic new novel by Richard Mason, acclaimed author of
The Drowning People
and
Natural Elements
.
Introduction
"Sex is everywhere in
History of a Pleasure Seeker
, and it is both well described and very funny…. An enthralling, perfectly placed romp that breathes new life into the picaresque genre." —
The Observer
(UK)  
An opulent, romantic novel, written in the grand manner, set at the height of Europe's belle époque, about a handsome young man in his mid-twenties—a golden boy who secures a position as a tutor in the household of one of the most prominent bourgeois families in Amsterdam—and his entry into a world of moneyed glamour and dangerous temptations.  
Piet Barol, blue-eyed, dark-haired, seductive, and seductively charged, enters this magnificent world and inexorably learns the hidden truths of this vastly rich, secretive family and, through the course of the novel, is profoundly transformed as his charm and sexual pull transform each of their lives. In the heady exhilaration of this new world, amid delights and temptations that Piet has only dreamed of, he discovers that some of the intimacies he has cultivated are dangerous liaisons indeed…. By the author of
The Drowning People
("A literary sensation" —
The New York Times Book Review
) and
Natural Elements
("A magnum opus" —
The New Yorker
).
Questions and Topics for Discussion
1. Who is the "pleasure seeker" of the title? Who else might that describe?
2. How does Maarten's repudiation of pleasure define his character?
3. What is the metaphor of the tightrope?
4. How do the chaacters' different religious beliefs shape the events of the story?
5. "Like his father, Egbert was deeply private about his interior afflictions" (page 40). Are there other ways in which father and son are alike? How are they different?
6. Throughout the novel, Mason calls our attention to shared character traits. What do Egbert and Piet share? Piet and Maarten?
7. What role does guilt play in Piet's actions?
8. The voices Egbert hears are guided by color: "toying with primary colors was an offense that merited prolonged punishment" (page 100). Why do you think color affects Egbert this way? How does Mason use color with other characters?
9. What is the significance of the horseback-riding scene on pages 109–14? Why does it prompt Piet to carry Egbert outside?
10. How does having money—or not having it—affect the characters' behavior? What about the other members of the household staff? In the terms of this novel, what is the difference between money and class?
11. Why is Piet willing to risk everything to see Jacobina? Is he in love with her?
12. When Louisa seeks her father's help in opening a shop, he tells her: "You must marry a man with talent and ambition, whose interests you may serve as your mother has served mine. That is the way in which a woman may succeed" (page 153). Is this true for all the women in the novel? How are things changing with the times?
13. What finally gives Egbert the strength to go outside on his own? What role does music play in the decision (pages 154–5)?
14. When Piet turns down Louisa's proposal, what is the result? How does it influence the novel's denouement?
15. Why doesn't the novel end when Piet leaves the Vermeulen-Sickerts household? How might you have imagined Piet's next steps, if Mason hadn't supplied them?
16. How does Piet's interlude with his father change your understanding of his character? How did his late mother shape his behavior?
17. What role does Didier play in the novel's ending? What impact might a different response from him have had on Piet's future?
18. What has changed within Piet, that he resolves to tell the truth to Stacey?
About this Author
Richard Mason was born in South Africa in 1978 and lives in New York City.  His first novel,
The Drowning People
, published when he was twenty-one and still a student at Oxford, sold more than a million copies worldwide and won Italy's Grinzane Cavour Prize for Best First Novel.  He is also the author of
Natural Elements
, which was chosen by
The
Washington Post
as one of the best books of 2009 and longlisted for the IMPAC Prize and the Sunday Times Literary Award. 
History of a Pleasure Seeker
is his fourth novel.
Suggested Reading
Brideshead Revisited
by Evelyn Waugh;
Buddenbrooks
by Thomas Mann;
Tropic of Cancer
by Henry Miller;
The Age of Innocence
by Edith Wharton;
Lolita
by Vladimir Nabokov.
Back to Top