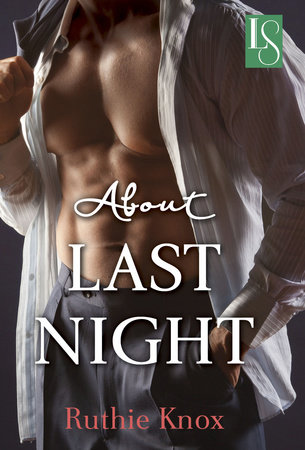 About Last Night
A Novel
By Ruthie Knox

By
Ruthie Knox
Best Seller
People Who Read
About Last Night

Also Read
Inspired by Your Browsing History
Praise
"A page turner, full of sex, sizzle and heart."
-Susan Andersen, NYT bestselling author of Playing Dirty
"Clever and charming.  A unique new voice in Contemporary Romance." – Kat Martin, NYT Bestselling Author of Against the Sun.
About Last Night is a standout, filled with wit, romance and charm. -Lori Wilde, NYT bestselling author

"I fell for Ruthie Knox's hero, I cheered for her heroine…and I simply adored everything about their love story! ABOUT LAST NIGHT was an absolutely wonderful romance."
~ Bella Andre, bestselling author of I ONLY HAVE EYES FOR YOU

Funny, unabashedly sexy, and at times achingly emotional, About Last Night kept me ripping through the pages to get to the happily ever after. Ruthie Knox is a unique, fresh voice in romance. I highly recommend her!
-Jaci Burton, NYT bestselling author

"Smart and sexy . . . ABOUT LAST NIGHT is absolutely irresistible."
-Shiloh Walker, bestselling author of the Ash Trilogy.
"Cath and Nev seem like they might not have anything in common but watching them figure out what they need from each other is half the fun.  Highly recommended for lovers of contemporary romance." – Library Journal Xpress Reviews
"Fans of Jennifer Cruise will absolutely delight in Ruthie Knox's writing. In About Last Night, Knox creates beautifully flawed characters that are as charming as they are real. Readers will cheer for the cautious Cath and wish that they had a Nev of their own — a proper English gentleman (who is not so proper in the bedroom) — waiting for them at home!" – Morgan Doremus, RT Book Reviews

"If only all romances were this funny, smart, sexy and real!"
-Author, Isabel Sharpe

ABOUT LAST NIGHT is a sensuous treat with passion and compassion, humor and originality. I highly recommend it.
Jane Bowers, senior editor and reviewer – Romance Reviews Today

About Last Night is fabulous! I couldn't put it down, I laughed out loud at Cath's attitude, and I'm still crying at the ending. So totally romantic! "drey's library"

About Last Night features an unforgettable bad girl gone good.  Days later I'm still thinking about the emotion, the sensual heat and the unbreakable connection between Nev and Cath. Debut Loveswept Author, Jessica Scott – Because of You.


Quotes from Ruthie's debut novel,  RIDE WITH ME:
"RIDE WITH ME is a breath of fresh air for contemporary romance readers! I flew through it faster than a bike hurtling downhill!"
Louisa Edwards, author of Hot Under Pressure

"A sweet yet sultry, honest and heart-tugging ride.  Everything a love story should be!" Carly Phillips, New York Times Bestselling Author

"Sexy, hilarious, poignant and just plain fun, RIDE WITH ME is a fantastic debut!" – Bestselling author Leslie Kelly

"A fantastic, sexy, and fun story!  Ruthie Knox's, RIDE WITH ME, was a delight to read."
Jill Shalvis, NYT Best Selling Author

"Ride With Me, is a unique kind of road trip with the best kind of bumps and curves!"
Sandra Hill, New York Times Best Selling Author

"Smart, sexy, and downright fun–I loved every moment of the ride!"
Julie James, National Bestselling Author

"Ruthie Knox writes a devil of a good book!  Ride With Me is one wild and fun ride you'll enjoy from the first page to the last!"
Christie Craig, award winning author of romances with heart, humor and suspense.

"Debut author, Ruthie Knox's, RIDE WITH ME, is a great mix of steamy passion and non-stop wit.  Get ready to laugh out loud.  One HOT read!"
Christina Skye New York Times Best Selling Author of A HOME BY THE SEA

"Ride With Me is smart, sexy and funny, and once I picked it up I could not put it down. Can't wait for more from Ruthie Knox. "
Sarah Mayberry, Harlequin Super Romance

"Ride With Me has it all: it's sexy, smart and fun. Ruthie Knox is a name to watch for in contemporary romance."
Samantha Hunter, Harlequin Blaze

"A charming, off-beat romance romance debut, with a fresh new voice to keep the rest of us on our toes. Discover Ruthie Knox now, so you can say, 'I read her when…'"        —Meg Maguire, author of The Reluctant Nude
Back to Top