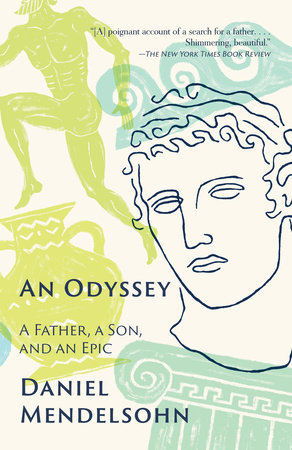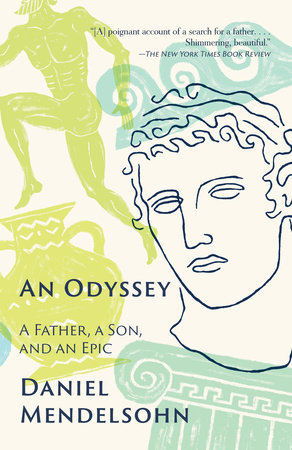 Jul 31, 2018
|
ISBN 9780345806215
Buy the Audiobook Download:
YOU MAY ALSO LIKE
QUICK VIEW
The Liars' Club
Paperback
$18.00
QUICK VIEW
Hijab Butch Blues
Hardcover
$27.00
QUICK VIEW
Ordinary Light
Paperback
$16.95
QUICK VIEW
Zami: A New Spelling of My Name
Paperback
$17.99
QUICK VIEW
The Vagina Monologues
Paperback
$18.00
QUICK VIEW
Wouldn't Take Nothing for My Journey Now
Hardcover
$18.00
QUICK VIEW
QUICK VIEW
QUICK VIEW
The Opposite of Fate
Paperback
$18.00
QUICK VIEW
Sister Mother Husband Dog
Paperback
$16.00
Praise
"Subtle, profoundly moving . . . an intricately constructed, multidimensional journey of a father and son and their travails through life and love. Mendelsohn weaves his basket with many wands; the complexity seems natural, an account of the quality of life itself, a route to revelation. Mendelsohn explicates the Odyssey with exemplary and generous clarity. A book of shimmering, beautiful, dapple-skilled intelligence." —Adam Nicolson, The New York Times Book Review
 
"Rich, vivid, a blood-warm book . . . a deeply moving tale of a father and son's transformative journey in reading—and reliving—the Odyssey. Mendelsohn wears his learning lightly yet superbly. What catches you off guard about this memoir is how moving it is: it has many things to say not only about Homer's epic poem, but about fathers and sons. Mendelsohn has written a book that's accessible to nearly any curious reader. The book partakes of at least four genres: classroom drama; travel writing; biographical memoir; literary criticism. Revealing and funny . . . Mendelsohn makes Homer's epic shine in your mind." —Dwight Garner, The New York Times

"My favorite classicist once again combines meticulous literary investigation with warm and wrenching human emotion—books like these are why I love reading." —Lee Child
 
"Poignant, tender, affecting. . . . Mendelsohn is one of the finest critics writing today; he's also an elegant and moving memoirist. One of the pleasures of reading him in any genre is being in expert hands. Mendelsohn's new book draws on all his talents as he braids critical exegeses into intimate reminiscences, to illuminate them both. In An Odyssey, a seminar at Bard College becomes a voyage of discovery, not just for his students but also for Mendelsohn. He is alert to ambiguities, aware that the path to any truth is a winding one; his defining skill is his ability to trace those paths in rich detail and intricate layers of revelations that build to a deeper understanding—of art, of life—that is humanly and artistically satisfying. Mendelsohn's use of the classical Greek technique of ring composition perfectly captures the stop-and-start rhythms of his progress . . . Brilliant." —Wendy Smith, The Washington Post

"When Daniel Mendelsohn's mathematician father lands in his son's Homer seminar at Bard, the older man sets in motion an odyssey both hilarious and heartfelt. Father and son start in the pages of an epic, board a ship to follow the hero's path through the Mediterranean, and finally end where all our stories do. An Odyssey melds genius-level lit crit with gut-level moving memoir. Beautiful and wise." —Mary Karr

"This past summer, I made time to catch up on a book I'd missed when it was published two years ago. Ever since, I've been telling friends, students and random strangers on a train that they must read Daniel Mendelsohn's memoir called An Odyssey. In it, he recalls teaching a seminar on Homer's Odyssey that his then 81-year-old father sat in on as an auditor. 
An Odyssey is the best account of what teaching is really like that I've ever read; it's also (like Homer's epic) a spell-binding story about the tenderness of a father-son bond, as well as the inevitable limits that one's own personality and mortality impose on that bond." —Maureen Corrigan, NPR

"A happy homecoming of another kind. Dread of the alien thrums through [Homer's] Odyssey; for Mendelsohn, the ancient tale becomes an occasion not only to explore his relationship with his father, but to transform it. He recounts the progress of the seminar he teaches, in which his father is a lively (often obstreperous) presence. The students are invigorated. In acknowledging the power of the Homeric poem to bring depth to human relations, Mendelsohn's father is acknowledging the value of his son's world and expertise. The recognition leaves Mendelsohn free to see through his father's hardness—his 'exacting standards for everything'—to the vulnerable fighter within: a scrappy, strategizing Odysseus from the Bronx.  What solace or despair resides in the unexpected relevance of this ancient poem, its encounters with Otherness thrown into high relief by the xenophobia of our time? Three millennia later, we have yet to habitually turn to the bedraggled stranger and take note of his tears. . . . Poignant." —Rebecca Newberger Goldstein, The Atlantic

"Tender . . . complex and moving: a book that has much to say about fathers and sons. On one level, An Odyssey elegantly retells the story of Mendelsohn's Odyssey course, complete with all the gags, competition, and good cheer of an intergenerational bromance. [But] it dives deeper, excavating a portrait of Mendelsohn's special student, his father: his lonely childhood, his early brilliance, his forfeiture of Latin for a life of numbers. Why a man so warm could be so cold. As Mendelsohn unpeels the layers of his father's life and education, he dramatizes the beauty—and tedium—of the classroom. The reality of instruction is messy; Mendelsohn happily shows us how difficult the transference of passion can be. In this way, the students become supporting characters to the book's hero, Mendelsohn's father, who lurks in the corner like a hero in disguise. There is but one ending to the book; within a year, Jay would die, and so Mendelsohn's journey—indeed like Homer's—would be undertaken after the fact, when something remained to be learned. It is a remarkable feat of narration that such a forbiddingly erudite writer can show us how necessary this education is, how provisional, how frightening, how comforting." —John Freeman, The Boston Globe 
 
"By turns family memoir, brilliant literary criticism, and a narrative of education. Most of all, An Odyssey is a love story. Mendelsohn makes his way through the text of the Odyssey, but also tells a larger, personal story—of his family. Both odysseys focus on quests, recognitions, homecomings. The book asks: How can you really know anyone else? A truth everywhere acknowledged in Mendelsohn's odyssey is that everyone has a story, just as every hero has a flaw, and that everyone needs stories to get through life. Mendelsohn is the professor every college kid dreams about: learned, sympathetic, encouraging and challenging in equal measure. Like Homer, Mendelsohn makes us grateful for journeys, and the companions—especially our families—who accompany us along our individual and collective paths. . . . In An Odyssey, he reels us in with a storyteller's strongest gifts: passion, clarity, and timing." —Willard Spiegelman, Wall Street Journal

"Fascinating. . . intensely moving. There are many moments to cherish in this tangled and passionate investigation. Mendelsohn's exploration is [both] a personal family memoir and a critical report on Homer's epic, and the two facets illuminate each other. Mendelsohn is an imaginative teacher, and the discussion of the Odyssey sparkles. The Mediterranean cruise that father and son take pays off in surprising ways; we get a haunting glimpse of the fear that the end of your journey means finis, the hope residual in permanent postponement. Best of all are the various small recognitions that combine to build the late-blossoming intimacy between father and son. This is an honest, and loving, account of the improbable odyssey that gave them this one last deeply satisfying adventure together." —Peter Green, The New York Review of Books
 
"Heartfelt, touching . . . a dazzlingly rich story of identity and recognition from an exacting critic and award-winning memoirist. . .When his father enrolled in Mendelsohn's undergraduate seminar, Mendelsohn didn't know his father would only have a year to live. The course, and the cruise retracing Odyssey's voyage to Ithaca a few months later, set in motion an emotional journey neither man could have anticipated.  With each new foray in his oeuvre, Mendelsohn discovers deeper truths about those we think we know, including ourselves. Mendelsohn's intelligence glitters on the page." —Rajat Singh, Los Angeles Review of Books

"Mendelsohn is a force. His sentences are freighted with knowledge, observation, and feeling. Both the classroom experience—where Mendelsohn's father Jay serves as a counterpoint to Mendelsohn's sharp reading of the story—and the boat excursion they take offer opportunities: his father slowly sheds his carapace and gives himself over to the adventure, revealing a side that we—and his son—may not have seen before. Mendelsohn is an encouraging teacher with enthusiasm and wonderful energy. But perhaps most significantly, readers come to understand him as a man with long-borne emotions, for his relationship with his father has not been the easiest. [This] father-son journey with Homer as guide [is] no buddy story, but a hard-fought, hard-won, late-life conciliation." —Peter Lewis, Christian Science Monitor
 
"Fascinating . . . Mendelsohn expertly examines the Odyssey with depth and classical acumen, extracting meaning from even its most subtle moments. He explores [its] historical importance with the comfortable clarity of someone who has spent decades immersed in Greek literature. He details his own relationship with the ancient poem, and he culls from the narrative many insights into his own familial bonds, specifically with his father. But the most entertaining part may be the classroom scenes. By the end of the semester, Mendelsohn's father had become part of the class and his presence leads to a revealing and dramatic moment. An Odyssey is a journey worth taking." —Jonathan Russell Clark, San Francisco Chronicle

 "Moving . . . a surprising piece of art—a masterful memoir of reading, teaching and learning; a book as full of twists and turns as its subject, often beautiful too. The Homeric questions about fidelity, heroism and survival are elevated from Mendelsohn's seminar by the relationship between the two men. This is a story of reconciling a scientist and an artist; Jay, the man of calculus, comes to influence both his son and his fellow pupils. As well as a contribution to the art of memoir, An Odyssey is a vivid defence of the close rereading of a classical text, the tiny questions from which bigger pictures become clear." —Peter Stothard, The Financial Times

★ "Enlightening—engaging, gripping and deeply moving . . . Mendelsohn explores the enduring relevance of Homer's Odyssey through a memoir tracing the complex relationship between father and son." —Library Journal (starred review)
 
"Beguiling. . . in this memoir, Mendelsohn recounts a freshman class on the Odyssey he taught at Bard College with his father, an 81-year-old computer scientist, sitting in. … Mendelsohn gradually unwraps layers of timeless meaning in the ancient Greek poem; Homeric heroes offer resonant psychological parallels to a modern family. Mendelsohn weaves trenchant literary analysis and family history into a luminous whole. A gem." —Publishers Weekly
 
★ "Sharply intelligent. . . A frequent contributor to the New Yorker and the New York Times Book Review, Mendelsohn is also a classics scholar. His father, a retired mathematician, had been interested in the classics during his school days and decided to continue his education by studying with his son . . . Ultimately, this book [is] about what they learn about each other—and what they can never know about each other. The author uses a close reading of the epic to illuminate the mysteries of the human condition; he skillfully, subtly interweaves textual analysis [with] the lessons of life outside it . . . A well-told story that underscores the power of storytelling."—Kirkus, starred review

"There are a handful of books that have captured the pleasure and romance of [the classics]. Donna Tartt's The Secret History was one. This is another. What happens in this book isn't really its point; it's more about the telling than the tale. And the telling is breathtaking. Homer has a phrase for those who can speak bewitchingly: they have 'wingèd words'. Mendelsohn has wingèd words." —Catherine Nixey, The Times (UK)
 
"Radiant . . . a candid, majestic book on the art of teaching, and the push-pull relationship between professor and student, especially if the student is one's father. At the book's center is [Mendelsohn's father] Jay, whose presence in the classroom bewilders and charms the other students and his son . . . Mendelsohn artfully allows Jay to define himself through bluster and unexpected moments of tenderness. With skill and passion [Mendelsohn] underscores how and why Homer still resonates today. Intimate connections between Greek myths and our own lives reveal the author at his singular best. With this graceful and searching memoir, we all drink from the cup of knowledge proffered by one of our leading philosopher-writers." —Hamilton Cain, Star Tribune

"Lucid textual analysis [of Homer's the Odyssey], and a profound meditation on the inherent unknowability of the men who raise us. More than that, An Odyssey is a moving portrait of the father Mendelsohn comes to know in the last years of his father's life—[a] quest that is the beating heart of the book. I came away with a renewed and deepened sense of the rewards found in a close reading of the Odyssey. The poem is about life itself: marriage, fidelity, homecoming, fatherhood, sonship, duty, honor, love, and in true Greek style, preparation for death. To encounter the poem, and to read it deeply, is to encounter ourselves." —Thomas Jacobs, America Magazine

"Spellbinding . . . multi-layered, inclusive. . . With bardic capacity, Mendelsohn tells a story that is heroic in scope yet distinctly humble in manner. Mendelsohn's keen, penetrating observations plumb the micro-emotions of the several stories interwoven here. Slowly, painstakingly and with abiding, warm humor, Mendelsohn pursues reconciliation with his prickly father, who becomes a cantankerous student in Mendelsohn's seminar at Bard College. The book's magic is in moving from topic to topic, setting to setting, insight to insight, ancient to modern over what is sometimes no more than a paragraph break, and with no creaking of the narrative machinery. A meditation on filial love as candid, tender and in its own way ruthless as its counterparts in the Bible, Shakespeare and Homer . . . written with style as remarkable and flexible as the Odyssey, with sentences Proustian in complexity yet lucid and balanced . . . both dense and fleet, and wholly captivating." —Tim Pfaff, The Bay Area Reporter

"It's hard to pierce a legend, even when it's just generation-old family lore . . . As author-professor, Mendelsohn doesn't lecture; his storytelling leaves room for other teachers — including his current students, his former professors and relatives who decode multi-layered family myths. All of these relationships yield an emotional bounty, nourished by memories, loyalty, love or some combination of the three. Equal parts lit-crit class, language lesson and memoir, An Odyssey create[s] its own unique and compelling sub-genre. Each element of Mendelsohn's story is buffed to perfection . . . Brilliant." —Alison Buckholtz, Florida Times-Union

"A memorable mixture of literature and life. . . One of the students in Mendelsohn's spring undergraduate seminar on Homer's Odyssey was quite different from the others: Mendelsohn's own father. Classroom discussions of Odysseus' long, wandering journey home to Ithaca led father and son to undertake a real-life Mediterranean cruise retracing the Greek warrior's travels. Mendelsohn begins to see his father in a new light even while the older man challenges the basic tenets of Homer's epic. . . [It is] a journey of understanding they undertake together. Interesting and instructive." —Bridget Thoreson, Booklist
 
"Brimming with longing and heartbreak . . . A noted memoirist and venerable contributor to a myriad of respected periodicals, Daniel Mendelsohn doesn't hold back. In this memoir, he turns his attention to two men who have influenced a large portion of his life: Homer, and his own father. An Odyssey carefully unpacks details from Homer's epic poem, with the author taking the stance of a vigilant observer. Witnessing his father's guileless rediscovery of the ancient text, Mendelsohn's life's work as a classicist is turned on its head. The revelations and thoughts of the central characters of Homer's Odyssey serve as portals to deeper understanding of contemporary relationships. Studying (and essentially mirroring) Homer's legendary work allowed both the Mendelsohn father and son to find new dimensions for their love of one another. While the events of An Odyssey conclude with Jay passing away, the vibrant stamp he left behind on his son is evidenced by the profundity of the memoir's pages. It's an epic reconciliation, albeit a quiet one, focused on all that he'd been given by his father, celebrating their mutual love and respect." —Michael Raver, The Huffington Post
 
"Family memoirs are often chronicles of estrangement and rapprochement, typically seeking to wring meaning from the haze of grief or regret. In this quest, Mendelsohn transcends the demands of the genre with his customary blend of linguistic elegance and narrative panache. He dares readers to engage with the complexities of [Homer's] epic poem and apply its lessons to their own lives. As the memoir unspools, Mendelsohn's narrative grip tightens, and the son's search for his father becomes poignant and powerful." —Julia M. Klein, The Forward

"Compelling . . . a memorable journey through worlds both ancient and contemporary. As I read Mendelsohn's wonderfully precise textual analysis of Homer, I couldn't help but think how similar his interpretative method is to the ways in which Biblical scholars parse the Torah for deeper understanding. With each reading, there is also more to glean. So, too, does Mendelsohn gain more insight into his father, and thus himself, at every step along the way. An Odyssey is a multi-layered tale; a lesson in learning through the journey of life." —Diane Cole, Jewish Week

"Deeply personal. . . Mendelsohn traces his emotional, intellectual and physical journeys with his father, which he weaves with Homer's epic poem about Odysseus' long journey home from battle." —Robert Nagler Miller, J Weekly 
 
"Enjoyable. . . An Odyssey describes a son's touching mission to understand his father. In a thoroughly Odyssean conceit, Mendelsohn questions what it takes to recognise the qualities of one's kin. The appeal of the book lies in the lacunae between Mendelsohn's understanding of his father and ours. Teaching his father initially seems to teach Mendelsohn only how little they have in common, [but] if any subject can dissolve their differences, it is Classics. Everyone who embarks on an Odyssean quest must fail in his own way. The author doesn't fail to achieve Odysseus's heroism. Can a son ever know his father at all? It is to Mendelsohn's credit that he poses the question before it is too late." —Daisy Dunn, The New Statesman

"A rich and richly textured book . . . a tour de force. Combining an in-depth literary analysis with a personal narrative is a bold enterprise. An Odyssey could have been, in the hands of a lesser writer, grandiose. It isn't. It is so well written that every page makes you feel more alert and alive. The brilliance of An Odyssey lies in the insightfulness of the writing, as Mendelsohn immerses himself in the text of Homer's Odyssey: lives it, breathes it, and presses it for meaning. He is particularly good at physical descriptions; he is also good at demonstrating how difficult it is to understand our parents, the small ways in which we hurt one another, and the tender moments. The ending is heartbreaking. Through Homer, Mendelsohn has created a memorial his father: an extraordinary act of ­filial love." —Helen Morales, Times Literary Supplement (UK)

"Mendelsohn is an artful storyteller whose skills are equal to the task of weaving Homer's poem into his own life. In this insightful, tender book, Mendelsohn gracefully marries literary criticism and memoir to describe an intellectual and personal journey that becomes one of profound discovery for both [father and son]. Most impressive are his transitions from scholarly con­sideration of 'The Odyssey' to intimate stories of his family life, as when the class discussion flows effortlessly into a magical moment, witnessing [his father] Jay as he offers a heartbreakingly beautiful tribute to his wife… [There are] many wise lessons to be gleaned from this lovely book." —Harvey Freedenberg, BookPage

 "Fascinating . . . by turns cerebral, lively and poignant. Mendelsohn has achieved an enviable renown as essayist, literary critic and author of autobiographical explorations undergirded by insights from classic texts. In Homer's Odyssey, Telemachus, now 20, is searching for the father he has never known; likewise, while teaching a course on the Odyssey, Mendelsohn discovers that the classroom becomes a way to better understand his cantankerous father. In lesser hands, this sort of parallelism would seem gimmicky, but not here. It's clear that Mendelsohn's Socratic method of teaching (via dialogue rather than lecture) forces everyone, including himself, to see things with fresh eyes. Every step of the way, An Odyssey charts a remarkable journey made indelible by Mendelsohn's elegant prose. —Dan Cryer, Newsday
 
"Rich. . . surprising, seamless. Mendelsohn is perhaps the most accessible contemporary ambassador of the classics; An Odyssey makes his most convincing case to date for their vital necessity. The book argues that Homer's classic may be, more than anything else, a family saga.  In An Odyssey Mendelsohn places himself in the Telemachus role to ponder his relationship to his own father, who, like many fathers seems to have at some point drifted away. This book is as much tribute to the magic that can occur in the classroom as an unlikely tale of a father and son's spiritual reunion. It is an adventure in criticism and in familial reckoning, telling the story of how Daniel and his father get to know each other in the last year of his father's life. Mendelsohn takes us through the Odyssey alongside his class, meanwhile drawing comparisons between his and his father's journeys, and those of Odysseus and Telemachus. Mendelsohn has honed a method of mixing memoir and criticism to reflect on the problems of contemporary life through the lens of the Greek classics. What's remarkable is the extent to which the Odyssey truly does help him—and us—understand our lives." —Craig Morgan Teicher, Bookforum
 
"A brilliant new memoir . . . richer and deeper than Mendelsohn's previous work. At its core, it is a funny, loving portrait of a difficult but loving parent: Mendelsohn's father, Jay, who is, like [the Homeric hero] Odysseus and perhaps all of us, polytropos: "many-sided" or "much-turning." Mendelsohn sets an account of the Homeric Odyssey alongside a nuanced portrait of his own complicated familial and quasi-familial relationships, including a vivid picture of Mendelsohn's anger, anxieties and embarrassments about his father. The book shows us how his desire to become a classicist was shaped in part by the desire to please his father, and how he shares some of his father's need to be always right. Most powerfully, Mendelsohn contrasts his account of Homer with his father's more critical response . . . the meeting of the two perspectives leads to a far richer reading of the poem. The fault-lines mapped in the disagreements of father and son correspond to some of the most fascinating interpretative questions of The Odyssey itself. Mendelsohn is a perceptive literary critic and a self-consciously elegant writer. An Odyssey is a stellar contribution to the genre of memoirs about reading—literary analysis and the personal stories are woven together in a way that feels both artful and natural. A thoughtful book from which non-classicists will learn a great deal about Homer." —Emily Wilson, The Guardian (UK) 

"A marvellously entertaining and wise chronicle of [Mendelsohn's and his father's] odyssey, first in the classroom and then on a tour of the seas around Greece. Mendelsohn senior reveals himself to be a clever questioner and someone capable of motivating a class of reluctant youngsters. Revelations about the sorrows of war, the pangs of love, the craft of matrimony and the laws of travel are had. 'A good book leaves you wanting more,' Mendelsohn's father observes after finishing his son's seminar. This is powerfully true of this moving new odyssey as well." —Alberto Manguel, Literary Review (UK)
 
"A gentle, at times almost nostalgic, work: Mendelsohn's lithe prose flits seamlessly across intervals and registers, switching from erudite exposition one minute to emotion-filled reminiscence the next. An accomplished, brave book that testifies to what is perhaps the Odyssey's most abiding message: that intelligence has little value if it isn't allied to love." —William Skidelsky, The Observer (UK)

"In An Odyssey, the act of reading Homer tests a father-son relationship. Besides creating page-turning narrative tension, Mendelsohn's father Jay's skepticism raises a question: What good are classics to a modern life? Jewel-like moments and meditations arise." —Giancarlo Buonomo, The New Republic
 
"Extraordinary . . .Mendelsohn is the closest thing American classicists have to a hometown celebrity; his nonpareil prose has been recognized in wide literary circles. An Odyssey will speak to souls already well-watered by Homer and to those who have yet to drink from his well. An Odyssey is about the challenge we face in attempting to assemble our own prehistories. It is, in other words, the challenge of figuring out your parents. A deeply personal, profoundly moving meditation." —Johanna Hanink, Eidolon
 
"Wise and deeply humane—a many-layered memoir; a remarkably warm and intimate book, one that brings an ancient wonder into modern life and creates heroes on a less than epic scale. Mendelsohn explains how his relationship with his father was historically spiky, characterised by patches of silence and distance. Under the teacher-pupil bond, however, it flourishes. Even as Mendelsohn lights up hidden meanings in the Odyssey and universal resonances for the reader, he is not only conveying his knowledge about the epic, but about the little things, too, those details that make a person who they are. In every way, this book is an education." —Victoria Segal, The Sunday Times (London) 

"Brave . . . A memoir that itself is a deeply Odyssean work, not just structurally, but thematically: as Mendelsohn takes us through Homer's epic, he reveals how its themes – the passing of time, identity and recognition, the bonds between fathers and sons, husbands and wives – resonate across his and his father's lives. The book thus enacts a truth that has long been central to Mendelsohn's writing and teaching, which is that the great works of antiquity remain relevant today. This is a gentle, at times almost nostalgic, work; Mendelsohn's lithe prose flits seamlessly across intervals and registers, switching from erudite exposition one minute to emotion-filled reminiscence the next. This accomplished book testifies to what is perhaps the Odyssey's most abiding message: that intelligence has little value if it isn't allied to love." —William Skidelsky, The Guardian (UK)
 
"Brilliant . . . not just a memoir but a celebration of Homer's great poem. Throughout we learn not only of the nuances and stories of the Odyssey, but the actual structure as well, illustrated by the author placing his own story in the parameters of the Greek epic. Mendelsohn proves to be a wonderful teacher; he confidently leads you through the ancient text. He also tells an intimate story about a father and son who don't become close until late in life. If Homer's The Odyssey is about any one thing it's about stories, imagined or real, heroic or tragic. This memoir is also the story of another father and son and the stories they reacted and told each other." —James Conrad, Chronogram
 
"A poignant and funny memoir as well as a stirring work of literary criticism." —Vulture Best Books of 2017 (so far)
 
"A beautiful personal narrative and literary interpretation . . . an elegiac work in which the Odyssey comes back to life. The ancient story's leaving and coming back to shared memories is also a strength of a son's tribute to his father. By turns Mendelsohn becomes closer to his father as the two men take a journey of late-life friendship." —Michael D. Langan, The Buffalo News
 
 "Part odyssey, part memoir, part lit-crit and part classroom drama, swirling back through time. Mendelsohn has [long] been the plangent voice connecting the ancients with us. But the connectivity never hit home as hard until her undertook An Odyssey, [which is] is essentially a seminar of reading a human being. That human being is his father, and so his erudition is ennobled, and electrified, with true very human love.  An Odyssey is a vindication of Mendelsohn's theory that every man is a great text and the nobility of close reading. When the text is great and the man is your father, close-reading gives life back to the lines and the space between them." —Joshua David Stein, Fatherly
 
 "Beguiling. . . The ancient tension [between fathers and sons] that Athena, the goddess of wisdom and war, points out in the Odyssey is still simmering when father Jay takes his corner seat in son Daniel's Odyssey class. Mendelsohn's book keeps four stories aloft at once: a summary of The Odyssey; his account of the class he teaches; the story of his relationship with his father; and an account of his own and his father's life. The refreshing thing about An Odyssey  is that it's a repudiation of the cultism of the classics. Reading The Odyssey, the great book, with your failing old man, and keeping each other company in the parallel epic known as life [is] a memory that will last longer than anything on your cellphone." —Ian Brown, The Globe and Mail (Canada)



Get the latest updates about Daniel Mendelsohn
And go from well-read to best read with book recs, deals and more in your inbox every week.
And go from well-read to best read with book recs, deals and more in your inbox every week.
Dismiss
Thanks!
Something awesome is on its way.
Back to Top
Become a Member
Start earning points for buying books! Just for joining you'll get personalized recommendations on your dashboard daily and features only for members.
Find Out More
Join Now
Sign In
Success!
Your account has been created. Upload book purchases, access your personalized book recommendations, and more from here.