72 Hour Hold Reader's Guide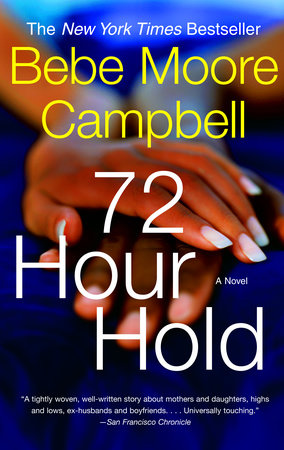 72 Hour Hold Reader's Guide
READERS GUIDE
NATIONAL BESTSELLER
"Shatters our abstract notions about mental illness. . . . [Campbell] is a writer at the top of her form as a storyteller, culture keeper and astute social critic." —
Los Angeles Times
The introduction, discussion questions, suggestions for further reading, and author biography that follow are intended to enhance your group's discussion of
72 Hour Hold
, a gripping novel of family tragedy and redemption by Bebe Moore Campbell.
Introduction
When Keri Whitmore's daughter, Trina, a straight-A student headed for a prestigious university, suddenly turns impulsive, needy, and irrational, leaving home at all hours to hook up with drug dealers, Keri is bewildered and frightened. A psychiatrist tells Keri that Trina suffers from bipolar disorder, an inherited mental illness that can make its victims paranoid, wild, and often violent. Keri's ex-husband, Clyde, refuses to accept the diagnosis, and Keri is on her own in dealing with Trina's unpredictable and dangerous behavior. At times it seems that the only solution is to have Trina committed to an institution —but since Trina is over eighteen years old, Keri can't sign her in. At a support group for families of the mentally ill, Keri meets Bethany, whose daughter is even more seriously ill than Trina. Bethany has found a group of experts who engage in illegal "interventions," in which the patient is forcibly held and treated until stabilized. With her own carefully organized life falling into chaos in the grip of Trina's illness, Keri is forced to confront the most painful experiences of her past and to heal herself, even as she struggles against the odds to find treatment for her daughter.
Questions and Topics for Discussion
1. The novel is narrated from Keri's point of view. How does she present herself as a character in the opening chapter? What are the traits that have made her a successful businesswoman? How does her character contrast with that of her teenage daughter?
2. Dr. Ustinov tells Keri, "your daughter is bipolar" [p. 25]. Consider the terms in which Dr. Ustinov presents Trina's illness to Keri [p. 29]; his approach is purely factual, while hers is psychological and filled with guilt. Does Keri begin to lose her guilt about Trina's illness as the novel proceeds, or does she continue to feel that in some sense, it's "always Mommy's fault" [p. 30]?
3. Friendships between women are important in this novel. What kinds of support and strength do women offer each other? Discuss examples of the loyalty and love shared between female characters in the story.
4. How does Keri's history with her mother's alcoholism affect her approach to Trina's illness? In what ways is Keri's refusal to forgive her mother understandable, and in what ways does she refuse to realize that her mother might also be considered to have a brain disease? How does Keri eventually make the choice to let her mother back into her life?
5. In what ways does 72 Hour Hold help readers question the phenomenon that having a perfect child (high-achieving, popular, talented, beautiful, etc.) contributes greatly to a parent's self esteem and social status? Does Keri eventually let go of these ideas? If so, how?
6. What is the effect of Campbell's frequent use of the metaphor of slavery—its images, its terrors, its punishing psychology—throughout the novel? See, for instance, page 3 ("the hounds are tracking you") and page 28 ("I embarked on my own Middle Passage that night, marching backward, ankles shackled"). If Keri's experience with her daughter's mental illness is like the experience of slavery, does the novel yield any sense of liberation from this condition?How does Keri's relationship with Orlando differ from her relationship with Clyde? At a moment of extreme crisis in the story, it seems as though Keri will get back together with Clyde. Why does she ultimately choose Orlando instead?
7. How does Keri's relationship with Orlando differ from her relationship with Clyde? At a moment of extreme crisis in the story, it seems as though Keri will get back together with Clyde. Why does she ultimately choose Orlando instead?
8. Just as Keri has to accept her daughter's illness, Orlando has to accept P.J.'s homosexuality. Why is this so devastating for Orlando? Does the description of the household Keri and Orlando share at the end of the novel suggest that both Keri and Orlando are at peace with their children?
9. What is the significance of Keri's skill as a masseuse in her approach to healing both herself and Trina? Why is this mode of touching so important to the bond between the two of them?
10. The relationship between Keri and Orlando presents an example of the difficulties self-made women encounter when they find themselves with less-successful men. (Campbell has also written a nonfiction book on this topic.) Why is Keri impatient with Orlando's lack of success, and how does she come to terms with it?
11. The segment of the novel that describes the intervention, which involves a road trip and a good deal of suspense, adds an element of adventure to this story of family tragedy. What is the effect of these chapters, and how does Campbell make them such compelling reading?
12. Karl, the intervention leader, is the child of a mother who was mentally ill. What do his and Keri's family histories tell us about the kinds of damage done by untreated mental illness? In what ways can Karl and Keri be seen as overcompensating for—or still reacting to—their painful childhood experiences?
13. In a significant conversation between Keri and Trina on pages 298–299, Trina acknowledges the pain of having to give up the college life she was on the verge of, even as she also acknowledges the danger of suicidal feelings. Does the end of the novel suggest a hopeful outcome for Trina?
14. What is the significance of the green pantsuit with the small stain, which Keri finally wears at Trina's performance [p. 318]? How is it related to the novel's epigraph from a Leonard Cohen song: "Ring the bells that still can ring. / Forget your perfect offering. / There is a crack in everything. / That's how the light gets in."?
15. How does this novel open up the inside world of families dealing with severe mental illness? What did you find surprising about the story? How do other books on the subject of mental illness that members of your group may have read compare to 72 Hour Hold?
About this Author
Bebe Moore Campbell is the author of three New York Times bestsellers:
Brothers and Sisters
,
Singing in the Comeback Choir
, and
What You Owe Me
, a
Los Angeles Times
Book of the Year. Her novel
Your Blues Ain't Like Mine
won an NAACP Image Award. She is the author of several children's books, including
Sometimes My Mommy Gets Angry
, and has written a play, "Even with the Madness." Her writing has appeared in
Essence
,
The New York Times Magazine
, and other publications, and her commentaries have been heard on National Public Radio. Ms. Campbell lives in Los Angeles with her husband, Ellis Gordon, Jr., and their family.
Suggested Reading
Deborah Digges,
The Stardust Lounge
; James Garbarino,
Lost Boys
; Mark Haddon,
The Curious Incident of the Dog in the Night-Time
; Kay Redfield Jamison,
Touched with Fire
and
An Unquiet Mind
; Edward Jones,
The Known World
; Susanna Kaysen,
Girl, Interrupted
; Jamaica Kincaid,
The Autobiography of My Mother
; Terry McMillan,
Waiting to Exhale
; Toni Morrison,
Love
; Mary Helen Washington (ed.),
Black-Eyed Susans and Midnight Birds
.
Back to Top