The Beauty of the Husband Reader's Guide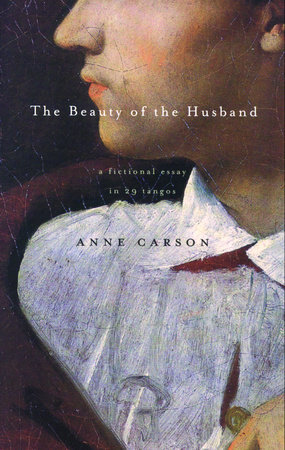 The Beauty of the Husband Reader's Guide
READERS GUIDE
The introduction, discussion questions, suggestions for further reading, and author biography that follow are designed to enhance your group's reading and discussion of the work of Anne Carson, whom Michael Ondaatje praised as "the most exciting poet writing in English today."
Carson is a winner of the prestigious MacArthur fellowship, and has been the recipient of much admiration in the literary world. She is credited with the invention of an entirely new kind of poetry, fusing free verse with prose passages, using pastiche to startling effect, combining searing emotion with austere intellect. Interspersing her own words with quotes and references to sources that range from classical Greek literature, St. Augustine, the Bible, and the Tao to Emily Dickinson, Virginia Woolf, Gertrude Stein, Franz Kafka, and Marcel Proust, Carson constructs an astonishing art that is able to arouse, like nothing else in recent years, new emotional and intellectual energies in her readers.
Introduction
In this powerful and moving portrait of a doomed marriage, Carson introduces the tango as a poetic form and revisits John Keats's claim that "beauty is truth, truth beauty," in a moving and often wryly amusing exploration of how people become the victims of desires they can't control.
Questions and Topics for Discussion
1. The poem is dedicated to Keats, "for his general surrender to beauty." In his "Ode on a Grecian Urn," Keats concludes that "Beauty is truth, truth beauty,–that is all/ Ye know on earth, and all ye need to know." Clearly the speaker of The Beauty of the Husband knows a lot more than that, but she is not saved by her knowledge from the fatal beauty of her first love. The irony is that the beautiful husband is a liar, and his lies destroy the marriage. The speaker states, "Poets (be generous) prefer to conceal the truth beneath strata of irony/ because this is the look of the truth: layered and elusive" [p. 37]. How is Carson using irony in this poem?
2. Carson has appended a subtitle to this work; she calls it "a fictional essay in 29 tangos." What effect does the word "fictional" have? Is it a warning that readers are not to take this as an autobiographical story? Does it make a difference, in terms of emotional impact and reading pleasure, whether The Beauty of the Husband is true or not? Daphne Merkin has suggested that "a story line in any conventional sense is not what fuels Carson's writing–or what she cares about, except as it may enable her to ask the questions that interest her: to what avail are Parmenides and 'the true lies of poetry' when set against the 'welter of disorder and pain' that 'is our life'?"4 How does The Beauty of the Husband read as a story? Does it share certain elements with fiction?
3. The wife in the poem says, "How do people/ get power over one another?" [p. 38], and later, "Why did nature give me over to this creature–don't call it my choice, / I was ventured: / by some pure gravity of existence itself,/ conspiracy of being!" [p. 49]. She also asks a related question: "What does not wanting to desire mean?" [p. 75]. These are crucial philosophic questions for the poem, and for the whole ideal of human self-determination. Does Carson suggest that people are helpless when in the grip of desire? Carson has written a book about the Greek concept of Eros; does she suggest that in fact a power like the god Eros still exists and can conspire to give one person over to another?
4. The wife states that her husband was "loyal to nothing," and yet she is "not ashamed to say I loved him for his beauty. / As I would again / if he came near" [p. 9]. This is essentially a romantic and aesthetic approach to life. What role, then, does the rational mind play in this drama?
About this Author
Anne Carson
was born in Canada in 1950. In addition to the works addressed in this guide, she has written
Economy of the Unlost
,
Eros the Bittersweet
and
Glass, Irony and God
. She has also produced translations of Sappho (
If Not, Winter: Fragments of Sappho
, forthcoming in 2002) and
Electra
of Sophocles. A 2000 MacArthur fellow, she is a professor of classics at McGill University.
Back to Top