A House Among the Trees Reader's Guide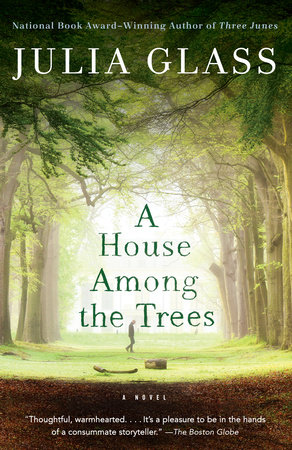 A House Among the Trees Reader's Guide
READERS GUIDE
The questions and discussion topics provided here are designed to enhance your reading group's focus on some of the main concepts in
A House Among the Trees
and to enable readers to explore and share different perspectives. Feel free to wander in your discussion, and use this as a guideline only!
Introduction
Julia Glass's richly imagined novel begins just after the sudden death of world-renowned children's book author Mort Lear, who leaves behind a wholly unexpected will, an idyllic country house, and difficult secrets about a childhood far darker than those of the beloved characters he created for young readers of all ages. Left to grapple with the consequences of his final wishes are Tommy Daulair, his longtime live-in assistant; Merry Galarza, a museum curator betrayed by those wishes; and Nick Greene, a beguiling actor preparing to play Lear in a movie.
When Nick pays a visit to Lear's home, he and Tommy confront what it means to be entrusted with the great writer's legacy and reputation. Tommy realizes that despite his generous bequest, the man to whom she devoted decades of her life has left her with grave doubts about her past as well as her future. Vivid and gripping, filled with insight and humor,
A House Among the Trees
is an unforgettable story about friendship and love, artistic ambition, the perils of fame, and the sacrifices made by those who serve the demands of a creative genius.
Questions and Topics for Discussion
1. The house in Orne that Morty and Tommy share plays an enormous part in their lives and claims the title of this novel. In what ways is the house significant as more than just a setting? Does it remind you of places you know?
2. Tomasina Daulair has given 25 years of her adult life to caring for an older gay man who is also a revered, beloved artist. Do you consider her lonely? What do you think of the choices she's made along the way? Do you see any parallels between Tommy and yourself?
3. ick Green is a young artist whose career is rapidly accelerating, while Mort Lear was an artist who worked hard to sustain his success and renown over several decades. What kind of a relationship did they form through their correspondence, and how do you think it might have evolved if they'd met in person?
4. Mort Lear's character is revealed in flashbacks through the course of the novel, through the eyes of three different people. How does your opinion of him change as the story progresses and his past comes into focus? Do the descriptions of the books he wrote and illustrated shed further light on his character?
5. Describe the relationship between Tommy Daulair and Mort Lear. Do you think that Morty was fair to Tommy? What did each of them give and receive?
6. Franklin, Morty's lawyer, tells Tommy that Morty had fully intended to tell her about the radical changes in his will. Do you think that's true, and if he had done so, do you think Tommy would have tried to change his mind?
7. Franklin, Morty's lawyer, tells Tommy that Morty had fully intended to tell her about the radical changes in his will. Do you think that's true, and if he had done so, do you think Tommy would have tried to change his mind?
8. Morty's boyhood life as Mordecai influenced his relationships with both men and women throughout his life. Yet he chose, by omission, to give a different public version of his childhood trauma than the one he gave to Nick. The actor agonizes over the implications of that disclosure, yet the film director does not see it as crucial to the story he wants to tell about Lear's life. What do you think? Do early relationships become less consequential as time goes on?
9. Nick Green, who adored yet also pitied his mother, has had two other influential relationships with much older women: first, in his childhood, with Emmelina Godine; later, with his costar Deirdre Drake. Does Tomasina, being an older, knowledgeable woman, fit into a similar role or bond with Nick? Or is their relationship completely different?
10. What, if anything, do you think Nick Green learns from his brief yet intense connection with Mort Lear and then from his (also brief yet intense) time spent with Tommy, Dani, and Merry over that weekend in Lear's house? Discuss how each of them might have been changed by what they shared with one another.
11. On the surface, Nick and Tommy couldn't be more different, yet they discover that they have several private things in common. What exactly do they share, and how does this affect each of them?
12. Describe the character of Tommy's brother Dani. How does your perception of him change as the story goes on?
13. Discuss how Dani feels toward Mort and why he feels that way. Is Dani justified in his resentment?
14. What do you think of Meredith Galarza when you meet her? Do your feelings about her change as you get to know her better over the course of the novel?
15. Consider the role of mothers in the book: Morty's mother, Tomasina's mother, and Nick's mother. (Even Merry's mother is mentioned more than once.) What characteristics do these women share, and how have they influenced their children? Julia Glass writes frequently about mothers; do the ones in this novel bring to mind others in her previous books?
16. What do you think about the sudden connection between Nick and Merry? Do you find it plausible, and do you think it has any special significance to the story?
17. At the end of the novel, Tommy has dealt with Morty's estate, and despite taking certain liberties with his requests, she seems confident that her actions fulfilled his requirements. What do you think of the choices she made, and how do you think Morty would have felt about them?
18. Have you ever received an unexpected inheritance of some kind–or seen the wishes of a departed person affect people who are still living? If you were left in charge of fulfilling someone's final wishes, how did that responsibility influence your feelings toward the deceased–and perhaps your relationships with other living people?
19. How do you imagine Tommy's life beyond the end of the novel?
About this Author
Julia Glass is the author of five previous books of fiction, including the best-selling
Three Junes,
winner of the National Book Award, and
I See You Everywhere,
winner of the Binghamton University John Gardner Fiction Book Award. Other published works include the Kindle Single
Chairs in the Rafters
and essays in several anthologies. A recipient of fellowships from the National Endowment for the Arts, the New York Foundation for the Arts, and the Radcliffe Institute for Advanced Study, Glass is a Distinguished Writer in Residence at Emerson College. She lives with her family in Marblehead, Massachusetts.
Back to Top