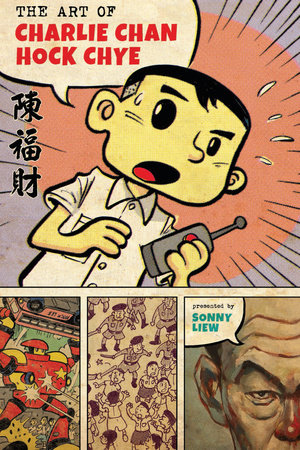 The Art of Charlie Chan Hock Chye
Best Seller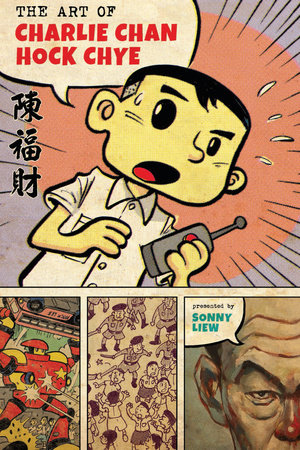 Mar 01, 2016
|
ISBN 9781101870693
YOU MAY ALSO LIKE
QUICK VIEW
In Odd We Trust (Graphic Novel)
Ebook
$7.99
QUICK VIEW
Doctor Who: Silhouette
Paperback
$11.00
QUICK VIEW
Will Supervillains Be on the Final?
Paperback
$12.99
QUICK VIEW
Sherlock Holmes
Hardcover
$18.00
QUICK VIEW
Vlad the Impaler
Ebook
$6.99
QUICK VIEW
Doctor Who: The Crawling Terror
Paperback
$9.99
QUICK VIEW
The Wicker Man
Paperback
$13.95
QUICK VIEW
Lord of the Vampires
Paperback
$8.99
QUICK VIEW
The Dark Tower Companion
Paperback
$18.00
QUICK VIEW
The Hound of the Baskervilles
Paperback
$11.00
Praise
"A startlingly brilliant tour de force….Although the premise sounds simple—it purports to be the biography of a fictional comic book artist—what Liew does with it is anything but. At once dizzyingly meta and deeply heartfelt, the book spans 80 years, and in its complicated layering, reminded me of everything from Maus and The Tin Drum to, believe it or not, Ulysses….Probably the greatest work of art ever produced in Singapore." —John Powers, Fresh Air

"Readers are treated to Chan unfurling his life story, with Liew himself occasionally popping in to provide further context within the margins. Over the course of the book's 300+ pages, Liew presents examples of the artist's work in between the more momentous occasions of his life, both in paintings, sketches, and most enticingly, through comics he created throughout his ever evolving career. Ducking and weaving between genres, and the historical interests of comics readers in given years, what Liew ends up concocting is a fascinating bildungsroman that rivals other Eastern-based works like Tatsumi's A Drifting Life, with a dash of The Amazing Adventures of Kavalier and Clay. This is an awfully impressive achievement given that Chan is a fictional character….Easily the first comics masterwork of 2016." —The Comics Beat

"Liew's graphic novel is a fascinating look at a cartoonist's growth over time and how his creative output reflects the culture around him, and Liew tells Chye's story in a way that only comic books can….A beautifully multidimensional portrait of the cartoonist, beginning with Chye's personal interpretation o the past before showing comics and sketches that provide further insight….The color palettes, the paper quality, the incorporation of photographs and sketches, they all combine with the text to provide a complex view of Charlie Chan Hock Chye that has a strong sense of history behind it." —The A.V. Club

"Virtuosic….The portraits—of friends, family, Charlie himself and, significantly, both Lim and Lee—display Liew's high-art chops. It's his versatility, though, that's really dazzling….Throughout, Liew advances a consistent critique of Singaporean politics. He's deeply dedicated to the insurrectionist legacy of Lim, suggesting the man occupies a kind of opposite pole from Lee. But the fact remains that one is merely an exiled Communist, while the other led Singapore for decades. That fact brings a sadness—or rather, another layer of sadness—to the book. For all that it brims over with diverse, colorful creations, it's fundamentally about a lack: the absence of an artist who should exist, but was never allowed to. The Art of Charlie Chan Hock Chye mourns all the creators who have never been permitted to thrive in Singapore. Liew's own existence seems to be evidence of a change, but only partly. The government withdrew its support from his book, but it didn't ban it outright. That's a kind of progress." —NPR.org

"A hugely ambitious, stylistically acrobatic work….the book is a mercurial delight, constantly switching between Liew's invented narrative (in a relatively neutral nonfiction style), images of Chan Hock Chye's works in progress over the course of his career and mock-weathered clippings from his printed creations, most of which are immaculate pastiches of famous cartoonists." —The New York Times Book Review

"Brilliantly inventive….Charlie is mild but steel-spined, observant and proud; with masterful economy of detail—an arched eyebrow here, his head at a resigned angle there—Mr. Liew crafts him into a fully realised character." —The Economist

"Wholly original….Liew demonstrates an almost inhuman amount of diversity of skill. Like any great creator, he has stepped aside so his creation can live a life of its own….Ultimately, Sonny Liew has compiled a work of fiction so innovative and thoughtful that even the most observant reader can't distinguish fact from fiction, biography from creation, memory from truth. And why should we? It's a quiet story about an individual's purpose, where one fits into society, how to live, the passion of good work, what else we should've done, and, perhaps the most important notion of all, what is possible. It invites, not demands, that we focus on the now, and let the past be past." —The Rumpus

"A stunning tour de force masterpiece of imagined and real history as Liew recreates the entire career of the titular cartoonist via art and photos to explore the history of both comics and Singapore." —Publishers Weekly, "The Most Anticipated Books of Spring 2016"

"An early candidate for the various best-of lists for 2016, this superlative achievement from Liew tells the story not only of Singaporean artist and comics creator Charlie Chan Hock Chye, but of Singapore itself. It hardly matters, of course, that the titular character is an invention of Liew's, because his story is so real that some early reviewers assumed Liew's protagonist had to be a real person. Chye's story, from his youthful beginnings and early career as an artist to his later reminiscences, is fascinating in itself, but Liew's inclusion of fabricated newspaper clippings, old sketches, and mixed media works—and even an occasional photo collage purporting to show us first-hand evidence of Charlie's life—is riveting. As Chye's life is revealed, so is the history of Singapore, a tumultuous sweep that is mirrored in the history of cartooning. Make no mistake: this multilayered book is a masterpiece." —Publishers Weekly, *starred review*
 
"Liew incorporates a dizzying range of styles and influences, from midcentury manga to Mad magazine, to trace the career of the fictional cartoonist. In the process, he also explores the myths and realities of postwar Singapore, casting a critical eye on policies that place adherence to the established order above personal expression. The combination of a powerful message, artistic virtuosity, and a fascinating framing device make for an un-put-downable read. This relentlessly engaging work stretches the boundaries of the graphic novel medium and is highly recommended for fans of political satire, Chris Ware, or Art Spiegelman." —Library Journal, *starred review*

"[An] impressive tour de force….it's exhilarating to discover a talent as brilliant as Liew shows himself to be with this virtuosic triumph." —Booklist *starred review*

"A collector's item….can be read and enjoyed on many levels….knowledge of the true story is almost incidental to the pleasures to be gained from this fictional biography." —Los Angeles Review of Books

"An inspired, artifact-rich account of a fictional comic-book creator struggling to lead an artist's life in 20th century Singapore." —San Francisco Chronicle

"The fictional title character, a cartoonist himself, is a deft framing device for viewing Singapore's culture and history through many crisp prisms. Liew keeps us fully awake to his intellectual ambition and political potency by unveiling a parade of shifting visual aesthetics — with nods to such comics legends as Winsor McCay." —The Washington Post

"Easily one of the greatest books of the year….Renowned comics artist Liew not only tells the heartbreaking yet inspirational story of this fictional comics artist, but he uses the narrative as a platform to discuss a larger, though equally heartbreaking and inspiring story: that of the history of Singapore. This multilayered, beautifully executed work is like no history book you've ever seen. It will leave you speechless….While Charlie Chan Hock Chye may be Singapore's greatest comics artist, Sonny Liew is on his way to becoming the greatest in the world." —Cedar Rapids Gazette

"A multilayered masterpiece of comic-book and real-world history, a portrait of the postwar world made in a thrilling postmodern style. It's funny and rich and satisfying, and one of the best comics of the year." —Slate

"A tour de force artistic performance….This may be the book that truly makes him a star in the U.S." —Mental Floss

"In The Art of Charlie Chan Hock Chye, author and illustrator Sonny Liew masterfully juxtaposes history and fiction—so much so that at first I couldn't tell the difference! This genre-bending graphic novel follows the story of fictional cartoonist Charlie, now in his 70s, and his art, beautifully rendered in contrasting styles to add to the realism, intertwined with the history of Singapore." —BookPage

"In this graphic novel, Liew (Shadow Hero, 2014, etc.) presents the life and work of an obscure comic-book creator in tandem with the turbulent modern history of Singapore, the land both call home…. Liew provides sharp commentary throughout, illustrating interviews as well as accompanying strips that decode Chan's layers of allegory. A fascinating look at a clever, uncompromising artist married to the times in which he lived." —Kirkus Reviews

"Unless one Googles Chan, one wouldn't realize he is a brilliantly conceived fictional invention….Liew uses a variety of mediums—pencils and ink, oil on canvas, photographic reproductions of actual historical events—to tie Chan's fate into the unrest throughout the country. The result is a surprising revelation of a master storyteller who manages to turn a controversial and largely buried story into a personal reflection on art and freedom of the press." —Shelf Awareness

"It's going to be incredibly difficult to beat this book. I mean I'm already penciling it in for my best original graphic novel of the year….It is an onion that doesn't stop until the end….Masterful." —Comic Bastards

"One of the most intricate and impressive graphic novels I've ever read….A dense and dizzying tour of 20th-century Singaporean history….Only someone with an enduring love of comics could have produced this work." —BoingBoing

"With The Art of Charlie Chan Hock Chye, Liew gives you as the reader a complex, multi-dimensional insight into the history of Singapore in the context of artistic creation….Unbiased, self-effacing, and outstandingly clever, The Art of Charlie Chan Hock Chye sets a new standard of how to demonstrate the evolution of culture and politics outside of a textbook or formal essay. While Western audiences should absolutely read this to understand the complexities of capturing multiple perspectives in history, The Art of Charlie Chan Hock Chye at its core aims to educate and inspire the people Singapore." —Forces of Geek

"A meta-fiction masterpiece." —Pod Sequentialism, meltcomics.com

"Liew's book is remarkable, a meta-history of Malaysia as told through the biography of 'Singapore's greatest comics artist,' the fictional, but entirely credible, Charlie Chan Hock Chye…. I've never seen anything quite like it. It's just dazzling." —Northwest Arkansas Democrat-Gazette

"The Art of Charlie Chan Hock Chye, an intricate tapestry of comic art and political comment, is a stunning achievement that should well and truly propel [Sonny Liew] into the global premier league of cartoonists." —BrokenFrontier.com

"A strange book—in a great way….[Liew] expertly presents an unadulterated story of Singapore, through the eyes of Charlie Chan….Brilliant on many levels….Highly recommended." —Parkablogs.com

"A joy to read. Sonny Liew masterfully weaves the history of Singapore with the history of comics into something you've never experienced before." —Gene Luen Yang, creator of American Born Chinese and Boxers & Saints

"A remarkable graphic novel….It has everything going—just brilliant." —Peter Kuper

"Unique and unprecedented… a masterpiece… This book is a joyous, beautiful, million-faceted thing – a celebration of the comic book medium, a technical masterclass, a thrill ride, a Bildungsroman and an unflinching retrospective of the post-war-into-modern era. I love it, and I'm in awe of it." —Mike Carey, author of Lucifer, The Unwritten and The Girl with All the Gifts

"Prepare to be swept away by a history of Singapore as you've never seen before. Sonny Liew delivers a brilliant and fiercely perceptive appraisal of this remarkable island-state." —Paul Gravett, author of Comics Art and 1001 Comics You Must Read Before You Die

"Only rarely can a book inspire such delight and joy as this. It is a treasure of graphic storytelling, not least because it does things that only graphic storytelling can do…. Everything here is gorgeous and rewarding, adding up to one of 2016's most important graphic novels. It's perfect." —Metro News (Toronto)

"Part graphic novel, part art book, part narrative essay, The Art of Charlie Chan Hock Chye by Malaysian-born, Eisner-Award-nominated comics artist and illustrator Sonny Liew is a look at Singapore unlike any other before. By reflecting on the life and work of a comic creator whose career spanned half a century, The Art of Charlie Chan Hock Chye comments wryly on Singapore′s past and present while honoring comics as a storytelling medium." —The Malay Mail

"One of the most visually arresting and thematically remarkable books published this year . . . A landmark work in Singapore comics history." —Akshita Nanda, The Straits Times

"One of [the best], if not the best, comic books in the past five years . . . [A] labor of love and a triumph of storytelling that transcends any medium . . . A must-read." —Amir Hafizi, Malaysian Reserve

"Riotously funny, heartbreakingly beautiful, fizzing with provocative ideas, The Art of Charlie Chan Hock Chye breathes life and intimacy into the multi-layered history of Malaysia and Singapore. Sonny Liew has produced a true masterpiece. " —Tash Aw, author of The Harmony Silk Factory and Five Star Billionaire

Get the latest updates about Sonny Liew
And go from well-read to best read with book recs, deals and more in your inbox every week.
And go from well-read to best read with book recs, deals and more in your inbox every week.
Dismiss
Thanks!
Something awesome is on its way.
Back to Top
Become a Member
Start earning points for buying books! Just for joining you'll get personalized recommendations on your dashboard daily and features only for members.
Find Out More
Join Now
Sign In
Success!
Your account has been created. Upload book purchases, access your personalized book recommendations, and more from here.