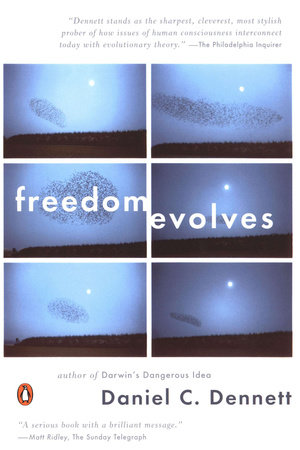 Freedom Evolves
By Daniel C. Dennett

By
Daniel C. Dennett
By Daniel C. Dennett

By
Daniel C. Dennett
Best Seller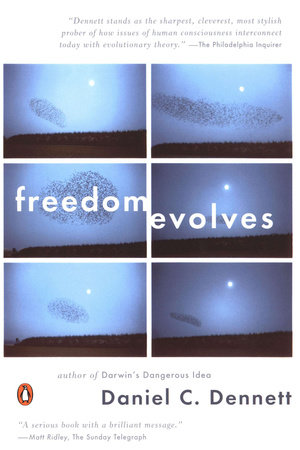 Jan 27, 2004
|
ISBN 9780142003848
Inspired by Your Browsing History
Buy other books like Freedom Evolves
Praise
"Dennett has taken on really big issues, made them clear, dealt with them seriously and given us much on which to reflect. . . . Crisp and critically insightful." —The Washington Post Book World
"One of the most original thinkers of our time." —Science
"Dennett stands as the sharpest, cleverest, most stylish prober of how issues of human consciousness interconnect today with evolutionary theory." —The Philadelphia Inquirer
"A serious book with a brilliant message." —Matt Ridley, The Sunday Telegraph
Table Of Contents
freedom evolvesPreface

Chapter 1: Natural Freedom
Learning What We Are
I Am Who I Am
The Air We Breathe
Dumbo's Magic Feather and the Peril of Paulina

Chapter 2: A Tool For Thinking About Determinism
Some Useful Oversimplifications
From Physics to Design in Conway's Life World
Can We Get The Deus ex Machina?
From Slow-motion Avoidance to Star Wars
The Birth of Evitability

Chapter 3: Thinking About Determinism
Possible Worlds
Causation
Austin's Putt
A Computer Chess Marathon
Events without Causes in a Deterministic Universe
Will the Future Be Like the Past?

Chapter 4: A Hearing For Libertarianism
The Appeal of Libertarianism
Where Should We Put the Much-needed Gap?
Kane's Model of Indeterministic Decision-making
"If you make yourself really small, you can externalize virtually everything"
Beware of Prime Mammals
How Can It Be "Up to Me"?

Chapter 5: Where Does All The Design Come From?
Early Days
The Prisoner's Dilemma
E Pluribus Unum?
Digression: The Threat of Genetic Determinism
Degrees of Freedom and the Search for Truth

Chapter 6: The Evolution Of Open Minds
How Cultural Symbionts Turn Primates into Persons
The Diversity of Darwinian Explanations
Nice Tools, but You Still Have to Use Them

Chapter 7: The Evolution Of Moral Agency
Benselfishness
Being Good in Order to Seem Good
Learning to Deal with Yourself
Our Costly Merit Badges

Chapter 8: Are You Out Of The Loop?
Drawing the Wrong Moral
Whenever the Spirit Moves You
A Mind-writer's View
A Self of One's Own

Chapter 9: Bootstrapping Ourselves Free
How We Captured Reasons and Made Them Our Own
Psychic Engineering and the Arms Race of Rationality
With a Little Help from My Friends
Autonomy, Brainwashing, and Education

Chapter 10: The Future Of Human Freedom
Holding the Line against Creeping Exculpation
"Thanks, I Needed That"
Are We Freer Than We Want to Be?
Human Freedom Is Fragile

Bibliography
Index
Back to Top