Drinking Coffee Elsewhere Reader's Guide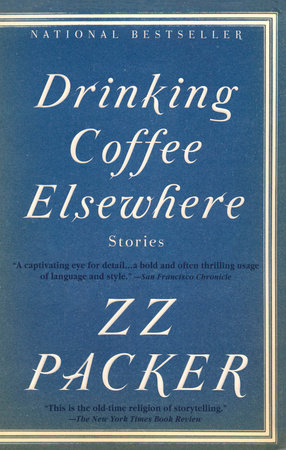 Drinking Coffee Elsewhere Reader's Guide
READERS GUIDE
Questions and Topics for Discussion
INTRODUCTION

With stories in The New Yorker's debut fiction issue and in The Best American Short Stories 2000, and as the winner of a Whiting Writers' Award and a Rona Jaffe Foundation Writers' Award, ZZ Packer has already achieved what most writers only dream about-all prior to publication of her first book.
Now, in Drinking Coffee Elsewhere, her impressive range and talent are abundantly evident. Packer dazzles with her command of language-surprising and delighting us with unexpected turns and indelible images, as she takes us into the lives of characters on the periphery, unsure of where they belong. With penetrating insight that belies her youth-she was only nineteen years old when Seventeen magazine printed her first published story-Packer takes us to a Girl Scout camp, where a troupe of black girls are confronted with a group of white girls, whose defining feature turns out to be not their race but their disabilities; to the Million Man March on Washington, where a young man must decide where his allegiance to his father lies; to Japan, where an international group of drifters find themselves starving, unable to find work.
Drinking Coffee Elsewhere is a striking debut-fresh, versatile, and captivating. It introduces us to an arresting and unforgettable new American voice.
ABOUT ZZ PACKER
A New Yorker debut writer, ZZ Packer has had short stories published in the Best American Short Stories, 2000 (edited by E. L. Doctorow), Harper's, Story magazine, and in the anthology 25 and Under: Fiction, as well as a story read on NPR's "Selected Shorts." A graduate of Yale and the Iowa Writers' Workshop, she is the recipient of a Whiting Writers' Award and a Rona Jaffe Foundation Writers' Award. She has held Wallace Stegner and Truman Capote fellowships from Stanford University, where she is currently a Jones Lecturer.
DISCUSSION QUESTIONS
In what ways do the eight stories in Drinking Coffee Elsewhere complement each other? What situations, problems, and themes recur in the collection? What qualities make it such a cohesive collection?
 
At the end of "Brownies," the narrator recalls her father exploiting a group of Mennonites and suddenly knows there is "something mean in the world" she could not stop [p. 28]. What is that meanness? Why does she recall her father's experience at this point in the story? In what ways does her father's behavior illuminate the girls' experience at camp?
 
What ironies are suggested by Lynnea's struggle, in "Our Lady of Peace," to get her students to talk about Zora Neale Hurston's Their Eyes Were Watching God, a classic African American novel, rather than "their neon fingernail polish or the Mos Def lyrics in front of them"[p. 54]?
 
What are some of your favorite images in the collection? Discuss how the metaphors contribute to the stories' themes.
 
Many of these stories are about sexually innocent characters who must confront their fears and desires for the first time. For example, in "Drinking Coffee Elsewhere," Dina runs away, dropping her packages when a boy offers to walk her home, and she also appears to be afraid to explore her feelings toward Heidi. And in "Every Tongue Shall Confess," Sister Clareese's music feels dangerous, even as it moves Pastor Everett. How is the theme of sexual innocence linked to other themes in this collection? How is the loss of innocence characterized in these stories?
 
At the end of "The Ant of the Self," the narrator watches a small boy "jump up and down with delight" when he hears the "All aboard!" call at the train station. "He is the happiest I've seen anyone, ever. And though the urge to weep comes over me, I wait-holding my head in my hands-and it passes" [p. 103]. Why does this scene affect him so strongly? What might he be thinking here about his own father, his own experience as a boy?
 
In "Speaking in Tongues," Tia flees the oppressive world of Pentecostal fanaticism, where she is locked in a closet and forced to accept the Holy Spirit, to the mean streets of Atlanta, where she encounters a world of drugs and sexual exploitation. In what ways are these apparently dissimilar worlds alike? Why does Tia feel so out of place in both? Do other alternatives exist for her?
 
The stories in Drinking Coffee Elsewhere are set in a range of places-from Japan to Yale University, from the Million Man March to girl scout camp. How do the settings, and the characters' relationships with their setting, inform the themes in various stories? Do these various settings relate to a larger them in the collection?
 
"Doris is Coming" ends with a striking image. As Doris walks home, after her spontaneous one-woman sit-in, she knows she should hurry, but "she had to stop and look. The sky had just turned her favorite shade of barely lit blue, the kind that came to windows when you couldn't get back to sleep but couldn't pry yourself awake" [p. 238]. Why is this an appropriate image with which to end the story and the collection? In what sense is Doris, or the other characters in the collection, in a state between sleeping and waking?
 
All these stories involve African-American characters in similar situations, and yet, their predicaments are universal, which can be seen in "Doris Is Coming," with the man from Lithuania. Does this collection perhaps, provide some insight into people who life their life straddling two worlds? Taken together, what do the stories of Drinking Coffee Elsewhere say about the relationship among education, religion, and the struggle for personal freedom?
Back to Top