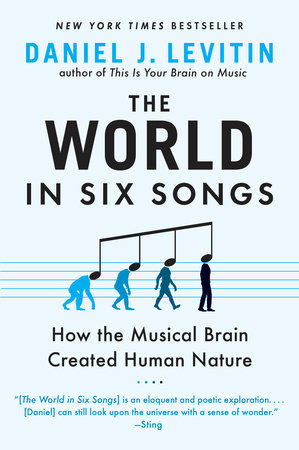 The World in Six Songs
How the Musical Brain Created Human Nature
How the Musical Brain Created Human Nature
How the Musical Brain Created Human Nature
By Daniel J. Levitin

By
Daniel J. Levitin
By Daniel J. Levitin

By
Daniel J. Levitin
By Daniel J. Levitin
Read by
Daniel J. Levitin
By
Daniel J. Levitin


Read by

Daniel J. Levitin




Best Seller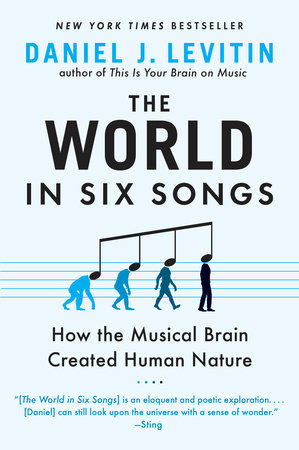 Jul 28, 2009 | ISBN 9780452295483
Buy the Audiobook Download:
People Who Read
The World in Six Songs

Also Read
Inspired by Your Browsing History
Praise
"A must-read…A literary, poetic, scientific, and musical treat."—Seattle Times

"Masterful…Eminently enjoyable."—Los Angeles Times

"Why can a song make you cry in a matter of seconds? Six Songs is the only book that explains why."—Bobby McFerrin, ten-time Grammy Award-winning artist ("Don't Worry, Be Happy")

"A fantastic ride."—New Scientist

"Leading researchers in music cognition are already singing its praises."—Evolutionary Psychology

"Exquisitely well-written and easy to read, serving up a great deal of scientific information in a gentle way for those of us who are—or just think we are—a bit science-phobic."—Huffington Post

"Fascinating. Provides a biological explanation for why we might tap our feet or bob our heads in time with a favorite song, how singing might soothe a baby, and how music emboldens soldiers or athletes preparing for conflict."—Associated Press

"An exemplary mix of scientist and artist, student and teacher, performer and listener."—Library Journal (starred review)
Table Of Contents
The World in Six SongsChapter 1: Taking It from the Top or "The Hills Are Alive . . ."

Music and poetry. The two uniquely human components of the music brain.

Chapter 2: Friendship or "War (What Is It Good For)?"

Social bonding, synchronous coordinated movement, the evolution of emotional bonding, protest music for group cohesion.

Chapter 3: Joy or "Sometimes You Feel Like a Nut"

The first song. Neurochemical effects of music and music therapy.

Chapter 4: Comfort or "Before There Was Prozac, There Was You"

Why we listen to sad music when we're sad. Lullabyes and the blues. (And a short story about depressed restaurant workers pushed to the edge by a happy song.)

Chapter 5: Knowledge or "I Need to Know"

Music as an information-bearing medium. Learning, memory, and oral histories.

Chapter 6: Religion or "People Get Ready"

The role of music and ritual in creating order, reducing ambiguity, and commemorating important times and events.

Chapter 7: Love or "Bring 'Em All In"

The sense of hearing and the prefrontal cortex. Tools, musical instruments, and shaping the environment. The evolution of social structure.

Appendix
Notes
Acknowledgments
Index
Back to Top