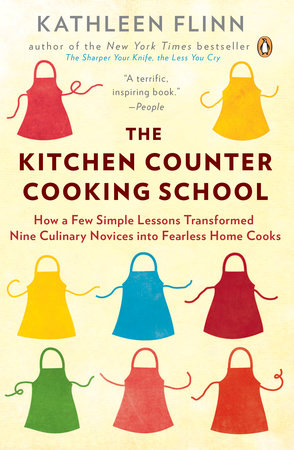 The Kitchen Counter Cooking School
How a Few Simple Lessons Transformed Nine Culinary Novices into Fearless Home Cooks
How a Few Simple Lessons Transformed Nine Culinary Novices into Fearless Home Cooks
By Kathleen Flinn

By
Kathleen Flinn
By Kathleen Flinn

By
Kathleen Flinn
Best Seller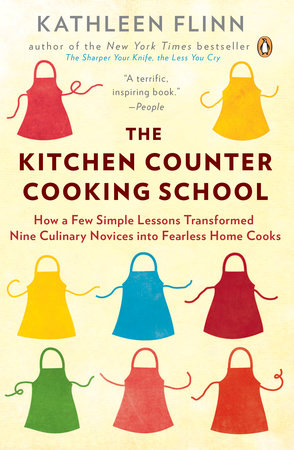 Sep 25, 2012 | ISBN 9780143122173
People Who Read
The Kitchen Counter Cooking School

Also Read
Inspired by Your Browsing History
Praise
"This could be the most important book you'll ever read."
–Morgan Spurlock, Super Size Me

"…[A] terrific, inspiring book…"
-People (A People Pick, 4 stars)

"If you are going to read one book to change your diet and your life, The Kitchen Counter Cooking School is it."
-AP


"Kathleen entered the kitchens of strangers and took the time to understand how they think about food before changing their cooking forever." 
–Amanda Hesser, Food 52, The Essential New York Times Cookbook

"A life-changing book–entertaining, inspiring, and deeply educational."
–Erica Bauermeister, The School for Essential Ingredients

"A funny, thoroughly engrossing book…get ready to be inspired–and to eat well along the way." –Molly Wizenberg, Orangette.com, A Homemade Life

"An engaging…book on the joys of home cooking and the teaching thereof."
–The Wall Street Journal

"The author"s humble approach is inviting and shows why her students were enthusiastic."
–Kirkus Reviews (Starred Review)

"Flinn guides you patiently in the kitchen like the mom you always wish you"d had to learn to cook from…the women gained confidence under Flinn"s wonderfully encouraging tutelage, and fearlessly faced their kitchens and grocery stores with useful knowledge."
–Publishers Weekly

"Flinn winningly offers inspiration to anyone who cares about cooking but lacks basic tools and skills."
–Booklist

"An amiable companion to cookbook stalwarts such as Mark Bittman"s How To Cook Everything, Pam Anderson"s How To Cook Without a Book, and Michael Ruhlman"s Ratio, this title provides encouragement where the others offer direction. A mash-up of inspiration and reference, it will appeal to readers who enjoy a story with their instruction."
–Library Journal
—
The Kitchen Counter Cooking School
Back to Top