A Partisan's Daughter Reader's Guide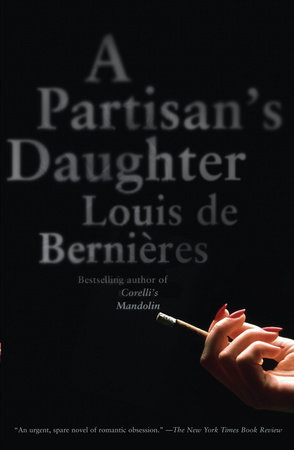 A Partisan's Daughter Reader's Guide
READERS GUIDE
"An urgent, spare novel of romantic obsession. . . . De Bernières [is] adept at juxtaposing brutality with episodes of high comedy or romance."
—
The New York Times Book Review
The introduction, questions, and suggestions for further reading that follow are intended to enhance your reading group's discussion of Louis de Bernières's spellbinding new novel,
A Partisan's Daughter
.
Introduction
From the acclaimed author of
Corelli's Mandolin
and
Birds Without Wings
comes an intimate new novel, a love story at once raw and sweetly funny, wry and heartbreakingly sad.
He's Chris: bored, lonely, and trapped in a loveless, sexless marriage. In his forties, he's a stranger inside the youth culture of London in the late 1970s, a stranger to himself on the night he invites a hooker into his car.
She's Roza: Yugoslavian, recently moved to London, the daughter of one of Tito's partisans. She's in her twenties but has already lived a life filled with danger, misadventure, romance, and tragedy. And although she's not a hooker, when Chris propositions her, she gets into his car anyway.
Over the next months Roza tells Chris the stories of her past. She's a fast-talking, wily Scheherazade, saving her own life by telling it to Chris. And he takes in her tales as if they were oxygen in an otherwise airless world. But is Roza telling the truth? Does Chris hear the stories through the filter of his own need? Does it even matter?
This deeply moving novel of their unlikely love-narrated both in the moment and in recollection, each of their voices deftly realized-is also a brilliantly subtle commentary on storytelling: its seductions and powers, and its ultimately unavoidable dangers.
"The layering of anecdote and reverie and the escalation of intimacy between two marginalized characters is so subtle and authentic that the novel is intensely moving and has its own unexpected momentum. . . . The novel's charm works by stealth. It reads like a memoir; it offers subtle comment on the art of storytelling; it rarely strikes a false note, and it contains lessons about love and regret and seizing the moment. Like Ian McEwan's
On Chesil
Beach
,
A Partisan's Daughter
is a novel about missed opportunities and wrong paths taken, tracing the way in which one false move can alter the history of a life. . . . It's a wise and moving novel, perfectly accomplished. It shows that no life is ordinary. It shines fresh light on the nature of love." —
The Guardian
Questions and Topics for Discussion
1. What are the major themes of this novel? How does the idea of storytelling play into them?
2. How much did you know about Britain's Winter of Discontent (1978-79) before reading A Partisan's Daughter? Why do you think de Bernières chose this period for his setting?
3. We readers see Chris's wife (The Great White Loaf) only through his eyes. How do you imagine she would describe him?
4. Did you believe all of Roza's stories? Which, if any, strained your willingness to believe? Which one do you think is the centerpiece of the novel?
5. Discuss the notion of trust as it figures into the novel. Which characters are trustworthy? Do you trust either narrator?
6. What is the significance of the library scene? How did it change your understanding of Roza's actions?
7. Chris believes he's in love with Roza but acknowledges that his obsession is mostly sexual. Does Roza love Chris? Whose motives are clearer?
8. How does the narration, with its shifting time frames, contribute to your reading experience? Why do you think the author chose to allow both Chris and Roza to speak in Chapter Sixteen but kept their voices separate everywhere else?
9. In what ways are the novel's two father-daughter relationships similar, and how are they different? Which relationship seems stronger: the one between Roza and her father, or the one between Chris and his daughter?
10. Compare Alex, Francis, and Chris. How are their relationships with Roza similar, and how are they different? What does Roza expect or demand from each?
11. Along the same lines, compare Roza's relationship with Tasha with her relationship with Fatima. How do these two friendships shape Roza's personality?
12. On page 137, Chris finally tells a story of his own, about his uncle. What purpose does it serve? How does Roza's response show us how she feels about Chris?
13. What role does the Bob Dylan Upstairs play in the novel?
14. Why do you think Roza gave Chris and the Bob Dylan Upstairs different endings to the Big Bastard story? Which do you believe?
15. Discuss the last chapter of the novel. What were you expecting? What was most surprising to you? Were you satisfied with the ending?
About this Author
Louis de Bernières was awarded the Commonwealth Writers Prize for Best Book Eurasia Region in 1991 and 1992, and for Best Book in 1995. He was selected by Granta as one of the twenty Best of Young British Novelists in 1993, and lives in Norfolk, East Anglia.
www.louisdebernieres.co.uk
Suggested Reading
Ian McEwan,
On Chesil Beach
; Samuel Taylor Coleridge,
The Rime of the Ancient Mariner
; Salman Rushdie,
Midnight's Children
;
The Arabian Nights: Tales from a Thousand and One Nights
; Gabriel García Márquez,
Memories of My Melancholy Whores
.
Back to Top