The Mistress of Spices Reader's Guide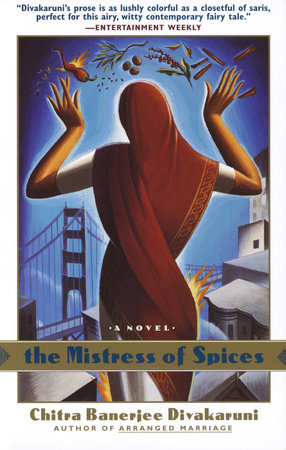 The Mistress of Spices Reader's Guide
READERS GUIDE
The questions, discussion topics and author biography that follow are designed to enhance your group's reading of Chitra Banerjee Divakaruni's novels
Sister of My Heart
and
The Mistress of Spices
, as well as her collection of short stories,
Arranged Marriage
. We hope that they will provide you with new ways of looking at and talking about these three books by a gifted writer, whose chameleon-like voice and mastery of rhythm create unforgettable characters and weave stories that are both exotic and familiar, fresh and universal.
Introduction
In
The Mistress of Spices
, Divakaruni tells the story of Tilo, a young woman born in another time, in a faraway place, who is trained in the ancient art of spices and ordained as a mistress charged with special powers. Once fully initiated in a rite of fire, the now immortal Tilo–in the gnarled and arthritic body of an old woman–travels through time to Oakland, California, where she opens a shop from which she administers spices as curatives to the local Indian community.
Although it is her duty to remain emotionally detached, Tilo breaks the rules of the spices and is drawn into the lives of the customers in her shop, helping them through their spirals of trouble: abusive husbands, racism, generational conflicts, drug abuse. And when an unexpected romance blossoms with a handsome stranger, Tilo is forced to choose between the supernatural life of an immortal and the vicissitudes of modern life. Spellbinding and hypnotizing,
The Mistress of Spices
is a tale of joy and sorrow and one special woman's magical powers.
Questions and Topics for Discussion
1. The New York Times Book Review states that The Mistress of Spices "becomes a novel about choosing between a life of special powers and one of ordinary love and compassion." Did Tilo choose correctly? Why or why not?
2. How do the spices become characters in the novel?
3. Tilo only speaks her name out loud to one person in the novel. What is the significance of this action? What role do names play in the novel?
4. What do the spices take from Tilo? What do they give her? Is it a fair exchange?
5. Tilo left her shop for the first time early in the novel to look at Haroun's cab. But later she is drawn even further out by Raven. Was her course already set at that point? Would she have left again even without Raven's pull?
6. In what ways is punishment seen as a natural force in this novel? How are punishment and retribution tied to balance?
7. Tilo says, "Better hate spoken than hate silent." Does hate spoken achieve the effect Tilo intends or not?
8. Divakaruni chose to write The Mistress of Spices in the first person present tense. Does this point of view add or detract from the story?
9. What passages of the novel resemble poetry? How does Divakaruni make use of lyricism and rhythm?
10. What role does physical beauty play in this story? In Tilo's feelings about her body? About Raven? About the bougainvillea girls?
11. Does Raven's story (pp. 161-171) differ from Tilo's story of her past at the points where she tells it? Do these differences say anything about the differences between women and men, or between Indians and Americans?
12. How are physical acts of violence and disaster foreshadowed in the novel? What is the significance of foreshadowing in Indian culture?
13. For Discussion: Divakaruni's Novels and Stories

What do the characters in Divakaruni's novels and stories lose and gain as they become more "American"?

14. In the story "Affair," Abha says, "It's not wrong to be happy, is it? To want more out of life than fulfilling duties you took on before you knew what they truly meant?" How is this idea further developed in The Mistress of Spices? In Sister of My Heart?

15. In Divakaruni's stories, women are wives and mothers, but the men are portrayed primarily as husbands, not fathers. How are the men's roles in the novels similar to or different from those in the stories?

16. How does the Indian immigrant experience compare to that of other immigrants–Spanish, Italian, Chinese?
About this Author
Chitra Banerjee Divakaruni, a devout Hindu, attended a convent school in India run by Irish nuns before she came to the United States in 1976. While most of
Sister of My Heart
takes place in Calcutta, Divakaruni explores the immigrant experience through Indian women in American cities in both
The Mistress of Spices
and
Arranged Marriage
.
Whether set in India or America, Divakaruni's plots feature Indian-born women torn between old and new world values. She uses her sharp insight and skilled use of story, plot, and lyrical description to give readers a many-layered look at her characters and their respective worlds, which are filled with fear, hope, and discovery. Whether in California, Chicago, or Calcutta, women learn to adapt and, as a result, discover their own sense of self amidst joy and heartbreak.
Divakaruni did not write fiction until she finished her doctoral studies in English at the University of California at Berkeley. In speaking of her path to fiction writing, she notes that academic writing didn't "touch my heart. It had nothing to do with my real life as an immigrant woman in America." Instead, she says of her fiction: "It was important for me to start writing about my own reality and that of my community."
In addition to her novels and short stories, Divakaruni has published four other volumes of poetry, including the Award-winning
Leaving Yuba City
, which includes a story, awarded a Pushcart Prize, and a story which won an Allen Ginsberg Prize.
Arranged Marriage
was awarded the PEN Oakland Josephine Miles Prize for Fiction, the Bay Area Book Reviewers Award for Fiction, and an American Book Award from the Before Columbus Foundation.
The Mistress of Spices
was shortlisted for the Orange Prize (England) and chosen by the Los Angeles Times as one of the best books of 1997.
Unlike many of the heroines in her works, Divakaruni chose her own husband, and she praises his support for the work she does. They have two children.
Suggested Reading
Chinua Achebe,
Things Fall Apart
; Vikram Chandra,
Love and Longing in Bombay
; Pang-Me Natasha Chang,
Bound Feet and Western Dress: A Memoi
r; Sandra Cisneros,
The House on Mango Street
; Edwidge Danticat,
Breath, Eyes, Memory
; Anita Desai,
In Custody
; Kiran Desaï,
Hullabaloo in the Guava Orchard
; Louise Erdrich,
Tracks
; Laura Esquivel,
Like Water for Chocolate
; E. M. Forster,
A Passage to India
; Gabriel García Márquez,
One Hundred Years of Solitude
; Maxine Hong Kingston,
The Woman Warrior
; Toni Morrison,
Beloved
; Bharati Mukherjee,
Jasmine
; V. S. Naipaul,
A Wounded Civilization
; R. K. Narayan,
The World of Nagaraj
; Arundhati Roy,
The God of Small Things
; Esmeralda Santiago,
When I Was Puerto Rican
and
Almost a Woman
; Julie Shigekuni,
A Bridge Between Us
; Alice Walker,
The Color Purple
.
Back to Top