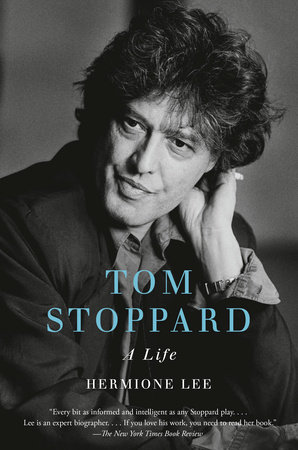 Tom Stoppard
A Life
A Life
A Life
By Hermione Lee
Read by
Stephen Crossley
By Hermione Lee
Read by
Stephen Crossley
Best Seller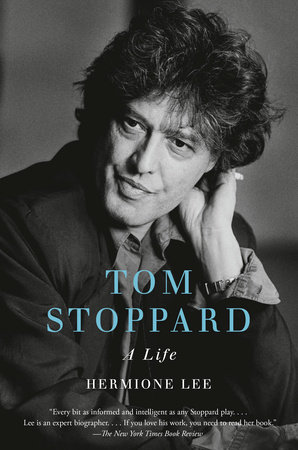 Mar 29, 2022
|
ISBN 9781101972663
Buy the Audiobook Download:
YOU MAY ALSO LIKE
QUICK VIEW
Up in the Old Hotel
Paperback
$18.95
QUICK VIEW
Down These Mean Streets
Paperback
$16.95
QUICK VIEW
The Voice Is All
Paperback
$20.00
QUICK VIEW
A Lowcountry Heart
Paperback
$18.00
QUICK VIEW
The World of Raymond Chandler
Paperback
$16.95
QUICK VIEW
Letters to a Young Poet
Hardcover
$16.00
QUICK VIEW
QUICK VIEW
My Twentieth Century Evening and Other Small Breakthroughs
Hardcover
$16.95
QUICK VIEW
Follies of God
Paperback
$19.00
QUICK VIEW
Strong Opinions
Paperback
$17.95
Praise
A NEW YORK TIMES CRITICS' TOP BOOK OF THE YEAR • ONE OF THE BEST BOOKS OF THE YEAR: The New Yorker, Vogue, Kirkus

"[Stoppard] emerges from Lee's book as a magnetic figure to whom others cluster and swarm, and around whom happy accidents, chance encounters, new loves, and worldly goods are heaped like iron filings. . . . Lee steers us through each play, major or minor, with a sturdy account of the background, the plot, the production, the casting, the reviews, the transfers to other theatres, and the intellectual grist. . . . To his battalions of fans, as to his detractors, Stoppard is the cerebrator-in-chief, whose plays dispatch you into the outside world with a pleasantly spinning head. ('Oh, do keep up!' an actor suddenly said, addressing the audience, at a matinée of 'Travesties.') Part of Lee's mission is to demonstrate that this constricted view of him will not suffice. She's right; Stoppard is no more Tin Man than he is Scarecrow, and to treat the emotional impact of The Real Thing as an unprecedented jolt, as some critics chose to do, is to ignore the heartaches and pains that suffused what had come before." 
—Anthony Lane, The New Yorker

​"[Tom Stoppard] is widely considered Britain's greatest living playwright. But this triumphant tale had its origins in tragedy and dislocation, as we find in Tom Stoppard: A Life, by the empathetic, meticulous biographer Hermione Lee. . . . Mr. Stoppard's works have always combined dazzling theatricality with heavy intellectualism and Big Subjects: the nature of knowledge in "Jumpers"; mathematical theorems, Romantic poetry and landscape gardening in 'Arcadia'; textual scholarship and artistic ideals in 'The Invention of Love.' He has managed to reap great commercial rewards without deigning to dumb down his material for middlebrow theatergoers—a rare achievement in show business. 'I know half the audience may not understand this,' he remarked of one of his scenes, 'but I'm writing for the other half.' . . . Tom Stoppard: A Life is an authorized work; in fact, Mr. Stoppard chose Ms. Lee as his biographer and accorded the author scores of interviews over several years. Ms. Lee [is] a formidable literary scholar." 
—Brooke Allen, The Wall Street Journal

"In this near-perfect combination of author and subject, Hermione Lee crafts a biography of one of the greatest living playwrights. Stoppard's work includes not only plays ('Arcadia') but also films ('Shakespeare in Love'). The book will surely be the jumping-off point for all future studies of Stoppard." 
—Christian Science Monitor

"The adjective 'Stoppardian'—to employ elegant wit while addressing philosophical concerns—entered the Oxford English Dictionary in 1978. His plays are trees in which he climbs out, precariously, onto every limb. These trees are swaying. There's electricity in the air, as before a summer thunderstorm. . . . He's led an enormous life. In [her] astute and authoritative new biography, Hermione Lee wrestles it all onto the page. . . . It's been a charmed life, lived by a charming man. Tall, dashing, large-eyed, shaggy-haired; to women Stoppard's been a walking stimulus package. . . . Lee tracks the arc of Stoppard's politics over time. Most people turn to the right as they age; Stoppard went the other way. One reason this book entertains is that Stoppard has had an opinion about almost everything, and usually these opinions are witty." 
—Dwight Garner, The New York Times Daily Review
 
"Hermione Lee [is a] literary life-writer par excellence. . . . ​Stoppard doesn't believe in a "definitive" text, and Lee proceeds accordingly, documenting changes, in draft or revival, alive to his provisional spirit. . . . In writing about Stoppard while he's alive, Lee is not just keeping up with new output. She's conveying the ways in which his past work remains potentially in progress—and the ways in which his own life, as becomes clear in his latest play, is a window onto the vagaries of history." 
—The Atlantic

"A cause for celebration among the many fans Lee has garnered with her other biographies; she's previously focused on Willa Cather, Virginia Woolf, Penelope Fitzgerald, and, most magnificently, Edith Wharton. A big new book from Lee is always a happy event for readers of biography. . . . Lee perceptively discusses Stoppard's work – her analyses of his major plays are some of the most invigorating examinations they've ever received."
—Steve Donoghue, Christian Science Monitor
 
"The key test of an artist's biography is how well it handles the art, and Lee gets good marks here. . . . Lee's thorough exegeses of his plays make palpable the intellectual and artistic aims that unify them. She weaves these commentaries into an equally thorough chronicle of Stoppard's personal life. . . . [An] intelligent, admiring tribute." 
—Wendy Smith, The Washington Post
 
"Tom Stoppard is every bit as informed and intelligent as any Stoppard play. . . . Lee is an expert biographer . . . the expertise with which she's assembled his bright materials is a testament to her own high and rightly esteemed gifts. . . . If you love his work, you need to read her book." 
—David Ives, The New York Times Book Review

  "Lee delves with equal vigor into both life events and literary analysis, devoting considerable space to each major work and the details of their earliest productions, in addition to sensibly explicating the various texts…. The definitive life of the leading playwright of his time. . . . One finishes the book in a state of immense gratitude that Stoppard exists." 
—Kyle Smith, The New Criterion

"If Leopoldstadt, a deeply personal piece that was hailed as a revelation by the critics who saw it during its truncated run, is indeed Stoppard's last play, we now have Tom Stoppard: A Life, Hermione Lee's magisterial biography, to remind us what we will have lost—and what a legacy Stoppard will leave behind. . . . In her authorized biography, Lee, who has previously written about Edith Wharton, Virginia Woolf, and Penelope Fitzgerald, shows a keen understanding of Stoppard's work, making long-ago productions come to vivid life on the page, and writes empathetically, but with unsentimental clarity, about Stoppard's sometimes complicated personal life. . . . The saga of Tomás Straüssler, born in 1937, in Zlín, Czechoslovakia, a wartime refugee who later went on to be the celebrated playwright Tom Stoppard, is a story of almost novelistic proportions. In Tom Stoppard: A Life, we have an author up to the task of telling it." 
—Stuart Emmrich, Vogue "Best Books of 2021 So Far"

"[Tom Stoppard: A Life] encourages the reader to return to Stoppard's work in ways that are richly rewarding. Lee gives wise, learned readings to each major play (and a number of minor ones), teasing apart their themes, interpreting their theatrical gestures, and placing them cleverly in the context of their author's life and work. . . . I came to the end of Tom Stoppard as impressed by the biographer's craft as Stoppard has always made me of the playwright's art. Much as the drawing of Septimus and Plautus is like a little emotional bulb planted near the beginning of Arcadia, blooming only at the very end, so Lee finds vivid details in Stoppard's life and lets them grow quietly over decades. When they flower, the effect is startling." 
—Dan Kois, Slate

"In an ideal match of biographer and subject, Lee, who has taken on 20th-century writers Virginia Woolf, Edith Wharton, and Penelope Fitzgerald, now focuses her talent on the 'playwright of ideas': Stoppard, who first soared to critical and public acclaim in 1966 with Rosencrantz and Guildenstern Are Dead. The Czech-born playwright, raised in Singapore and India before landing in London's arts scene, provided Lee with access to his archives, friends, and records, and her biography is robust with detail on his relationships, creative processes, and influences on his plays, including Arcadia and The Coast of Utopia as well as screenplays like Shakespeare in Love. Sophisticated and lucid, Tom Stoppard: A Life captures Stoppard's wit and curiosity, and explores the connections between his work and life, including his late-life discovery of his Jewishness, his anti-Thatcherism, and his creative genius." 
—The National Book Review

"Most biographies factually mirror the life and times of their subject in a chronological narrative. But few mirror the complexity and structure of the subject's own work with the stunning faithfulness of Hermione Lee's . . . epic examination of one of the greatest playwrights in English or any other language, Tom Stoppard: A Life. . . . Invaluable." 
—Florida Theater on Stage

"Renowned biographer Hermione Lee received an exclusive level of access to Stoppard's archives and friends to write her exhaustively detailed, nearly 1,000-page account of the brilliant playwright's life and work, and it shows. From the intimate details of his relationships with other celebrities and personal life to extensive analysis of his work, there's certainly plenty here for Stoppard fans, but the book also serves as a sweeping history of the theatrical world itself over the course of Stoppard's life." 
—Literary Hub

"An extraordinary record of a vital and evolving artistic life, replete with textured illuminations of the plays and their performances, and shaped by the arc of Stoppard's exhilarating engagement with the world around him, and of his eventual awakening to his own past." 
—Harper's

"Hermione Lee's exhaustively researched and detailed biography of the litterateur is empathic and intimate without trafficking in voyeurism, a consequence, no doubt, of having the cooperation of its celebrated subject. Within its pages are everything you could possibly want to know about the playwright who seemed to launch, full-blown, into upper atmosphere with the August 24, 1966 world premiere of Rosencrantz and Guildenstern Are Dead. . . . Tom Stoppard: A Life is an invaluable skeleton key, opening the works of one of the great literary geniuses of our generation to deeper interpretation than ever before." 
—New York Theater News

"A comprehensive look at the life and work of one of the English language's most accomplished playwrights. . . . With an easy style, Tom Stoppard tells the compelling story of a talented, beloved writer."
—DC Metro Theater Arts
 
"Lee (Penelope Fitzgerald: A Life) tackles the life and works of a playwright who started 'without a cause, except the cause of good language and good art' in this exhaustive biography of Tom Stoppard. To account for the prolific artist who "suddenly became famous in the late 1960s," Lee makes use of diaries, drafts, and letters, as well as interviews. Stoppard was born in Czechoslovakia in 1937; two years later, his family moved to Singapore, then to India, and, finally, England. Lee sheds light on Stoppard's relationship to his 'Czech-ness' (in the late 1960s he was indifferent, but in the late 2000s he 'spoke with tender feelings about his origins') and his Jewishness (he was unaware his mother was Jewish until 1993). His political activity is also covered, in particular his relationship with Václav Havel, a writer who became Czechoslovakia's president and whose works Stoppard translated. Lee's treatment of Stoppard's plays (including 1966's Rosencrantz and Guildenstern Are Dead and 1974's Travesties) break down the playwright's process, detailing a play's conception and production: Travesties, for example, was written in his 'most intense period of fatherhood' and took nine months. Lee's account is a deeply detailed and valuable contribution to literary history." 
—Publishers Weekly (starred review)  

"James Tait Black Prize winner Lee (emerita, English Literature, Oxford Univ.; Penelope Fitzgerald: A Life) is the perfect choice to write about Stoppard's riveting life. She explores how his talky plays are filled with ideas, made human in the characters who give voice to them—Stoppard read Wittgenstein during the creation of Jumpers (1972); 2015's The Hard Problem centers on the nature of consciousness. In the 1980s, Stoppard rediscovered his roots as a Czech and later a Jew—but he remains in his life and writing a committed, contented Englishman. Lee's knowledge of all the key players and discussions of Stoppard's writings are models of exposition, capturing a personality that is generous, supportive, and, well, fun. A major biography of a major, and appealing, literary figure, this study will jump off the shelves." 
—Library Journal (starred review)
 
"Lee has triumphantly reached the full Stoppard." 
—Mark Lawson, The Tablet

"He has entrusted his life to Hermione Lee and been spectacularly well rewarded . . . a highly readable eye-opener. . . . Lee skillfully interweaves the story of the life with analyses of the plays and suggests there is a far greater connection between the two than we had imagined. . . . This is a seriously good book and will remain the standard work for many years to come." 
—Michael Billington, The Oldie

"This is a hugely impressive work. . . . He is a great playwright, and this is a great biography." 
—Anthony Roche, Irish Times

"Stoppard is the latest in a long line of writers to undergo Lee's forensic, critical, but lively and compassionate brand of literary biography. . . . Lee's book is comprehensive and scholarly, but it's very affectionate too." 
—Anna Leszkiewicz, The New Statesman
 
"Impressive. . . . All those marvelous plays and now this prodigious book – how lucky can you get?" 
—The Times Literary Supplement
 
"Informative, entertaining and empathetic." 
—Colin Steele, The Canberra Times (Australia)

"Lee doesn't disappoint. . . . Lee hits home the now-unarguable truth that this most erudite and witty of scribes is also amongst the most psychologically penetrating. . . . Lee tracks with remarkable ease both the life and the art of a man resistant to undue examination who has submitted here to one of the fullest biographical excavations of recent times. And if you sometimes need to put the book to one side simply to absorb the density of material, you return to it as you might to a fresh Stoppard opening with unbridled avidity – not to mention, perhaps, a desert island wish to be a fly on the wall at one of his vaunted Chelsea Physic garden parties so as to watch the ever-exuberant 'Stoppard carnival', as this book so deliciously puts it, in full spin."  
—Matt Wolf, The Arts Desk

"A biographical masterpiece. . . . Thorough, sympathetic, and eminently readable. . . . As she has done in her previous top-notch books, Lee carefully unwinds autobiographical links between her subject's life and works. . . . As Lee masterfully explores both her subject's life and work, she portrays a uniquely talented writer fully in tune with a wide variety of influences. She pays close attention to his screenplays, as well, including Steven Spielberg's Empire of the Sun, Shakespeare in Love ('one of his best-loved pieces of work'), and a TV adaptation of Ford Madox Ford's Parade's End. . . . This expansive portrait of a significant 20th-century artist is a biographical masterpiece. Stoppard chose his biographer well. Authoritative and exhaustive—another jewel in Lee's literary crown." 
—Kirkus Reviews (starred review)

"Until I read Hermione Lee's life of Tom Stoppard, I didn't know it was possible to bask in envy. . . . Brilliant. . . . The research couldn't be more thorough. Stoppard's decade in provincial journalism in Bristol is perfectly evoked, for example: jazz clubs, coffee bars, kids chain-smoking in polo-necked black jerseys.  I was one of them and went to some of the productions at the Old Vic that Stoppard reviewed, such as Look Back in Anger with Peter O'Toole as Jimmy Porter, so I know. The narrative moves fluently between the raffish, impoverished life he was living there, his main love affair and friendships—most of them kept up for a lifetime—and his journalism. Lee is fascinating on his early pieces. . . . Terrific. . . . [Lee is] wonderful at people, being warmly perceptive but not without sharpness. Her accounts of the waning of love affairs are sophisticated, never cynical. . . . Indispensable. . . . It's broadly chronological, sympathetic, sensitive, often moving and, as we would expect of its author and hope of any book about Stoppard, stylishly written."
—Jeremy Treglown, Literary Review

"An astute study of the dazzlingly clever playwright, which details the parties and famous friends, but also identifies the emotions that drive much of his work. The life of the man behind the plays is familiar from countless interviews and profiles, but Hermione Lee has been allowed to go backstage, enabling her to tell the story in unmatchable detail. . . . Perceptive, knowledgeable, stylish." 
—Stefan Collini, The Guardian

"Hermione Lee's masterly biography of the playwright argues that emotion is as vital to his writing as 'mental acrobatics' . . . 'I simply don't like revealing myself,' Tom Stoppard once said. 'I am a very private sort of person.' It takes a persistent, unflappable and penetrating biographer to take him on. Hermione Lee is perfect casting and Stoppard himself was, it turns out, casting director, inviting her to write this biography in what was, presumably, a judiciously pre-emptive strike to see off less capable contenders. . . . Lee is calm, unofficious and benign in her scrutiny. . . . Lee's studies of the plays are masterly—especially of Rosencrantz and Guildenstern Are Dead (1966) and Arcadia (1993)—and her book will be a formidable resource for Stoppard enthusiasts. . . . The biography celebrates the talent of a self-taught man (the voraciously scholarly Stoppard never went to university) but is, above all, about a triumph of temperament." 
—Kate Kellaway, The Observer

"Hermione Lee's Tom Stoppard is a prodigious achievement. . . . [A] formidable book." 
—John Carey, The Sunday Times

"Lee is no real intruder. For seven years she has shadowed Stoppard's life, and the result is a scrupulously authorized biography. . . . Her research is encyclopedic, her hero charismatic, her scope expansive. She captures the essential morality of Stoppard, a man who puts his faith not in heartless theory, but in his belief that 'all political acts have a moral basis to them and are meaningless without it.' Hers is an essential contribution to theater history." 
—Kate Maltby, Financial Times

"Lee's biography captures Stoppard's humor and kindness, his voracity for knowledge and his sociability. It throws light on his early life in London and his taste. . . . Anyone who wants to know about Stoppard will find most of the answers here." 
—Nick Curtis, Evening Standard

"So compellingly does Lee convey the exuberant and unpredictability of both his plays and his life that I'm not yearning to see a Stoppard play in the theater." 
—Ysenda Maxtone Graham, Daily Mail

"From his Czech beginnings, through schooling in India and stopping at every piece of work he has created, this biography is a highly detailed account of Stoppard's extraordinary life." 
—Radio Times

"Hermione Lee is the dream biographer. . . . She is a meticulous researcher, tracking down every piece of available information, helped by access to her subject's journal and letters to his beloved mother and other family members. To complement the hard graft and good writing style, she also brings to bear the skills of a critic who is able to analyze and explain work but also evaluate it. If any book beats Tom Stoppard: A Life to the theatre book prizes and quite probably some of those for more general literature, it will need to be very, very special." 
—Philip Fisher, The British Theatre Guide

"Sparkling." 
—Martin Chilton, The Independent

Get the latest updates about Hermione Lee
And go from well-read to best read with book recs, deals and more in your inbox every week.
And go from well-read to best read with book recs, deals and more in your inbox every week.
Dismiss
Thanks!
Something awesome is on its way.
Back to Top
Become a Member
Start earning points for buying books! Just for joining you'll get personalized recommendations on your dashboard daily and features only for members.
Find Out More
Join Now
Sign In
Success!
Your account has been created. Upload book purchases, access your personalized book recommendations, and more from here.