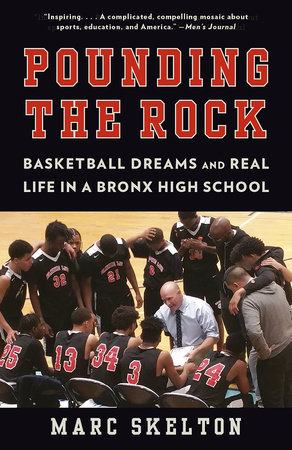 Pounding the Rock
Basketball Dreams and Real Life in a Bronx High School
Basketball Dreams and Real Life in a Bronx High School
Basketball Dreams and Real Life in a Bronx High School
Basketball Dreams and Real Life in a Bronx High School
By Marc Skelton

By
Marc Skelton
By Marc Skelton

By
Marc Skelton
By Marc Skelton

By
Marc Skelton
By Marc Skelton
Read by
Pete Larkin
By
Marc Skelton


Read by

Pete Larkin




Best Seller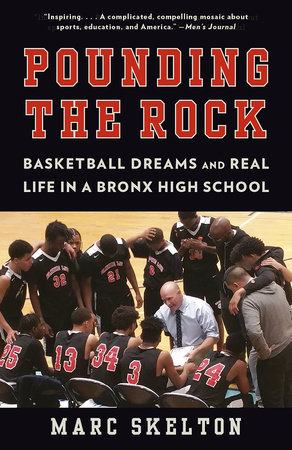 Paperback
Feb 11, 2020 | ISBN 9780525434023
Buy the Audiobook Download:
Inspired by Your Browsing History
Also in Biography & Memoir
Praise
 "Inspiring… A complicated, compelling mosaic about sports, education, and America." 
—Men's Journal 

"A text full of hope, self-examination, and a profound belief in the young people whom the author coaches and teaches." 
—Kirkus Reviews 

"Marc Skelton gives us a chance to understand the value of sports as an integral part of the curriculum in our urban school system. He shows how smaller schools give students the opportunity to be influenced by dedicated coaches and teachers to reach their full potential against stiff odds. Reading this book made me reflect on the great relationships with my former players and the memories we have. Pounding the Rock is excellent."
—Bob Hurley, coach of St. Anthony's High School, the subject of the bestselling The Miracle of St. Anthony  

"Is Pounding the Rock a book about basketball, being a beloved coach, adolescent boys, education reform, or all of the above? Or is it something else entirely: a good love story that's hard to put down. What it is, I love it and hated to finish it. It was such a pleasure to keep company with Marc Skelton, his team, and his inspiring colleagues at Fannie Lou Hamer Freedom High School."
—Deborah Meier, author of The Power of Ideas: Lessons for America from a Small School in Harlem, founder of the Central Park East Secondary School

"Marc Skelton offered a basketball sanctuary in a tiny gym in the Bronx, and his players miraculously became the sanctuary they sought there. His inspiring book Pounding the Rock testifies to the healing power of relationship to elevate kids, stuck in a lethal absence of hope, to a broad-shouldered resilience and the reimagining of their future."
—Gregory Boyle, founder of Homeboy Industries, author of Tattoos on the Heart: The Power of Boundless Compassion.
Back to Top