The Occasional Virgin Reader's Guide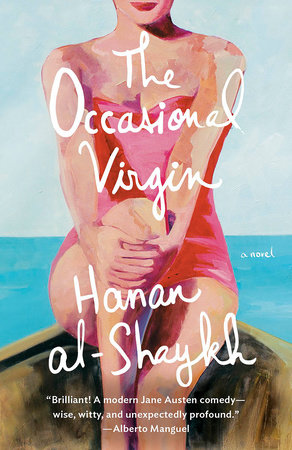 The Occasional Virgin Reader's Guide
READERS GUIDE
The questions and discussion topics that follow are intended to enhance your reading group's discussion of
The Occasional Virgin,
a remarkable novel about religion, family, love, and faith. These questions as may invoke lively discussion, so feel free to use these topics as guidelines only, and let your meeting take its own course.
Introduction
From "one of the most daring and controversial female writers of the Middle East" (
San Francisco Chronicle
), a tragicomic novel about two clever thirty-something women—successful in their careers but unlucky in love—from one of the most important Middle Eastern writers at work today.
Questions and Topics for Discussion
1. Describe the structure of The Occasional Virgin. Why does the author separate the novel into two distinct parts? How are the parts similar and different? How do the different locales change the tone of the story?

2. Yvonne and Huda are on vacation in the Italian Riviera in the first half and then both working in London in the second. Discuss why the setting might have allowed them to act differently than they might have acted at home.

3. Both Yvonne and Huda spent their childhoods in Lebanon; Yvonne raised in a Christian family in a northern seaside town and Huda in a Muslim family in Beirut. Compare their families and their experiences. How have their childhoods influenced the women they are today?

4. Both women had religious restrictions placed on them when they were girls. Discuss how these restrictions might have affected their childhoods, and how it might have affected the women they became.

5. Does the novel purposely and actively dispel any stereotypes of Arab women?

6. How do Lebanon and the past seep into the novel? How did the Lebanese Civil War affect the women and their families? "Death was around her, searching for new victims every day" (p. 127).

7. Why do you think al-Shaykh choose One Thousand and One Nights for Huda's play? How are both One Thousand and One Nights and The Occasional Virgin about strong women trying to survive in the world despite societal, religious and gender restrictions?

8. How are One Thousand and One Nights and The Occasional Virgin farcical and surreal in certain ways, at certain times?

9. How does the ending of the novel hint at One Thousand and One Nights, "Until tomorrow then" (p.221). What do you think happens at the end of The Occasional Virgin? Will the women see Hisham again?

10. "Learning to swim was what confirmed her existence" (p. 21). Swimming and the sea (and swimming pools) are important in the novel. The two women have different relationships and experiences with this activity. How is swimming a metaphor in the novel? What does it represent?

11. Both Yvonne and Huda are immigrants. How does this play into the novel? Do they ever get over their feelings of displacement and nostalgia for Lebanon?

12. At the restaurant, the women's conversation with Hisham's friends is different from the men's conversation. How do they differ?

13. "As far back as I can remember I've used lies and tricks as weapons," Huda tells herself (p. 33). The women lie to various men in the novel, but not to each other. Why?

14. Why are the two women so intrigued by Hisham? After seeing Hisham in action at the Speakers' Corner, why does Huda decide to go to the demonstration to look for him?

15. After seeing the "strawberry" poster in Yvonne's apartment, Huda's theatrical side is piqued. Do you think that is the moment she plans to seduce Hisham? What other times seem likely?

16. Why do Yvonne and Huda both pursue Hisham? Is it theatrical, a game, a competition, or something else? Are they really attracted to him or are they trying to expose his hypocrisy?

17. Why does Huda want "to have her revenge on" Hisham (p. 112)? Does she achieve it? How?

18. Compare and contrast Huda's view of Islam and the Quran to Hisham's. "For her, the Quran is an amazing riddle, conversing with her, making her contemplate and marvel, scaring her, but also entertaining her like a good book" (p. 95). "He is the soul of piety and seriousness, rigid as a steel box" (p. 118).

19. Describe the friendship between Yvonne and Huda. What binds them together?

20. What do you think of the provocative title and how does it connect to the storyline?
About this Author
Hanan al-Shaykh, an award-winning journalist, novelist, and playwright, is the author of the short story collection
I Sweep the Sun Off Rooftops
and
One Thousand and One Nights
; the novels
The Story of Zahra, Women of Sand and Myrrh, Beirut Blues
, and
Only in London
, and a memoir about her mother,
The Locust and the Bird
. She was raised in Beirut, educated in Cairo, and lives in London.
Back to Top