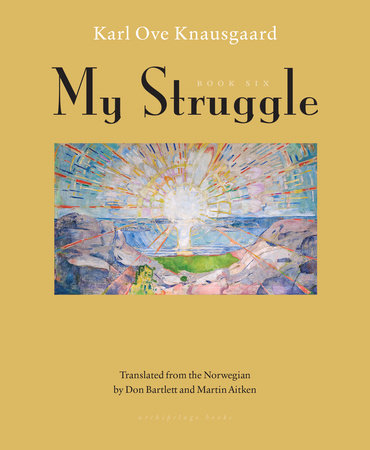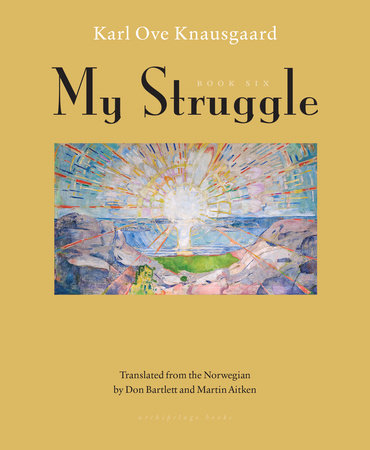 Sep 18, 2018
|
ISBN 9780914671992
Buy the Hardcover:
YOU MAY ALSO LIKE
QUICK VIEW
The Tattoo Artist
Paperback
$15.00
QUICK VIEW
The Fires of Autumn
Paperback
$15.00
QUICK VIEW
The Wine of Solitude
Paperback
$15.00
QUICK VIEW
The Last Seven Months of Anne Frank
Paperback
$15.00
QUICK VIEW
One Generation After
Paperback
$16.00
QUICK VIEW
Anthony Powell
Paperback
$17.00
QUICK VIEW
The Book of Aron
Paperback
$17.00
QUICK VIEW
Fire in the Blood
Paperback
$16.00
QUICK VIEW
Three Strong Women
Paperback
$16.00
QUICK VIEW
Praise
"Over the course of an afternoon's conversation and a subsequent e-mail exchange, it became clear to me that I had not quite understood Knausgaard's book. What I'd taken for a self-portrait was more like a snapshot, and what had seemed like a monument was actually something stranger—what Knausgaard, in our conversation, called a 'cave in time.'" — Joshua Rothman, The New Yorker

"…Knausgaard explores the various ways language can be leveraged for honest disclosure and tragic nationalism… and whether confessional style can be a force against propagandistic writing… [BOOK SIX] caps a remarkable achievement. For nearly 3,500 pages, Knausgaard has confessed, complained, reminisced, spouted off, made himself look ridiculous, and considered what it means to be candid, giving his life artistic shape while fighting against artifice. The book's very existence has prompted eye-rolls; many of its pages do as well. But his all-in temperament richly rewards anybody who takes first-person writing seriously. A fittingly bulky end to a radical feat of oversharing." —Kirkus Reviews, starred review

"At last, the highly anticipated conclusion to Knausgaard's six-part masterwork arrives in English…  perhaps most notable about Book Six is a 400-page examination of Hitler, Nazism, and the nature of evil, which draws parallels between Mein Kampf and My Struggle… This uncomfortable comparison simultaneously explodes the purview of what fiction can do while zeroing in on the unique concerns of his narrator. Perhaps the most compelling of this epic's installments, and an undeniably impressive literary accomplishment." —Booklist, starred review

"The final book of Knausgaard's six-volume masterpiece goes maximalist and metatextual, examining the impact that the autobiographical series has had on the author's life and the lives of those around him…the rationale for his project comes into brilliant focus. This volume is a thrilling conclusion to Knausgaard's epic series." — Publishers Weekly, starred review

"Knausgaard maintains all the hypnotic clarity and propulsive insights that attracted past readers, but adds a new layer of literary and philosophical scholarship into literature's most defiled achievement: Mein Kampf. . . The book's musings ultimately inspire with a spiritual perspective." — Alice Martin, in Shelf Awareness

"What is perhaps most radical about reading the novel is the feeling of intimacy it creates. . . . Knausgaard's virtuoso exposition of awkward everyday social interactions is unmatched in contemporary literature." — Ben Streeter, World Literature Today

"The exhilaration of confession becomes the angst of remorse, the drunkenness of setting it all down in print becomes the hangover of seeing the book in stores. My Struggle is a monument to candor with few precedents in human history" — James Camp, Bookforum 

"My Struggle is a magnificent hybrid.  It is literature unto itself—sui generis.  A unique accomplishment that demands to be read.  It is not a light read and yet it is not difficult to read. If you only have the time to commit to one book in the series, start with Book Six.  But the guarantee is that you will be hooked and start over with Book One." — Washington Independent Review of Books

"A purely literary gesture… [Part of] the tradition that justifies Lukács's definition of the novel as "the epic of a world abandoned by God"…  Knausgaard explicitly links this personal struggle with meaninglessness to the larger historical process of secularization….  the result is a book in which contradictions abound, a book with moments of great insight and moments of great banality, a book where one thing often seems to follow another for no reason at all, a book that aggressively courts insignificance." — Christopher Beha, Harper's Magazine


"It is precisely because the moments of epiphany are embedded within the quotidian that we readers are brought within and offered the chance to find ourselves. … it will be My Struggle that defines [Knausgaard's] career and leaves its mark on world literature." — Chris Via, Rain Taxi Review of Books


"Book Six, which, in addition to being a coruscating account of how the West destroyed its own ability to make meaning, may be the most ambitious novel published in our century so far…it's a shame that only people who've read the first five volumes are going to read this, because this, Book Six, is the kind of novel that reinvigorates the form of the novel itself." – Nathan Knapp, The Brooklyn Rail
"The artistic visionaries of the future will be able to show where they are embarrassed, to understand the shifting mores of what is unspeakable, and to grasp that nothing is so crucial as the revelation of our secret yearnings, the rage and vulnerability behind our identities, and the terror of an ego plunging into tech-­addled emptiness. And it will answer it not with platitudes or abstractions but with naked emotional honesty, attentiveness to life as it passes, and the courage to be unorthodox. My Struggle is one of the first books to face that blinding light." — Dan Grossman, Tablet

"We keep reading … because Knausgaard gives such a complete and heartfelt portrait of the beleaguered masculinity of our time." — Paul Delaney, Los Angeles Review of Books

"My Struggle remains an awesome, or awing, achievement — a deeply personal, revealing work of self-reflection…there is no doubt that it is one the major literary works to have appeared so far in the twenty-first century." — M.A.Orthofer, The Complete Review

"As Jeffrey Eugenides so marvelingly put it, [Knausgaard] broke the sound barrier of the autobiographical novel..There's something primitive and hungry in that experience—and for me, sometimes, something spiritual, close to the experience of grace." — Charles Finch, Slate

"The hallmark of the My Struggle series has always been its mix of banal ordinariness and breathtaking moments of beauty and genius … My Struggle reveals an intense yearning to find a kind of writing capable of conveying existence itself, of conveying the experience of being here, now." — Toril Moi, Public Books

"Questions about precisely what fiction is and how it relates to reality, and the extent to which traditional narrative can be a delivery vehicle for saying something true about life … lie at the intellectual and aesthetic heart of Knausgaard's huge undertaking." — Daniel Mendelsohn

Previous reviews for the series:
   • "Perhaps the most significant literary enterprise of our time." – The Guardian
   • "Intense and vital… Knausgaard is utterly honest, unafraid to voice universal anxieties… Superb, lingering, celestial passages… [with] what Walter Benjamin called the 'epic side of truth, wisdom'." – James Wood, The New Yorker
   • "My Struggle is candid and compulsively readable, with moments of searing insight and bold shifts through narrative time. Its scope is both ambitious and modest; its range aggressive and tender." –VICE
   • "Why would you read a six-volume, 3,600-page Norwegian novel about a man writing a six-volume, 3,600-page Norwegian novel? The short answer is that it is breathtakingly good, and so you cannot stop yourself, and would not want to… Arrestingly beautiful." – Leland de la Durantaye, The New York Times Book Review
   • "With each subsequent book of his that is translated into English, Mr. Knausgaard continues to solidify his reputation as one of the most vital writers working today." –The Observer
   • "My Struggle is unexpectedly entrancing – the combination of detail and intimacy creates an illusion of being inside somebody else's brain… My Struggle is worth the, uh, struggle." -GQ
   • "Karl Ove Knausgaard. My Struggle. It's unbelievable. I just read 200 pages of it and I need the next volume like crack." -Zadie Smith
   • "Knausgaard pushed himself to do something that hadn't quite been done before. He broke the sound barrier of the autobiographical novel." – Jeffrey Eugenides
   • "By exposing every last detail of his life, Karl Ove Knausgaard became your favorite author's new favorite author." -Evan Hughes, The New Republic
   • "If the function of literature is to take you out of your own life and involve you in someone else's then My Struggle is literature… gripping." —The Sunday Times
   • "A masterpiece of staggering originality, the literary event of the century… Life here and now, examined at a fever pitch, daily recollections recounted in exhausting but exhilarating detail." —The Wichita Eagle
   • "So what is it that has led fellow authors to rave about Knausgaard and hail him as literary pioneer? The answer lies in the intensity of focus he brings to the subject of his life. He seems to punch a hole in the wall between the writer and reader, breaking through to a form of micro-realism and emotional authenticity that makes other novels seem contrived, 'made up', irrelevant… Whether he's writing about his adult alienation at a toddler's birthday party or the memory of trying to get hold of alcohol as a teenager on New Year's Eve, Knausgaard is prepared to go into extraordinary sensuous detail… the overall effect is utterly hypnotic." -Andrew Anthony, The Observer
Get the latest updates about Karl Ove Knausgaard
And go from well-read to best read with book recs, deals and more in your inbox every week.
And go from well-read to best read with book recs, deals and more in your inbox every week.
Dismiss
Thanks!
Something awesome is on its way.
Back to Top
Become a Member
Start earning points for buying books! Just for joining you'll get personalized recommendations on your dashboard daily and features only for members.
Find Out More
Join Now
Sign In
Success!
Your account has been created. Upload book purchases, access your personalized book recommendations, and more from here.