The Most Fun We Ever Had Reader's Guide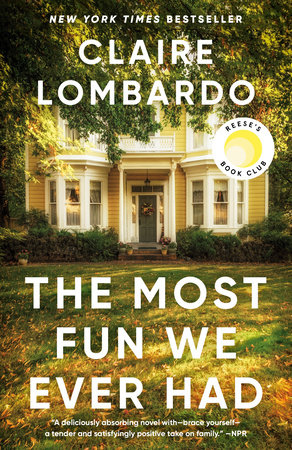 The Most Fun We Ever Had Reader's Guide
READERS GUIDE
Introduction
When Marilyn Connolly and David Sorenson fall in love in the 1970s, they are blithely ignorant of all that awaits them. By 2016, their four radically different daughters are in a state of unrest. Wendy, widowed young, soothes herself with booze and younger men; Violet, a litigator turned stay-at-home-mom, battles anxiety and self-doubt; Liza, a neurotic and newly tenured professor, finds herself pregnant with a baby she's not sure she wants by a man she's not sure she loves; and Grace, the dawdling youngest daughter, begins living a lie that no one in her family even suspects. With the arrival of Jonah Bendt–a child placed for adoption by one of the daughters fifteen years before–the Sorensons will be forced to reckon with the rich and varied tapestry of their past: years marred by adolescent angst, infidelity, and resentment, but also the transcendent moments of joy that make everything else worthwhile.
Questions and Topics for Discussion
1. Gingko leaves and trees show up many times during the course of the novel—during the opening scene and when David and Marilyn first fall in love, just to name a couple. How do gingkoes function as a symbol in the book? What do they represent?
2. Who is your favorite character in the novel? Who are you most similar to?
3. By the end of The Most Fun We Ever Had, we've seen decades of David and Marilyn's marriage unfold through many ups and downs. What do you see as the key to their successful and enduring marriage?
4. Do you think the way Wendy surprised Violet with Jonah was ethical? Do you think Violet's reaction was warranted?
5. Were you surprised by Violet's secret that gets revealed toward the end of the novel? How would you react if you were Wendy?
6. Many readers share that reading The Most Fun We Ever Had was an emotional experience. What was the most emotional scene for you to read? Why?
7. The narration switches between the perspective of each family member throughout the course of the book. What did this style add to the novel as a whole? How would the book be different if the author only focused on one character?
8. The book starts and ends with Marilyn's perspective. Why do you think the author made this choice?
9. In what ways is the Sorenson family like your own family?
10. What did you think about the book's ending? What do you think will happen to the Sorenson family after the book ends?
11. What other books, movies, and TV shows does this novel remind you of?
About this Author
Claire Lombardo
earned her MFA in fiction at the Iowa Writers' Workshop. Prior to writing The Most Fun We Ever Had, she spent several years doing social work in Chicago. She was born and raised in Oak Park, Illinois.
Back to Top