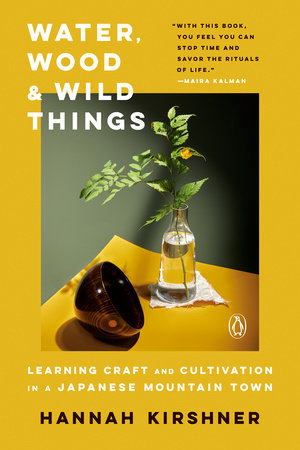 Water, Wood, and Wild Things
Learning Craft and Cultivation in a Japanese Mountain Town
Learning Craft and Cultivation in a Japanese Mountain Town
Learning Craft and Cultivation in a Japanese Mountain Town
Best Seller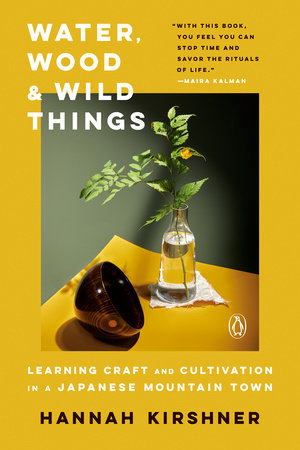 Mar 29, 2022
|
ISBN 9781984877543
Buy the Audiobook Download:
Praise
Included in the Institute for Global Prosperity's 2021 Summer Reading List

"Part memoir, part cookbook, and part love letter to Yamanaka, the Japanese mountain town where Kirshner apprenticed with craftspeople. Kirshner's portrait of the community is vivid and full of detail—it is as close to traveling anywhere outside the country that I got in the last year."
—Margaret Eby, Food & Wine

"Intriguing and meticulous. . . . Kirshner is doggedly journalistic in navigating the ways of the different artisans. . . . Her descriptions glitter like tinsel. . . . Kirshner knows that nothing worth learning, especially in Japan, is easily earned, and this gives us a clue to her talent for fitting into, and understanding, a culture so intricate and initially intimidating to outsiders: 'the best etiquette is true thoughtfulness, and for that no training is better than simply paying attention.'"
—Caroline Eden, Times Literary Supplement

"Something between memoir, travelogue, ethnography and cookbook, Kirshner weaves together local history and profiles to explore the intricate connections between craft and the natural environment of a town that balances traditional culture with modernity. . . . Experience fuels each turn of the page as, alongside Kirshner, readers practice the magic of traditional papermaking; hunt wild boar and duck using time-honored traditions; walk deep into the mountains to harvest sap for lacquer; or apprentice with Shinichi Moriguchi, a master wood craftsman, and learn to carve a tray using a near-extinct technique."
—The Japan Times

"An enthralling personal journey. . . .  Her lyrical style is soothing and retains the magic of her experiences without being overly effusive. The book is dotted with beautiful illustrations, and exquisite recipes finish each chapter. It's a respectful, insightful and illuminating work to be savored."
—The Tokyo Weekender (An April Book Club Pick)

"Water, Wood, and Wild Things is memoir, ethnography, cookbook, and sketchbook rolled into one. It evokes the best of the nature writing of Rachel Carson and Wendell Berry, as well as the food writing of M.F.K. Fisher and craft writing of Edmund de Waal. . . . [Kirshner's] observations about her teachers' works render extraordinary what at first glance might seem ordinary. Her drawings are charming, and her words, miraculous."
—The Provincetown Independent

"The author moves on to the most dangerous, unlikely, and wildly specific pursuits—and goes where women are rarely welcome. . . . Water, Wood, and Wild Things takes us to a charming small town where the past is always close by."
—International Examiner

"Over a four-year period, artist and journalist Kirshner spent many months at a time in the little town of Yamanaka . . . apprenticing to and learning from numerous practitioners of traditional Japanese arts and domestic skills. The sensitive, perceptive, and gratifyingly detailed book that resulted allows readers into worlds few people enter, as the author plants rice by hand, studies the traditional tea ceremony, assists a group of older men who catch flying ducks with nets, learns the art of woodturning, and much more. . . . The volume is amply illustrated with the author's nimble line drawings, and its varied chapters are interspersed with intriguing recipes. . . . A vicarious pleasure for those stuck at home, and a loving tribute to the practitioners of traditional arts."
—Booklist (starred review)
 
"[Kirshner's] many adventures working at the sake bar, taking tea lessons, luxuriating in hot springs baths, appreciating the subtleties of the Japanese language, learning to dance, assisting with wood turning, and going duck and boar hunting are punctuated with charming sketches and recipes for delicacies such as pickles, bean gelee, sake ice cream, miso-cured eggs, fried chicken, dumplings, game stew, pickled wasabi greens, tempura, rice balls, persimmon leaf sushi, and more. . . .  Travel readers who appreciate off-the-beaten-path locales and local cuisine will enjoy this dreamy account."
—Library Journal

"In Kirshner's explorations and excavations, we navigate the pulls of place and identity—Water, Wood, and Wild Things settles us into Yamanaka, and alongside the folks who live there. Kirshner is both participant and observer, humbly and tactfully weaving a portrait of a history, its mores, and how they've changed. But, above all, she listens—allowing the community to tell their story, and allowing us to view the tapestry she's painted alongside them. Water, Wood, and Wild Things is a trove and a boon—we can't help but feel grateful that Kirshner brought us along for the journey."
—Bryan Washington, author of Memorial

"If you have a yearning (as I do) to go to Japan and do exactly what Hannah did (without the mountain biking), you will be very grateful for her essays on life among the craftspeople of a small town. Hannah transports you to a place of serenity and beauty, where moments of exquisite wonder pervade. With this book, you feel you can stop time and savor the rituals of life."
—Maira Kalman, author of Cake and Beloved Dog

"Kirshner's beautifully illustrated and worded depiction of Japanese craft is artfully grounded in nature's four seasons alongside meticulous food preparation rituals. With each turn of the page, you can almost hear Kirshner sliding open yet another wooden paneled door to reveal a shokunin who refuses to let their craft fade. Water, Wood, and Wild Things wonderfully brings a myriad of haptic, visual, and aromatic taste sensations of Japan that individually tantalize within a perfect dashi broth of storytelling."
—John Maeda, author of The Laws of Simplicity

"What does it mean to immerse yourself in a place? What can you learn from the experience? Hannah Kirshner's Water, Wood, and Wild Things chronicles her time in the mountain town of Yamanaka—and offers a record of what she learned about technique and creation there, from brewing sake to making charcoal."
—Tobias Carroll, Inside Hook

"Hannah Kirshner depicts Yamanaka, its landscape, its people (and the things they make) with intimate feeling and lucid focus. Water, Wood, and Wild Things is exquisitely attentive—a lovely and special book."
—Rosie Schaap, author of Drinking with Men
 
"In her engaging narrative, Water, Wood, and Wild Things, Hannah Kirshner conveys the essence of Japan's rapport with nature that continues to shape craft, community and the culinary arts. Her lyric sketchbook provides a glimpse of a mountain town in transition, nurtured by the past while accepting (considered) change."
—Elizabeth Andoh, author Washoku and Kansha

"What a luscious book! Kirshner's delightful stories are rooted in deep history and thought. Lovely illustrations and delicious recipes enhance the multi-layered narrative. Read from beginning to end or pop around between chapters, following your appetite."
—Gina Rae LaCerva, author of Feasting Wild

"I love this book! Kirshner opens up a window to a Japan that virtually no one from the outside gets to see, and as a hunter, angler, forager and cook myself, it is fascinating to see that those traditions are not only very much alive there, but also that they are not so different from our own here in the United States."
—Hank Shaw, author of Hunt, Gather, Cook

"How does one engage ethically with a culture not their own? Kirshner offers one possible way. Her humility, curiosity, and dedication shine through in the accuracy and honesty of her discussions of historical contexts and the privilege she enjoys as a white American woman in Japan. Kirshner listened, and allowed me to hear the voices of Yamanaka's people, who are recreating traditions every day."
—Takeshi Watanabe, author of Flowering Tales: Women Exorcising History in Heian Japan 

"Hannah Kirshner's delicate drawings and uncommon recipes complement this beautiful tribute to rural Japan. Here, cultural practices both old and new are inseparably tied to place and place is incalculably enriched by the human history it contains."
—Winifred Bird, author of Eating Wild Japan

"Water, Wood, and Wild Things brings back my memories of growing up in Japan. With her authentic narratives, Kirshner reminded me of countless and valuable teachings from my ancestors and the culture." 
—Masahiro Urushido, author of The Japanese Art of The Cocktail
Get the latest updates about Hannah Kirshner
And go from well-read to best read with book recs, deals and more in your inbox every week.
And go from well-read to best read with book recs, deals and more in your inbox every week.
Dismiss
Thanks!
Something awesome is on its way.
Back to Top