Alias Grace Reader's Guide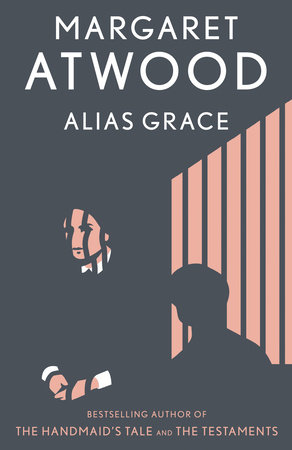 Alias Grace Reader's Guide
READERS GUIDE
Introduction
In
Alias Grace
, bestselling author Margaret Atwood has written her most captivating, disturbing, and
ultimately satisfying work since
The Handmaid's Tale
. She takes us back in time and into the life of
one of the most enigmatic and notorious women of the nineteenth century.
Grace Marks has been convicted for her involvement in the vicious murders of her employer, Thomas Kinnear, and Nancy Montgomery, his housekeeper and mistress. Some believe Grace is innocent; others think her evil or insane. Now serving a life sentence, Grace claims to have no memory of the murders.
Dr. Simon Jordan, an up-and-coming expert in the burgeoning field of mental illness, is engaged by a group of reformers and spiritualists who seek a pardon for Grace. He listens to her story while bringing her closer and closer to the day she cannot remember. What will he find in attempting to unlock her memories? Is Grace a female fiend? A bloodthirsty femme fatale? Or is she the victim of circumstances?
Questions and Topics for Discussion
1. This novel is rooted in physical reality, on one hand, and floats free of it on the other, as Atwood describes physical things in either organic, raw terms (the "tongue-colored settee") or with otherworldly, more ephemeral images (the laundry like "angels rejoicing, although without any heads"). How do such descriptions deepen and reinforce the themes in the novel?
2. The daily and seasonal rhythm of household work is described in detail. What role does this play in the novel in regard to its pace?
3. Atwood employs two main points of view and voices in the novel. Do you trust one more than the other? As the story progresses, does Grace's voice (in dialogue) in Simon's part of the story change? If so, how and why?
4. Grace's and Simon's stories are linked and they have a kinship on surface and deeper levels. For instance, they both eavesdrop or spy as children, and later, each stays in a house that would have been better left sooner or not entered at all. Discuss other similarities or differences in the twinning of their stories and their psyches.
5. Atwood offers a vision of the dual nature of people, houses, appearances, and more. How does she make use of darkness and light, and to what purpose?
6. In a letter to his friend Dr. Edward Murchie, Simon Jordan writes, "Not to know–to snatch at hints and portents, at intimations, at tantalizing whispers–it is as bad as being haunted." How are the characters in this story affected by the things they don't know?
7. How and why does Atwood conceal Grace's innocence or guilt throughout the novel? At what points does one become clearer than the other and at what points does it become unclear?
About this Author
Margaret Atwood was born in 1939 in Ottawa and grew up in northern Ontario, Quebec, and Toronto. She received her undergraduate degree from Victoria College at the University of Toronto and her master's degree from Radcliffe College. The daughter of a forest entomologist, Atwood spent a large part of her childhood in the Canadian wilderness. At the age of six she began to write "poems, morality plays, comic books, and an unfinished novel about an ant." At sixteen she found that writing was "suddenly the only thing I wanted to do." Throughout her career, Margaret Atwood has received numerous awards and several honorary degrees including the Canadian Governor General's Award, Le Chevalier dans l'Ordre des Arts et des Lettres in France, and the National Arts Club Medal of Honor for Literature. She is the author of more than thirty volumes of poetry, nonfiction, and fiction, including children's books, and short stories. Her most recent works include
The Handmaid's Tale
(1986),
Cat's Eye
(1989), and
Alias Grace
(1996), the story collection
Good Bones and Simple Murders
(1994), and a volume of poetry,
Morning in the Burned House
(1995). Ms. Atwood's work has been published in more than twenty-five countries. She has traveled extensively and has lived in Boston, Vancouver, Montreal, London, Provence, Berlin, and Edinburgh. Margaret Atwood now lives in Toronto with novelist Graeme Gibson and their daughter.
Back to Top