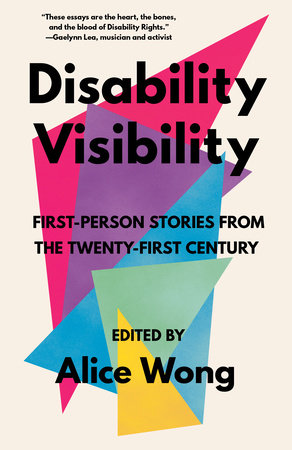 Disability Visibility
First-Person Stories from the Twenty-First Century
First-Person Stories from the Twenty-First Century
Unabridged Selections
Edited by
Alice Wong
Edited by
Alice Wong
Edited by
Alice Wong
Edited by
Alice Wong
By Alice Wong
Read by
Alejandra Ospina

and

Alice Wong



By
Alice WongOn Tour


Read by

Alejandra Ospina

and

Alice Wong




Best Seller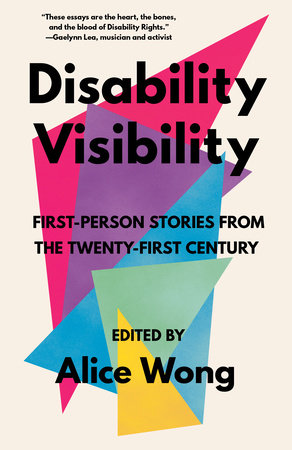 Jun 30, 2020 | ISBN 9781984899422
Buy the Audiobook Download:
Inspired by Your Browsing History
Also in Biography & Memoir
Praise
"An exemplary collection. . . . This month's #RequiredReading." —Ms. Magazine

"A raw, emotional collection, an investment in the power of storytelling to foster vibrant connections, and an unapologetic rejection of 'internalized ableism'. . . . The 37 powerful stories in Disability Visibility reveal the depth of everyday courage and the extraordinary human capacity to find humor in the face of life's adversities." —Shelf Awareness

"Alice Wong . . . has long been at the forefront of the disability justice movement." —Bitch Media, "17 Books Feminists Should Read in June"

"More resonant than ever. In this kaleidoscopic collection, Wong and her contributors provide not just a snapshot of what disability has meant in the past 20 years, but an urgent invitation to take that understanding forward. . . . A landmark resource for understanding disability." —Autostraddle

"Diverse and poignant. . . . I was deeply moved by more pieces than I could name." —Shir Kehila, Columbia Journal

"Outstanding. . . . Excellent. . . . Vibrant." —Wordgathering

"Alice Wong should be in charge of editing all books. Even better, Alice Wong should be in charge of everything! To Alice, words like 'diversity' and 'intersectionality' aren't just buzzwords. They are marching orders. In this book, she has collected a staggering array of stories from writers who experience disability in vastly different ways. This isn't meant to be THE DEFINITIVE BOOK on disability. It is a doorway, and Alice is inviting us all to go through the doorway and continue our learning process. She even ends the collection with a bibliography that extends far beyond your standard reading list. Whether you currently consider yourself part of the disability community or not, you're gonna want to take in the wisdom woven throughout this book. Now more than ever, our society desperately needs to listen to and take action on the changes disabled artists and activists have been demanding for so long. I am lucky she is my friend." —W. Kamau Bell, host of United Shades of America

"These essays are the heart, the bones, and the blood of Disability Rights. They honestly bare the joys, pleasures, sorrows, anger, frustrations, fears, and hope of real-life, complete human beings. Disability Visibility offers its readers the chance to open their minds, re-train their hearts, and raise their expectations of society. It is one grounding stone on the path to true liberation and acceptance for human beings in all their glorious variations. Alice Wong delicately arranges these gems—the brilliant hues, the unique contours, and the sharp edges—to create a beautiful mosaic of disability." —Gaelynn Lea, musician and activist

"As a Deaf Asian American, it wasn't until recent years that I started considering myself disabled. These stories validated many complicated experiences I had while growing up and felt fully relatable. When did I realize I deserved a better future? When did I stop feeling the need to assimilate? When did I become radicalized by ableism? There are many ways to be disabled and even though we aren't offered many platforms to present ourselves, we exist and we want to write our own history. This is a very informed starting point for anyone who, like myself, would like to get a better understanding of disability as a massive and beautifully nuanced spectrum." —Christine Sun Kim, artist

"If we're going to talk about diversity in earnest then we must acknowledge the contributors in Alice Wong's anthology and how their essays encapsulate intersectional dialogue, intellectual thought, and intimate details. Disability Visibility is the perfect name for this collection because the authors words resound loudly and deserve to be heard. Books like this showcase why change is needed, what needs to be part of the larger political consciousness, and who is often left out of the conversation. This book is a celebration and a source of deep education for many to bear witness (and feel seen by) the vastness of disabled stories, voices, and backgrounds." —Jennifer Baker, editor of Everyday People: The Color of Life—A Short Story Anthology

"Wong's discerning selections, bolstered by the activism that shines through, will educate and inspire readers." —Kirkus Reviews 
Table Of Contents
Introduction by Alice Wong
PART 1: BEING
Unspeakable Conversations
Harriet McBryde Johnson
For Ki'tay D. Davidson, Who Loves Us
Talila A. Lewis
If You Can't Fast, Give
Maysoon Zayid
There's a Mathematical Equation That Proves I'm Ugly—Or So I Learned in My Seventh-Grade Art Class
Ariel Henley
The Erasure of Indigenous People in Chronic Illness
Jen Deerinwater
When You Are Waiting to Be Healed
June Eric-Udorie
The Isolation of Being Deaf in Prison
Jeremy Woody, as told to Christie Thompson  
Common Cyborg
Jillian Weise
I'm Tired of Chasing a Cure
Liz Moore
PART 2: BECOMING
We Can't Go Back
Ricardo T. Thornton Sr.
Radical Visibility: A Disabled Queer Clothing Reform Movement Manifesto
Sky Cubacub
Guide Dogs Don't Lead Blind People. We Wander as One.
Haben Girma
Taking Charge of My Story as a Cancer Patient at the Hospital Where I Work
Diana Cejas
Canfei to Canji: The Freedom of Being Loud
Sandy Ho
Nurturing Black Disabled Joy
Keah Brown
Last but Not Least — Embracing Asexuality
Keshia Scott 
Imposter Syndrome and Parenting with a Disability
Jessica Slice  
How to Make a Paper Crane from Rage
Elsa Sjunneson
Selma Blair Became a Disabled Icon Overnight. Here's Why We Need More Stories Like Hers.
Zipporah Arielle
PART 3: DOING
Why My Novel Is Dedicated to My Disabled Friend Maddy
A. H. Reaume
The Antiabortion Bill You Aren't Hearing About
Rebecca Cokley
So. Not. Broken.
Alice Sheppard
How a Blind Astronomer Found a Way to Hear the Stars
Wanda Díaz-Merced
Incontinence Is a Public Health Issue—And We Need to Talk About It
Mari Ramsawakh
Falling/Burning: Hannah Gadsby, Nanette, and Being a Bipolar Creator
Shoshana Kessock
Six Ways of Looking at Crip Time
Ellen Samuels
Lost Cause
Reyma McCoy McDeid  
On NYC's Paratransit, Fighting for Safety, Respect, and Human Dignity
Britney Wilson
Gaining Power through Communication Access
Lateef McLeod
PART 4: CONNECTING
The Fearless Benjamin Lay: Activist, Abolitionist, Dwarf Person
Eugene Grant
To Survive Climate Catastrophe, Look to Queer and Disabled Folks
Patty Berne, as told to and edited by Vanessa Raditz
Disability Solidarity: Completing the "Vision for Black Lives"
Harriet Tubman Collective
Time's Up for Me, Too
Karolyn Gehrig  
Still Dreaming Wild Disability Justice Dreams at the End of the World
Leah Lakshmi Piepzna- Samarasinha  
Love Means Never Having to Say . . . Anything
Jamison Hill  
On the Ancestral Plane: Crip Hand- Me Downs and the Legacy of Our Movements
Stacey Milbern
The Beauty of Spaces Created for and by Disabled People
s.e. smith
About the Editor
About the Contributors
Further Reading
Back to Top