Exes and O's Reader's Guide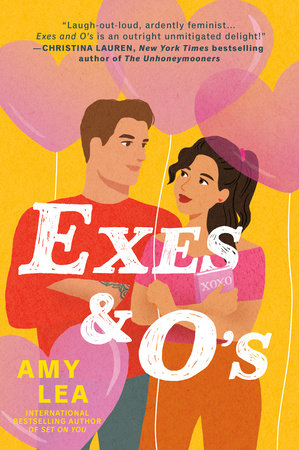 Exes and O's Reader's Guide
READERS GUIDE
Reader's GuideExes and O's by Amy LeaDiscussion Questions:
1. Tara is a massive fan of romance tropes. What are your favorite and least favorite romance tropes and why? What is the main trope for Exes and O's?
2. Do you agree with Tara that classic romantic comedy–style meet-cutes are "dead" in today's technologically driven society? Have technology, the internet, and dating apps made modern dating harder or easier?
3. What is your favorite breakup song?
4. Inspired by Grandma Flo, Tara decides to seek out her own second-chance love story by exploring whether there is relationship potential with her past boyfriends. Would you reach out to any of your exes? What are the benefits of second-chance romances?
5. Many of Tara's ex-boyfriends refer to her as the "crazy ex-girlfriend," a term that is often used against women. Why do you think the term "crazy" is used as a weapon against women in particular? What are some examples of "crazy ex-girlfriends" in film, television, or music that depict this stereotype? Is this portrayal usually negative? Does Tara fit this stereotype?
6. How did Trevor's childhood experiences and his family situation impact the way he views love and relationships? In what ways did Tara's passion for romance (and romance novels) change his understanding of relationships?
7. In what ways are Tara's and Trevor's outlooks on love and relationships different? In what ways (if any) are they similar? Do you believe a relationship can work between polar opposites?
8. Tara's ex Seth believes that reading romance has given her unrealistic expectations when it comes to love. Do you agree that romance books or movies give people unrealistic expectations? Why or why not?
9. In what ways could romance books or movies be beneficial to romantic relationships?
Back to Top