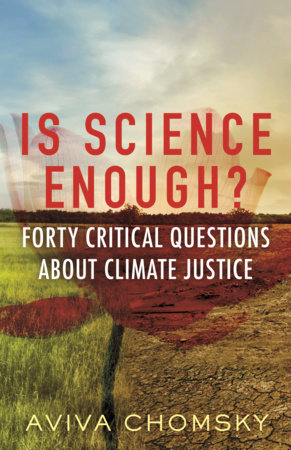 Is Science Enough?
Forty Critical Questions About Climate Justice
Forty Critical Questions About Climate Justice
Best Seller
Part of Myths Made in America
Part of Myths Made in America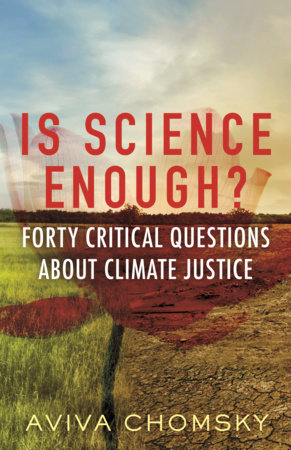 Apr 05, 2022
|
ISBN 9780807015766
YOU MAY ALSO LIKE
QUICK VIEW
The Carbon Almanac
Paperback
$20.00
QUICK VIEW
Dire Predictions
Paperback
$27.99
QUICK VIEW
Intelligence in Nature
Paperback
$15.95
QUICK VIEW
DK Eyewitness Top 10 Hong Kong
Paperback
$14.99
QUICK VIEW
Nature Is A Human Right
Hardcover
$19.99
QUICK VIEW
Norse Greenland
Ebook
$2.99
QUICK VIEW
California Burning
Hardcover
$29.00
QUICK VIEW
Mr. Gatling's Terrible Marvel
Paperback
$16.00
QUICK VIEW
How to Make Your Car Handle
Paperback
$30.00
Praise
"In each very readable section, Chomsky dissects the root questions behind current conversations…Chomsky deftly navigates the questions that muddle people's thinking on the issue, like those having to do with food, air travel, and whether or not to buy a Prius…This book will give them some ideas on what to do and how to do it."
—The Progressive

"Chomsky makes a convincing case that capitalism bears a heavy responsibility for the current situation, and she offers a superb education on efforts to reduce emissions."
—Kirkus Reviews

"This is a worthwhile contribution to the growing body of work on the ethics of climate change."
—Publishers Weekly

"Highly readable and accessible."
—Science Magazine

"Avi Chomsky's essential primer on climate change goes beyond the usual scientific, technical, and policy dimensions to focus much-needed attention on the ways power and inequality matter too. It deftly and lucidly puts the impending ecological disaster in proper perspective, framing it as an environmental and social crisis."
—Chad Montrie, author of A People's History of Environmentalism in the United States

"In a world where everyone seems to have answers but only to the wrong questions, Chomsky offers clear, next-level inquiries into what science and technology can actually deliver. Should you buy an EV? Become a vegetarian? Invest in energy tech? Chomsky's grounded and astute questioning charts a brave path through the dubious assumptions and hype holding us back from meaningful action."
—Ozzie Zehner, author of Green Illusions and producer of Planet of the Humans

"When reading books or articles purporting to address the climate emergency, I typically find plenty to disagree with. But reading Aviva Chomsky's Is Science Enough? Forty Critical Questions About Climate Justice, I found myself nodding my head all the way through. Dr. Chomsky asks all of the most crucial questions and answers each in clear-eyed, logical, fearless, plain-spoken prose. She brings to life the scientific, technical, and economic concepts that must be understood if predatory exploitation and degradation of the ecosphere, including our own species, is to be ended. Every climate bookshelf should include Is Science Enough? in a prime spot."
—Stan Cox, author of The Green New Deal and Beyond

"This is a book every aspiring—or even seasoned—climate activist should read. Climate activism can only be climate justice activism, Aviva Chomsky argues, guiding future activists along the way on everything they need to know about the science and politics of climate change."
—Giorgos Kallis, author of Limits: Why Malthus Was Wrong and Why Environmentalists Should Care

"Are you feeling a bit lost in the climate change debate? This book will provide a clear, concise, and incisive response to all your questions. This is one of the most important issues of the twenty-first century, and Is Science Enough? one of the most important books about it. Don't miss it!"
—Federico Demaria, coauthor of The Case for Degrowth

"Climate change isn't just about science. It's also about justice. Chomsky ties it all together in this book: a brilliant primer on the most important issues of our generation."
—Jason Hickel, author of Less Is More: How Degrowth Will Save the World

"Is Science Enough? clearly and cogently explains the physical, social, and political issues raised by climate change, including the consequences of inaction. It is an excellent introduction for undergraduates."
—Joan Martínez Alier, senior researcher in the Environmental Science and Technology Institute of the Autonomous University of Barcelona, past president of the International Society for Ecological Economics, and author of Ecological Economics

"Coming to terms with climate change can feel overwhelming. But Aviva Chomsky is an expert guide to the most pressing questions facing us today, from the dilemmas of individual action to the structural forces driving the climate crisis. Comprehensive, frank, and lucid, Is Science Enough? is an indispensable primer for those who are just beginning to explore the social and political dimensions of climate change and an invaluable reference for those returning to them."
—Alyssa Battistoni, coauthor of A Planet to Win

"From COVID to climate change, 'Believe the science' is a mantra. But as Aviva Chomsky's powerful book shows, science is not enough to confront the planetary emergency of global warming and environmental destruction. Despite decades of research, politicians and firms have engaged in predatory delay; meanwhile, technology alone won't solve a multifaceted crisis with roots in capitalism and social inequality. Chomsky provides a compelling, accessible guide to the causes and consequences of climate change—and the thorny debates over the policies and technologies deployed to address it. Ultimately, she argues, the only way forward is widespread collective action for climate, economic, and racial justice."
—Thea Riofrancos, coauthor of A Planet to Win
Table Of Contents
Introduction

CHAPTER 1: TECHNICAL QUESTIONS

Can technology solve climate change?
What are greenhouse gases?
What are the main sources of GHG emissions?
How can we clean up our energy grid? What exactly are "clean," "renewable," and "zero-emission" energy sources?
What's the difference between "zero-" and "net-zero" emissions?
Can forests serve as a carbon sink?
What is carbon capture? Is it a viable solution?
Does LEED certification mean that our buildings are using less energy?
Conclusion

CHAPTER 2: POLICY QUESTIONS

What was the Kyoto Protocol?
What is the Paris Agreement?
What are the advantages and disadvantages of putting a price on carbon?
How does a cap-and-trade system work?
How does a carbon tax work?
What about carbon offsets?
How does the United States subsidize the fossil fuel industry?
Is natural gas a bridge fuel?
How have the fossil fuel and other industries influenced policy discussions?
What kinds of policy solutions do environmentalists propose?
What is the Green New Deal?
Conclusion

CHAPTER 3: WHAT CAN I DO AS AN INDIVIDUAL?

Should I buy a Prius?
What about giving up my car and using Uber and Lyft?
Should we all stop flying?
Should we all be vegetarians?
What are strengths and weaknesses of pipeline protests as a strategy? What about divestment from fossil fuels?
Do we need to consume less?
Conclusion: What kinds of individual actions can make the most difference?

CHAPTER 4: SOCIAL, RACIAL, AND ECONOMIC JUSTICE

What's the relationship of inequality to climate change?
What do race and racism have to do with climate change?
How will different people—and different parts of the world—be affected by climate change, now and in the future?
How are pandemics related to climate change?
How can we fairly hold different countries, people, and institutions accountable for their contributions to climate change? What methods for calculating emissions best show who is emitting the most, and where to target our efforts for change?
What do workers and the labor movement have to say about climate change? Is climate change a union issue?
What is a "just transition"?
What is "energy democracy"? How is it related to the struggle to confront climate change?
Conclusion: Should social, racial, and economic justice issues be linked to the fight to stop climate change?

CHAPTER 5: BROADENING THE LENS

Is population growth the root of the problem?
Is immigration bad for the environment?
What is economic growth? How important is it, and how does it affect the environment?
Can we have economic growth without increasing emissions?
Do we even need growth? What is degrowth? Is it a good idea?
Is degrowth compatible with the Green New Deal?
Are we making progress?
Conclusion: Reasons for optimism

CONCLUSION

Acknowledgments
Notes
Get the latest updates about Aviva Chomsky
And go from well-read to best read with book recs, deals and more in your inbox every week.
And go from well-read to best read with book recs, deals and more in your inbox every week.
Dismiss
Thanks!
Something awesome is on its way.
Back to Top
Become a Member
Start earning points for buying books! Just for joining you'll get personalized recommendations on your dashboard daily and features only for members.
Find Out More
Join Now
Sign In
Success!
Your account has been created. Upload book purchases, access your personalized book recommendations, and more from here.