I Say a Little Prayer Reader's Guide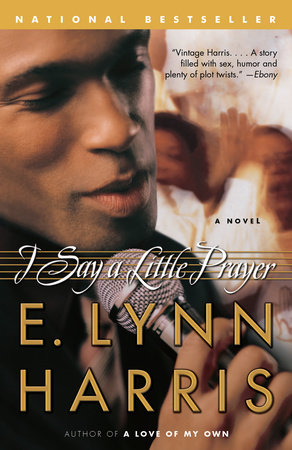 I Say a Little Prayer Reader's Guide
READERS GUIDE
"Vintage Harris. . . . A story filled with sex, humor and plenty of plot twists."
—
Ebony
The questions, discussion topics, and suggestions for further reading that follow are designed to enhance your group's discussion of
I Say a Little Prayer
, an explosive look at the fraught relationship between black churches and the gay community by bestselling author E. Lynn Harris.
Introduction
As a young man, Chauncey Greer sang with a boy band that was headed for superstardom, until a lover's betrayal tore the group apart. Now thirty-eight, he's the owner of a successful greeting card company in Atlanta, comfortable with his sexuality–"basically bi with a gay leaning" [p.10]–and has found a spiritual home at Abundant Joy Baptist Church, where no one cares about his income, what kind of car he drives, and, most important, who he sleeps with. An inspiring sermon at Abundant Joy reawakens Chauncey's dream of pursuing a singing career, and after his soul-stirring debut performance at a Sunday service, the minister invites Chauncey to participate in an upcoming revivalist meeting led by Bishop Upchurch, one of the most prominent fundamentalist preachers in the country.
Upchurch and his ambitious wife are using their Denver megachurch as a launching pad for a run for the United States Senate, with a campaign driven by rabid anti-gay propaganda. When the gay members of Abundant Joy organize a "Day of Absence" to protest Upchurch's appearance, Chauncey is caught between his desire to sing and his deep-seated beliefs in what God wants from him. The situation becomes even more complicated when Chauncey realizes just who Bishop Upchurch is–and how far his political cronies are willing to go to win a senate seat.
Questions and Topics for Discussion
1. The story of Chauncey's past is interspersed with the main narrative. What does Harris achieve by telling the two stories simultaneously? In what ways do the past and the present play out against one another as the plot unfolds?
2. Chauncey calls himself "a reformed heartbreaker trying to do the right thing when it comes to dealing with other people" [p. 9]. Does "doing the right thing" require more than just "being honest and saying what's what" [p. 11] with the men he briefly hooks up with? Are there consequences–to himself, as well as to his partners–that he doesn't recognize or refuses to acknowledge? Is Chauncey's casual approach to dating and sex widespread among men today, both straight and gay? Is the pattern common among women as well?
3. How has the growth of mega churches changed the practice of religion in contemporary America? Have these large, and usually wealthy, organizations abandoned the essential role of a church in the community? Is it possible to argue that a mega church, through its very size and marketing efforts, can attract Christians looking for a place to renew or rediscover their spirituality?
4. What was your reaction to the private party Chauncey attends [pp. 49—57]? Are the graphic descriptions of the various sexual encounters at the sex club, as well as other explicit scenes in the novel, integral to portraying Chauncey and his lifestyle in an accurate, realistic way?
5. Discuss Chauncey's musings on sin [p. 58]. Do they express your own religious beliefs or moral principles? What specific values influence your judgments of your own and other people's behavior? Is there an absolute moral code that applies to everyone or do individuals, religious authorities, or community standards define right and wrong?
6. Chauncey gives an important job to a new printer because he wants to "give a small black business a chance" [p. 66]. Do successful black businessmen have a duty to support other businesses within the black community? Is making a business decision on the basis of race (or gender or sexual preference) a form of discrimination?
7. Reverend Davis delivers a powerful sermon encouraging his followers to vote [p. 159]. Does the discussion of political or civic matters have a place in the church? Are there issues that religious leaders should not address? Have you experienced or read about incidents in which a minister, priest, or rabbi has crossed the line separating church and state? Is the political establishment guilty of bringing religious considerations into government policies and practices? Do you agree, for example, with Vincent's claim that President Bush's faith-based initiatives "get . . . ministers to sing his tune" [p. 221]?
8. Reverend Davis is aware of Damien and Grayson Upchurch's ultraconservative views, yet he is eager to have him come to Abundant Joy. Are his explanations to Chauncey [pp. 178, 230—32] satisfactory? What are the ramifications, both good and bad, of giving Damien a forum to express his views?
9. Does the conversation between Chauncey and Damien [pp. 251—53] cast a different light on their past relationship? Do you think that Damien is sincere in his belief that what they were doing was wrong? What role did his fear of exposure play in his decision to betray Chauncey? How does Harris make their reconciliation believable?
10. I Say a Little Prayer features women only in secondary roles. Are Celia, Ms. Gladys, and Grayson Upchurch fully developed characters? Do their attitudes, problems, and achievements offer insights into lives of women in the African-American community? To what extent is Grayson Upchurch representative of a growing conservative trend in African-American politics?
11. Harris refers to several real people in the novel and also includes "cameo" appearances by characters from his other books. What does this add to your experience as a reader?  
12. The question of accepting gays and lesbians has caused disruption in many churches. Does Harris treat the subject in a balanced and honest way? Does he offer fresh insights into the gay and lesbian point of view? Does his depiction of religious leaders who reject gays and lesbians in their churches adequately explore their reasons and motivations?
13. Is the black community is more homophobic than society-at-large? What historical, social, and cultural forces might explain this?
14. From the fight for women's suffrage to the civil rights movement, American society has been changed through citizen-led campaigns for equal rights. Is the gay-rights movement comparable to past struggle for equality?
15. The conflict at the heart of I Say A Little Prayer may remind you of a recent real-life scandal. The Reverend Ted Haggard, the former president of the National Association of Evangelicals, who frequently spoke out against gay rights and same-sex unions, was "outed" by a man who had a sexual relationship with him. Is exposing the hypocrisy of public figures a moral obligation we all share? Are there situations in which such exposure causes more harm than good?
16. I Say a Little Prayer carries a strong political message. Do you think exploring political themes enhances or undermines the power of Harris's fiction?
About this Author
E. Lynn Harris
is the author of the memoir
What Becomes of the Brokenhearted
and eight novels, including
A Love of My Own
,
Just As I Am
, and
Any Way the Wind Blows,
all of which were named Novel of the Year by Blackboard Bestsellers, and
If This World Were Mine
, winner of the James Baldwin Award for Literary Excellence. He is currently writer-in-residence and visiting professor at the University of Arkansas at Fayetteville, and divides his time between Atlanta, Georgia, and Fayetteville.
Suggested Reading
James Baldwin,
Giovanni's Room
; Stephen L. Carter,
The Emperor of Ocean Park
; Rasheed Clark,
Stories I Wouldn't Tell Nobody But God
; Eric Jerome Dickey,
Chasing Destiny
; James Earl Hardy,
A House is Not a Home
; Alan Hollinghurst,
The Line of Beauty
; Victoria Christopher Murray,
A Sin and a Shame
; April Sinclair,
Coffee Will Make You Black
; Carl Weber,
The Preacher's Son
; Edmund White,
The Beautiful Room is Empty
Back to Top