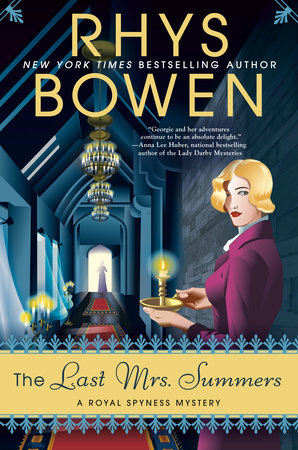 Available ON (08-04-20)
The Last Mrs. Summers
Book 14
Ebook
$13.99
A Royal Spyness Mystery Series :
Titles in Order
Book 14
Georgie is just back from her honeymoon with Darcy when a friend in need pulls her into a du Maurier-like murder in this all-new installment in the New York Times bestselling Royal Spyness series from Rhys Bowen!

Georgie's best friend, Belinda, inherits a spooky old house in Cornwall and asks Georgie to go with her to inspect the property. When they arrive, they meet Rose, a woman Belinda knew as a child when she spent her summers with her grandmother in Cornwall. Belinda never liked Rose, who has always been bossy and a bit of a bully, but when Belinda's house proves to be uninhabitable, Rose invites them to stay with her.

Rose is now married to Tony Summers, Belinda's childhood crush, and lives in the lovely house on the cliffs that he has inherited. Rose confides that she thinks Tony killed his first wife and now she is afraid. She asks Georgie and Belinda to observe Tony's behavior and their surroundings. Is Rose imagining things? Is Tony dangerous? In their quest for answers, they encounter a creepy housekeeper, Mrs. Manners, and learn that some kind of forgotten tragedy occurred on the property years ago involving them all.

There is a lot of strange to go around and things only get weirder–and deadlier–when one night a member of the household is found dead. All clues point to Belinda as the prime suspect. Now Georgie must uncover some long buried secrets that may prove the victim was really a villain before Belinda takes the fall for the murder.
Book 13
Georgie and Darcy are finally on their honeymoon in Kenya's Happy Valley, but murder crashes the party in this all-new installment in the New York Times bestselling series.

I was so excited when Darcy announced out of the blue that we were flying to Kenya for our extended honeymoon. Now that we are here, I suspect he has actually been sent to fulfill another secret mission. I am trying very hard not to pick a fight about it, because after all, we are in paradise! Darcy finally confides that there have been robberies in London and Paris. It seems the thief was a member of the aristocracy and may have fled to Kenya. Since we are staying in the Happy Valley—the center of upper-class English life—we are well positioned to hunt for clues and ferret out possible suspects.
 
Now that I am a sophisticated married woman, I am doing my best to sound like one. But crikey! These aristocrats are a thoroughly loathsome sort enjoying a completely decadent lifestyle filled with wild parties and rampant infidelity. And one of the leading lights in the community, Lord Cheriton, has the nerve to make a play for me. While I am on my honeymoon! Of course, I put an end to that right off.
 
When he is found bloodied and lifeless along a lonely stretch of road, it appears he fell victim to a lion. But it seems that the Happy Valley community wants to close the case a bit too quickly. Darcy and I soon discover that there is much more than a simple robbery and an animal attack to contend with here in Kenya. Nearly everyone has a motive to want Lord Cheriton dead and some will go to great lengths to silence anyone who asks too many questions. The hunt is on! I just hope I can survive my honeymoon long enough to catch a killer. . . .
Book 12
In the days leading up to her wedding to Darcy O'Mara, Lady Georgiana Rannoch takes on the responsibilities of a grand estate, but proving she can run a household just may be the death of her…

If only Darcy and I had eloped! What I thought would be a simple wedding has been transformed into a grand affair, thanks to the attendance of the queen, who has offered up the princesses as bridesmaids. Silly me! I thought that withdrawing from the royal line of succession would simplify my life. But before Darcy and I tie the knot in front of queen and country, we have to find a place to live as man and wife.

House hunting turns out to be a pretty grim affair. Just as we start to lose hope, my globe-trotting godfather offers us his fully staffed country estate. Mistress of Eynsleigh I shall be! With Darcy off in parts unknown, I head to Eynsleigh alone, only to have my hopes dashed. The grounds are in disarray, and the small staff is suspiciously incompetent. Not to mention the gas tap leak in my bedroom, which I can only imagine was an attempt on my life. Something rotten is afoot—and bringing the place up to snuff may put me six feet under before I even get a chance to walk down the aisle…
Book 11
Lady Georgiana Rannoch juggles secret missions from the Queen, her beau, and her mother in this mystery in the Royal Spyness series.

When royal sleuth Georgie Rannoch receives a letter from her dearest friend Belinda, who's in an Italian villa awaiting the birth of her illegitimate baby, she yearns to run to her side. If only she could find a way to get there! But then opportunity presents itself in a most unexpected way—her cousin the queen asks her to attend a house party in the Italian Lake Country. The Prince of Wales and the dreadful Mrs. Simpson have been invited, and Her Majesty is anxious to thwart a possible secret wedding.

What luck! A chance to see Belinda, even if it is under the guise of stopping unwanted nuptials. Only that's as far as Georgie's fortune takes her. She soon discovers that she attended finishing school with the hostess of the party—and the hatred they had for each other then has barely dimmed. Plus, she needs to hide Belinda's delicate condition from the other guests. And her dashing beau, Darcy's (naturally) working undercover on a dangerous mission. Then her actress mother shows up, with a not-so-little task to perform. With all this subterfuge, it seems something is bound to go horribly wrong—and Georgie will no doubt be left to pick up the pieces when it does.
Book 10
Lady Georgiana Rannoch knows nothing is simple when you're thirty-fifth in line for the British crown, but her upcoming marriage proves to be the ultimate complication in the tenth mystery in the New York Times bestselling Royal Spyness series.

As Lady Georgiana's beloved Darcy drives her out of London, she soon discovers that he isn't planning to introduce her to the pleasures of sinning in secret—as she had hoped—but to make her his wife! 

Of course, she'll need special permission from the king to marry a Roman Catholic. Though he will inherit a title, Darcy is as broke as Georgie. Even his family's Irish castle has been sold to a rich American who now employs his father. 

Nothing will deter them from their mission—except perhaps the news that Georgie's future father-in-law has just been arrested for murdering the rich American. With the elopement postponed, they head for Ireland, where the suspect insists he's innocent, and it's up to them to prove it—for better or worse.
Book 9
Thirty-fifth in line for the British throne, Lady Georgiana Rannoch becomes embroiled in royal wrongdoing in the ninth mystery from the New York Times bestselling author of Crowned and Dangerous.

Caught between her high birth and empty purse, Georgie is relieved to receive a new assignment from the Queen. The King's youngest son, George, is to wed Princess Marina of Greece, and the Queen wants Georgie to be her companion: showing her the best of London—and dispelling any rumors about George's libertine history.

The prince is known for his many affairs with women as well as men—including the great songwriter Noel Coward. But things truly get complicated when one of his supposed mistresses is murdered.

The Queen wants the whole matter hushed. But as the case unfolds—and Georgie's beau Darcy, as always, turns up in the most unlikely of places—their investigation brings them precariously close to the prince himself.
Book 8
Lady Georgiana Rannoch is off to solve a Hollywood homicide in the eighth mystery in the New York Times bestselling Royal Spyness series.

England, 1934. Georgie's mother, the glamorous and much-married actress, is hearing wedding bells once again—which is why she must hop across the pond for a quickie divorce in Reno. To offer her moral support, Georgie agrees to go along on the all expenses paid voyage across the Atlantic.

While her mother meets movie mogul Cy Goldman—who insists on casting her in his next picture—Georgie finds herself caught up in the secret investigation of a suspected jewel thief. Lucky for her, the lead investigator happens to be her dashing beau, Darcy!

Her mother's movie and Darcy's larceny lead everyone to Cy's Hollywood home, where the likes of Charlie Chaplin are hanging about and there's enough romantic intrigue to fill a double feature. But they hardly get a chance to work out the sleeping arrangements before Cy turns up dead. As if there wasn't enough drama already…
Book 7
Lady Georgiana Rannoch learns that not everyone knows their table manners when a knife ends up in a duke's back in the seventh Royal Spyness Mystery.

London, 1934. Entrusted by Her Majesty the Queen with grooming Jack Altringham—the Duke of Eynsford's newly discovered heir fresh from the Outback of Australia—for high society, Georgie now has the luxurious opportunity to live in one of England's most gorgeous stately homes. But upon her arrival at Kingsdowne Place, Georgie finds herself in a manor full of miscreants, none of whom are pleased with the discovery of her new ward.
 
Then the duke announces he wants to choose his own heir and causes quite the hubbub. Somewhere along the way Jack's hunting knife ends up in the duke's back. Eyes fall, backs turn, and fingers point to the young heir. As if the rascal weren't enough of a handful, now he's suspected of murder. But while Jack may be wild, Georgie would bet the crown jewels it wasn't he who killed the duke…
Book 6
In the sixth mystery in the New York Times bestselling Royal Spyness series, Lady Georgiana Rannoch cannot wait to ring in the New Year—before a Christmas killer wrings another neck…
 
Scotland, 1933. While her true love, Darcy O'Mara, is spending his feliz navidad tramping around South America and her mother is holed up in a tiny village called Tiddleton-under-Lovey with droll playwright Noel Coward, Georgie is quite literally stuck at Castle Rannoch thanks to a snowstorm.
 
It seems like a Christmas miracle when she manages to land a position as hostess to a posh holiday party in Tiddleton. The village should be like something out of A Christmas Carol, but as soon as she arrives things take a deadly turn when a neighborhood nuisance falls out of a tree. On her second day, another so-called accident results in a death—and there's yet another on her third, making Georgie wonder if there's something wicked happening in this winter wonderland… 

Includes an English Christmas companion, full of holiday recipes, games, and more!
Book 5
In the fifth Royal Spyness Mystery, Lady Georgiana Rannoch discovers that being a minor royal has its privileges when she visits the glamorous—and dangerous—French Riviera…

London, 1933. Her Majesty the Queen is sending Georgie off to Nice with a secret assignment—to recover her priceless, stolen snuff box from the disreputable Sir Toby Groper. Her Majesty's trust is an honor, but an even greater honor is bestowed upon Georgie in Nice when none other than Coco Chanel asks her to model the latest fashions.

Unfortunately, things go disastrously wrong on the catwalk and before Georgie can snatch the snuff box, someone's life is snuffed out in a very dastardly way. With a murderer on the loose—and Georgie's beau Darcy seen in the company of another woman—how's a girl to find any time to go to the casino?
Book 4
A royal wedding brings Lady Georgiana Rannoch to Transylvania and lands her in a truly draining state of affairs in the fourth mystery in the New York Times bestselling Royal Spyness series.

London, 1932. With her hateful brother Binky in town, Georgie has been desperately seeking an escape. So when an invitation from the Queen of England arrives asking her to represent the royals at a wedding in Transylvania—legendary home of vampires—she's delighted to accept. But when the bride starts acting a little batty and a prominent wedding guest is poisoned, something must be done lest the couple's vows become "till undeath do they part…"
Book 3
Lady Georgiana must outwit two clever hunters who are after the Prince of Wales in the third novel in the New York Times bestselling Royal Spyness Mystery series.

Scotland, 1932. Back home until a little London scandal blows over, minor royal Lady Georgiana Rannoch has two equally important objectives. Queen Mary wants Georgie to keep the divorced, American, and entirely unsuitable Wallis Simpson from seducing the Prince of Wales, while Scotland Yard wants her to stop one of the members of the shooting party at Balmoral from turning their sights from the quails to His Royal Highness…
Book 2
Lady Georgiana finds herself in a heap of royal trouble in the second novel in the New York Times bestselling Royal Spyness Mystery series.

London, 1932. Poor Lady Georgiana—thirty-fourth in line to the throne—has nothing to serve her Bavarian princess houseguest, even though the Queen of England has requested that she entertain her. Then there's the matter of the body in the bookshop and the princess's unwitting involvement with the Communist party. It's enough to drive a girl mad…
Book 1
THE FIRST ROYAL SPYNESS MYSTERY!

The New York Times bestselling author of the Molly Murphy and Constable Evan Evans mysteries turns her attentions to "a feisty new heroine to delight a legion of Anglophile readers."*

London, 1932. Lady Victoria Georgiana Charlotte Eugenie, 34th in line for the English throne, is flat broke. She's bolted Scotland, her greedy brother, and her fish-faced betrothed. London is a place where she'll experience freedom, learn life lessons aplenty, do a bit of spying for HRH—oh, and find a dead Frenchman in her tub. Now her new job is to clear her long family name…

A Royal Spyness Mystery Series:

Bundles & Boxed Sets
A Royal Spyness Mystery Series:

Related Titles
Other Series You Might Like
Back to Top
Visit other sites in the Penguin Random House Network