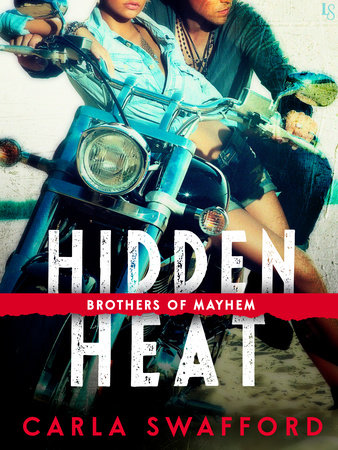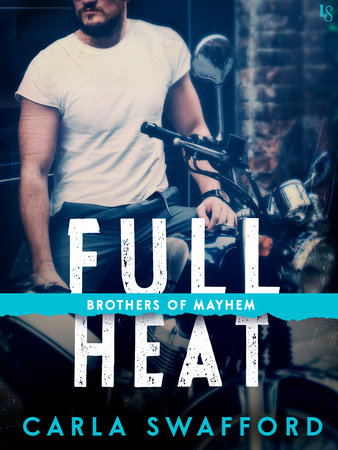 Brothers of Mayhem Series :
Titles in Order
Book 2
From the author of Hidden Heat ("Filled with action, deception, and emotional and sexual tension."—Publishers Weekly), the Brothers of Mayhem MC rides again in an explosive novel of wounded hearts and undeniable heat.
 
Forget shining armor. Motorcycle shop owner Mary Jane Parker could use a knight in black leather right about now. A local gang has been extorting her for protection money, and standing her ground would be a lot easier with the Brothers of Mayhem at her back. She just needs to convince the club's new president to take the job. The powerful, brooding biker claims he's not interested—but if his version of tough love is supposed to be punishment, Mary Jane would gladly misbehave for the rest of her life.
 
Storm Ryder has no interest in rescuing anyone but himself. He spent three agonizing years in prison, and there's no way in hell he's going back, not over a spoiled rich girl who's flirting with trouble. So why does he find himself craving Mary Jane's lips—and holding her close when he should be pushing her away? Deep down in his tortured soul, Storm knows she'll be there for him. And when Mary Jane needs him most, he'll find the courage to give her everything he's got.

Praise for Full Heat
 
"A suspenseful ride with the Brothers of Mayhem . . . Full Heat has plenty of action, angst, and sexual tension to keep you turning pages 'til 2 a.m."—Gillian Archer, author of Ruthless
 
"Full Heat is gritty, emotional and hot, hot, hot! Storm battles the demons of his past as he finds himself drawn uncontrollably to Mary Jane, and I loved getting lost in their world."—Brenda Rothert, author of Blown Away

"[Full Heat] got me in the feels and ended up being a strong read."—The Romance Factor
 
"You definitely don't want to miss the chance to experience to be in the middle of this Storm! It's like nothing I have ever felt!"—Collector of Book Boyfriends & Girlfriends
 
"I have to give Swafford props. . . . Motorcycles, hot guys, leather and well-written love scenes. This book is a win for romance lovers, especially those who enjoy dirty men doing dirty things."—Book Mafia Blog
 
"This installment of the Brothers of Mayhem MC is a fast-paced, enjoyable book."—Romance and Smut
 
"Great story, great ending! Five Stars"—Once Upon An Alpha
 
"Five Hearts . . . Storm and Mary Jane's romance is fast, steamy hot, and it's just a matter of time before they crash. Mary Jane's love is the calm in the raging Storm. Full Heat is a must-read."—I Heart YA Books


Includes an excerpt from another Loveswept title.
Book 1
Sizzling with passion and suspense, perfect for fans of Joanna Wylde and Julie Ann Walker, the Brothers of Mayhem series revs up as a headstrong beauty faces off against an outlaw motorcycle club—and falls for the bad boy she never saw coming.
 
Cassidy Ryder refuses to be intimidated by anyone, even the hell-raising, hard-drinking Brothers of Mayhem. The daughter of their former president, she's not above smashing a few heads to keep her teenage brother safe. But when Cassidy's big mouth gets her in trouble, the only thing that saves her is some quick thinking from the Brothers' bartender. He's commanding and strong, and as smooth as the whiskey he pours: the ultimate temptation for a girl who swore she'd never be a biker's plaything.
 
But Thorn Savalas is no ordinary biker. He's a cop, and he's worked too hard earning the Brothers' trust to blow his cover over a female—even one who rocks a pair of jeans like Cassidy. The only way to protect her is by claiming she's his old lady. Trouble is, Thorn can't just pretend. He wants Cassidy, and every scorching touch tells him she feels the same. But acting on their hottest fantasies could leave them both exposed . . . even if nothing else has ever felt so real.

Praise for Hidden Heat
 
"This savage contemporary is filled with action, deception, and emotional and sexual tension that leave readers panting right up until the highly anticipated climax."—Publishers Weekly
 
"There is plenty in the way of fast bikes, leather, and inside details into the culture of this MC to keep readers invested in the romance."—Library Journal

"A new take on [MC romance with] characters you root for, a villain you can't help but hate, scenes that leave you wondering what else could possibly happen next, and characters you want to know more about in the future books in the series."—Once Untold
 
"This one is spicy, with several detailed and well-paced sex scenes. . . . I loved the romance between Cassidy and Thorn."—The Romance Factor
 
"Irresistible . . . Carla Swafford did a wonderful job creating every single one of the characters. . . . I enjoyed . . . Hidden Heat immensely and I can't wait for the next book of the series."—Collector of Book Boyfriends & Girlfriends
 
"The story was very captivating. It held my attention from the very beginning until the very end."—Itsy Bitsy Book Bits
 
"If you enjoy Motorcycle Club Romance, then pick up Hidden Heat. . . . It's a good solid story, and one I would recommend to anyone who enjoys this genre."—Keeper Bookshelf
 
"A different perspective into the MC lifestyle that offered a nice change from the norm."—Life with Two Boys
 
"I recommend this book if you want strong characters, heat, suspense, and an interesting story."—Stephanie's Book Reports
 
"If you're a fan of MC romance, you've got to read Hidden Heat."—Unwrapping Romance

Includes an excerpt from another Loveswept title.
Brothers of Mayhem Series:

Bundles & Boxed Sets
Brothers of Mayhem Series:

Related Titles
Other Series You Might Like
Back to Top
Visit other sites in the Penguin Random House Network