T. D. Jakes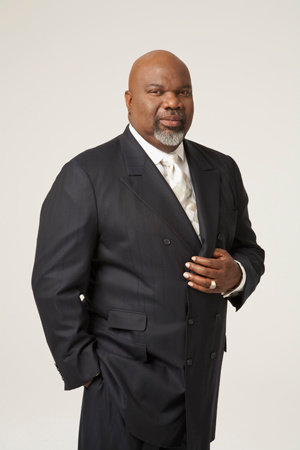 About the Author
Pastor, community advocate, humanitarian, author, songwriter, playwright, conference speaker and broadcaster, Bishop Thomas D. Jakes, Sr. was born on June 9, 1957 in South Charleston, WV. His parents, businessman and entrepreneur Ernest Sr. and educator Odith were charitable benefactors in their community, and to whom their son credits for his own integrity, discipline and self-reliance. From a very young age, he was devoted to the gospel and in 1979, Bishop Jakes began fulfilling his call to the ministry by founding and serving as Pastor of Greater Emmanuel Temple of Faith, a small storefront church in Montgomery, WV, which originated with only 10 members. Now, over 20 years later as a Pastor and some 25 years later serving in the ministry, he pastors what Christianity Today calls "one of America's fastest growing mega-churches." Named The Potter's House, this multiracial, nondenominational church with 48 active outreach ministries has dominated church growth records since 1996. In only five years since relocating the church from West Virginia to Dallas, TX, The Potter's House grew from 50 families to more than 26,000 members to date.
In January, 1999, the New York Times named Bishop T.D. Jakes as "one of the top five evangelists most frequently cited by scholars, theologians, and evangelical leaders to step up the international pulpit behind the Rev. Billy Graham" while Time magazine featured Bishop Jakes on a September 2001 cover and named him "America's Best Preacher."
Often referred to as a "Shepherd to the Shattered," Bishop Jakes has made great strides in Dallas to help turn around the lives of the homeless, drug addicts, prostitutes, single mothers, and others in life-threatening circumstances. In addition, The Potter's House has created programs such as Ravens Refuge, a homeless ministry; Operation Rehab, an outreach to prostitutes; a GED literacy program; the Transformation Treatment Program for drug and alcohol abusers; an AIDS outreach; and a prison outreach. A devoted advocate of religious outreach to prison inmates, Bishop Jakes has been to several prisons to minister in person, most recently at a three-day summer crusade at San Quentin. He also created The Potter's House Prison Satellite Network, which provides gospel programming to more than 325 prisons in 35 states, a viewership of over 275,000 inmates.
To reach the greater religious community, Bishop T.D. Jakes preaches the gospel on his national weekly television broadcast "The Potter's House" on the Trinity Broadcasting Network (TBN), Black Entertainment Television (BET) and the Daystar Network. He broadcasts to international audiences weekly via the Inspiration Network, Christian Channel Europe and the God Channel. His other weekly program in addition to "The Potter's House" is "The Potter's Touch," a daily 30-minute talk show that focuses on many of the pressing topics and situations that affect the church and the Body of Christ. It is seen on both the Trinity Broadcasting Network and Black Entertainment Television.
Bishop Jakes is the CEO of T.D. Jakes Ministries, a non-profit organization that produces three major national conferences – "The Pastor's and Leadership Conference," "ManPower," and "Woman, Thou Art Loosed!" (WTAL). WTAL, a powerful and popular symposium for women that addresses the pain of women of all races and ages, has set national indoor attendance records with 84,500 attendees and an additional 20,000 in overflow at the Georgia Dome in 1999.
He is also the founder of the for-profit T.D. Jakes Enterprises, which employs his other aptitudes as author, songwriter and playwright. A renowned religious author with 26 books to his credit, Bishop Jakes has had 10 of them featured on various Christian, Secular and Business Best Seller Lists. His top five bestsellers are: "Maximize the Moment;" "Woman, Thou Art Loosed;" "The Lady, Her Lover and Her Lord;" "Lay Aside the Weight;" and most recently "The Great Investment: Faith, Family and Finance."
His theatre production company, Touchdown Concepts, created and produced the plays, "Woman, Thou Art Loosed!," and "Behind Closed Doors" which both became a number one gospel play in the U.S. Furthermore, Jakes' music label, Dexterity Sounds, in collaboration with EMI Gospel Music, was created for the purpose of developing music with a divine message. Their first effort resulted in "The Storm Is Over" debuting at number one on Billboard's Gospel chart. In 1998, the "Woman, Thou Art Loosed!" cast album featuring T.D. Jakes on vocals, received a Dove award and a Grammy nomination. Furthermore, Billboard magazine named Bishop Jakes' albums "Sacred Love Songs" and "Live from the Potter's House" among the top Gospel albums of 1999.
Bishop T.D. Jakes is also a columnist on two nationally circulated magazines, "Gospel Today" and "Christianity Today" as well as the largest faith based Internet site in the world, www.beliefnet.com. Bishop Jakes heads two of most widely accessed ministry Internet sites today, www.tdjakes.org and www.thepottershouse.org.
He has been a frequent guest on national news programs as a source of spiritual advice. Presidents and statesmen have frequently asked for his wisdom and counsel. He has ministered or had audience with Texas State Senator Royce West, Representative Eddie Bernice Johnson and the Congressional Black Caucus (as Keynote Speaker in 2000). Most recently, Bishop Jakes was asked by President Bush to meet with 35 other religious leaders to discuss the September 11 tragedy and how to recuperate from it.
Bishop Jakes lives in Dallas with his wife Serita and their five children.