We're going deep inside the making of a book, with interviews from Penguin Random House employees in editorial, marketing, sales, and more.  If you've ever wondered about all the behind-the-scenes work that goes into making your favorite books, this is the series for you.  
Today we're featuring an interview with  Aileen Boyle: VP, Associate Publisher, Director of Marketing and Publicity for Blue Rider Press and Plume. 
What do you think is special or unique about this book? Why will readers want to get their hands on it?
Where to start? In this particular case, the reader should feel free to judge a book by its cover: the contents may turn your worldview upside down, or at least challenge you.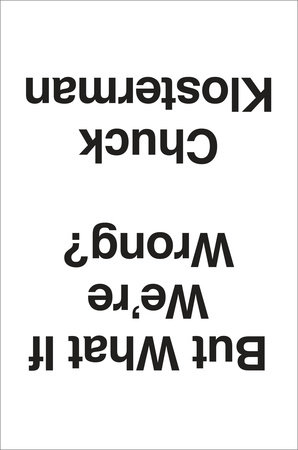 Designer Paul Sahre and art director Jason Booher hit it out of the park – this book could sit under glass at the Whitney and fit right in.  Great design is such a helpful tool for a publicist to get the media's attention as well as to stand out in a bookstore.
Now that we've gotten the reader to pick the book up, what should they expect between the covers?  This is where the fun really begins. Chuck is a brilliant cultural commentator, not only in the way that he makes a point or constructs an argument, but in how he gets the reader thinking. But What If We're Wrong? has something for everyone: literature, music, politics, science, philosophy and more. I'm not a sports person, but the chapter on football is fantastic and now I can drop that knowledge on my brother-in-law (finally).  Other readers will likewise learn a few things, without question. 
How would you describe your job and how you worked on But What If We're Wrong? to a layman? What are some of the steps you take when you first start working on a title?
I'll start with the end goal of my job: to have a reader discover a new book and get interested enough to buy it. 
Booksellers, media and social media influencers are my outside partners to help me reach this goal.   Booksellers have events.  The media does reviews or interviews.  Social media allows us to talk to readers or those they care about directly.  My job, alongside my brilliant team, is to pull all of these levers for a book's publication.
When a dynamic and popular writer like Chuck pens a provocative, forward-thinking book that can be read by a wide variety of people, I've got a lot to work with.   I collaborated with author, publisher, editor and agent to set goals of how we wanted to reach readers and the message we wanted to convey.  We started working on this early –about nine months (or more) ago.  It's exciting to be almost at the point of publication after all of this anticipation in-house.
Describe the book in one sentence.
A book that makes a persuasive case for the importance of doubt – sorely needed in an age where we think we know everything.
Do you have a favorite line from the book, or a section you particularly love?
While there is no material benefit to being right about a future you will not experience "there are intrinsic benefits," Klosterman writes, "to constantly probing the possibility that our assumptions about the future might be wrong: humility and wonder.  It's good to view reality as being beyond our understanding, because it is.  And it's exciting to imagine the prospect of a reality that cannot be imagined, because that's as close to pansophical omniscience as we will ever come."
How closely do you work with the editor, art department, etc. when working on a title?
All members of our imprint work closely together.  Publicity and marketing is the midwife in a book's birth. The book has been gestating for a while– being written, edited, designed, printed, sold in by reps etc. – but then the labor begins, in the form of a publicity tour which can be physically exhausting and maybe even painful at times.  But publicists are there at the crucial moment of publication day (a book's birthday!) and when it's well-received and sells lots of copies, I personally feel happy and proud by association. 
(I might be saying this because my daughter kept me up last night and Chuck and his wife just had a baby, but I think the analogy is apt!)
Read first post in this series here, and find out more about But What If We're Wrong here: