We're going deep inside the making of a book, with interviews from Penguin Random House employees in editorial, marketing, sales, and more.  If you've ever wondered about all the behind-the-scenes work that goes into making your favorite books, this is the series for you.  
Today we're featuring an interview with Cover Designer, Paul Sahre. 
You've worked with Chuck Klosterman for years – how has your approach to designing his cover changed over time?
It's remained remarkably consistent. This comes from the systematic approach I have always taken with his covers. There are a number of rules that have evolved over the years, cover to cover: starting with the typeface, HELVETICA BOLD (all caps). There is usually some structure involving the typography that either interacts with or is set apart from a conceptual image. All of the images we have created for Chucks covers are oblique is a way that I think feels right for the author.
The new cover is a departure in that there is no imagery and we went upper and lower case with the type. But then again, this book is a bit of a departure for Chuck so the cover reflects that. He is dealing with some big ideas here so there is a monumental quality to the cover design that is inverted. Yet it still feels like a Chuck cover.
What were some of your other ideas for this cover? Why did you choose to pursue this particular one?
There was a cosmic thumbs up (or down) depending on how you held the book. There was a typographic design superimposed on a photograph of the cosmos. There was a pretzel in the shape of an infinity symbol and there was a fallen over question mark. I think the best cover won out.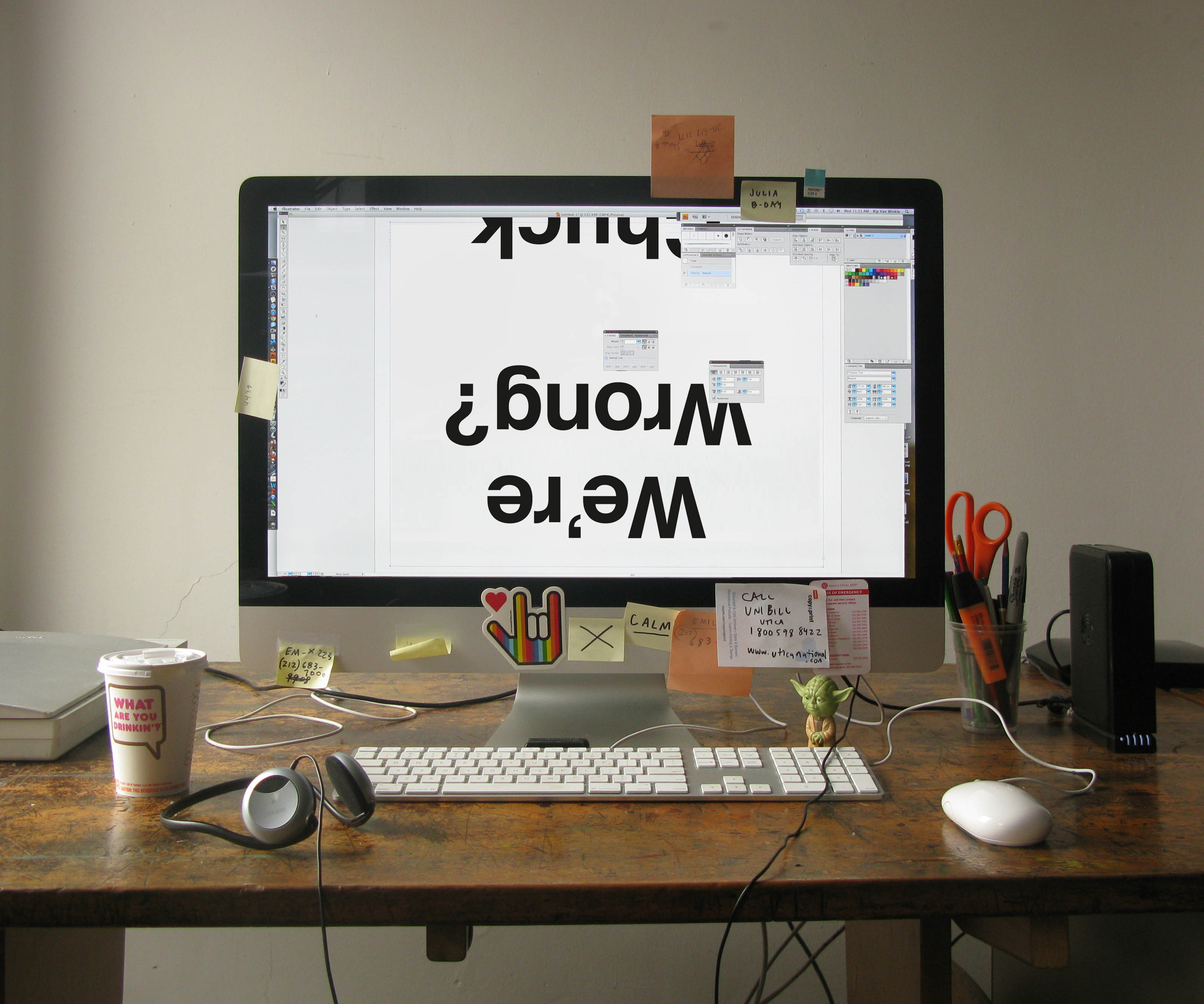 Do you interact with the author when planning your design?
We have never had any direct contact during the design process. His reactions/concerns are communicated through the publisher (editor and the creative director). They sort of act as a buffer, which I've come to view as a good thing. When designer and author get together it often ends badly.
What is your favorite part of your job? What's the hardest?
Covers are interesting because they need to do a number of things at the same time that are sort of at cross purposes. 
On a purely functional level a jacket is there to protect the book, but I also like to think of a book cover as a door. It's the beginning of the experience of reading. 
A book cover should be appropriate, it should feel right (in an unexpected way) but it should also create an experience of its own.
Then there is the packaging (selling) of a book. Covers help sell books, but as the designer I can't be concerned about that when I am designing the book. This is the publisher's job. For me this concern translates more as trying to draw people to the cover in some way. So a good cover should engage. 
Read first post in this series here, and find out more about But What If We're Wrong here: