Features
Brazil with Gabriella Burnham
Discover Brazil with the author of It Is Wood, It Is Stone
Sylvie Rosokoff
Sylvie Rosokoff
Since we can't exactly travel everywhere we hope to right now, we're living vicariously through stories set around the world. We'll be stopping off in different countries this year through the eyes of our authors, including Morocco with Laila Lalami, France with Sanaë Lemoine, South Korea with Michelle Zauner, Indonesia with Jesse Q. Sutanto, Malaysia with Zen Cho, Jamaica with Nicola Yoon, and Antarctica with Maggie Shipstead and Julian Sancton.
Gabriella Burnham is our guide in Brazil! She is a dual citizen of the United States and Brazil. Now a New York resident, she lived in São Paulo as a child and most of her family still lives there today. Her exquisite debut novel, It Is Wood, It Is Stone is about women whose romantic and subversive entanglements reflect on class and colorism, sexuality, and complex, divisive histories.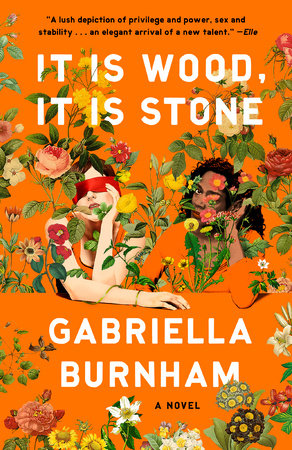 What is one of your favorite memories of living in Brazil?
When I was about nine years old, my family rented a house in Ubatuba, a beach town halfway between São Paulo and Rio de Janeiro. Before we moved to Brazil, I didn't have a concept of family outside of me, my Mom, and my sister. In Brazil, I learned I had cousins, second cousins, third cousins, aunts, a great uncle, and grandparents who all promptly populated my life. It was glorious. In Ubatuba, we spent the days barbequing on the beach, swimming, chasing each other, and falling into giggling piles. At night we made bonfires and the uncles played guitar.
Recently I asked my Aunt Lili, who still lives in São Paulo, if she remembered this trip. She had an entirely different recollection: the days were excruciatingly hot, she told me, and the house was small and without air conditioning. Karina, my youngest cousin, came down with a fever and they had to drive back to São Paulo early. Of course, I did not remember any of this—I was so thrilled to be in close, sweaty proximity to my newly discovered family.
Paraty, Brazil
Gabriella Burnham with family in São Paulo
What is your favorite place in Brazil to visit?
The true answer is my cousin Simone's kitchen with a six-pack of beer and music playing. A close second would be the coast: Toque Toque, Ilhabela, Paraty, Rio. Brazil is so vast in landscape and ecological offering, but since this is about my personal preference, I feel the ocean is intrinsically Brazilian. To me, the sea is where Brazil comes alive.
Brazil is a layered, rich, and contradictory country, one that also appreciates the importance of simple pleasures.
What is one meal you recommend for visitors?
My only regret in becoming a pescatarian is that I can no longer enjoy traditional Brazilian barbeque, churrascaria. Churrascaria is not just food, it is a culinary experience: waiters circle tables with skewers of freshly grilled meat that they slice directly onto your plate (my sister's favorite is picanha). There will usually be a buffet, too, filled with everything from hearts of palm salad, to pão de queijo, to sushi. Brazil has the largest Japanese and African diasporas in the world, and so it is common to find tuna rolls side-by-side West African influenced dishes, like Brazil's national dish feijoada.
Toque Toque beach
Beco do Batman, São Paulo
After living in multiple places, are there any cultural aspects that seem uniquely Brazilian?
In the beginning of The Hour of the Star, Brazilian author Clarice Lispector's final novel, she writes, "Make no mistake, I only achieve simplicity with enormous effort." If it is possible to essentialize a country as diverse and vast as Brazil, it would be as Lispector says—an unfettered life comes from deep contemplation on what it means to live at all. Brazilian artists such as Lispector, Elis Regina, the funk carioca music coming from favelas, and graffiti artists such as Kobra, all investigate these concepts in their work, as do the persistent labor movements and more recent racial justice movements across the country. In Lispector's words, "make no mistake." Brazil is a layered, rich, and contradictory country, one that also appreciates the importance of simple pleasures.
Breakfast at the beach
Trindade, Brazil
Where is home to you?
This question is at the heart of my writing, and especially my novel, It Is Wood, It Is Stone. The closest answer I've come to is, home is where I find safety. But this opens another question: What does it mean to feel safe? Brazil, as a home, is sometimes painful for me. I was not born or raised there, so I will always be an outsider to the place where most of my family is from. Even so, I feel most myself when I consider how my Brazilian identity has shaped me. Brazil is a country with many migrants (my family migrated there from Eastern Europe in the early 1900s) and so there is something quintessentially Brazilian about displacement. Home is a complicated topic, but I can simply say that I have many homes, and Brazil is at the center of each one.
Thank you Gabriella! Discover her novel as well as more books, from classics to travel guides about Brazil below!