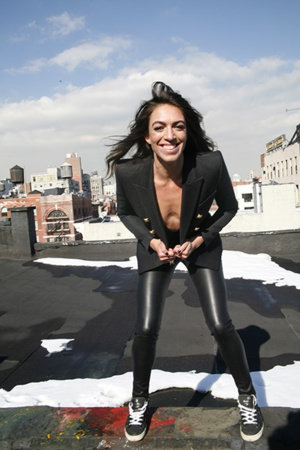 Photo: © Mick Rock
About the Author
Innovator. Entrepreneur. Author. World-Renowned Speaker.    

Raised in Northern California, Lauren Imparato travelled east to the classrooms of Princeton, and upon graduating, to the trading floor of Wall Street.  After stints starting businesses for the firm in New York, London, Istanbul and Latin America, Lauren quit her job as VP of Morgan Stanley Fixed Income in 2009 to self-start I.AM.YOU., a first of its kind health, wellness & fitness company.  Lauren operated and scaled profitable digital, brick & mortar, and cpg verticals, and wrote a multi-country Best Selling book, RETOX (Penguin Random House, 2016)    

Lauren has become revered as one of the globe's top entrepreneurship experts.  She has spoken for audiences of ten thousand on the Great Lawn of Central Park and two to three thousand each in Times Square, Madrid, Barcelona, Panama, opening weekend in Ibiza, the Cannes Film Festival, and more.  Named one of the 100 Women in Wellness and Elle's This is 30, Lauren has been profiled in over 500 outlets including Dr. Oz, CNN, WSJ, Vogue, Bloomberg, Fox Business, Entrepreneur, Success, SELF, New York Magazine, The Financial Times, New York Times, Marie Claire Spain, NY1 Television, TVE, BBC, The London Financial News a full page profile in Life & Style, as well as the cover of marie claire.  Her first blog was selected by tumblr as one of the world's 15 best in the space and went viral twice.  

After ten years, Lauren exited I.AM.YOU. and since advises a portfolio of companies on the nexus of business and brand strategies.  She thrives on creating something out of nothing, and turning back of the napkin ideas into reality.  Lauren additionally writes on Between the Waves (40% open rate), has written her first kid's book, Cookies are Better than Vegetables, and is the Co-Founder of The Association, a first of its kind global leadership community of elite, extraordinary women.   

Lauren holds an Intermediate Level Certificate from the International Wine Center and is fluent in three languages.  She also holds multiple wellness certifications and a BA Cum Laude in Romance Languages and Literatures from Princeton University.