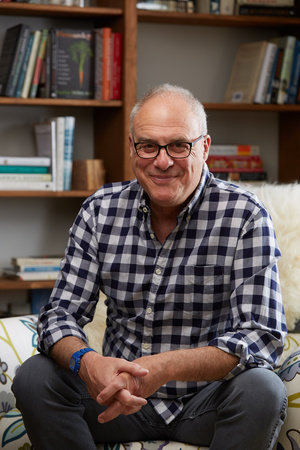 Photo: © Charles Harris
About the Author
When Mark Bittman writes and talks about food, America listens. In his weekly New York Times food column, his monthly New York Times travel features, his bestselling cookbooks, and his award-winning public television series, Bittman grabs our attention–and keeps it.
Bittman's bible of cooking, How to Cook Everything, has sold over a million copies. Dubbed "the new, hip Joy of Cooking" by the Washington Post and winner of both the Julia Child and the James Beard Awards (plus several others), it's a must-have book for every American Kitchen, the favorite of millions of American cooks. In 2005 Broadway Books published his eagerly awaited follow-up: The Best Recipes in the World.
His weekly cooking column, The Minimalist, is followed by more than two million readers, including home cooks and professionals, and has profoundly influenced American cooking since its inception. (Three award-winning cookbooks have resulted from his column: The Minimalist Cooks at Home; The Minimalist Cooks Dinner; and The Minimalist Entertains. These three will be published in an omnibus paperback edition in the spring of 2007, entitled Mark Bittman's Quick and Easy Recipes from the New York Times.)
And when Bittman branches out, his fans follow: his recent New York Times piece on the best of Tuscan food was the paper's travel section's best-read article ever, reaching nearly three million readers.
In the late '90s, Bittman formed a best-selling collaboration with the internationally celebrated chef, Jean-Georges Vongerichten. Their classic book, Jean-George: Cooking at Home with a Four-Star Chef, won a James Beard award and is widely considered to be among the most accessible chef's cookbooks ever published. That was followed in 2000 with Simple to Spectacular, the groundbreaking cookbook that shows readers how to master a basic recipe then take it in almost limitless directions.
Bittman's PBS series, Bittman Takes on America's Chefs, was awarded the Best National TV Cooking Series of 2005 by the James Beard Foundation. In April '07 his second series, The Best Recipes in the World, will premiere. In the fall of '07 Wiley will publish the groundbreaking How to Cook Everything Vegetarian, and Bittman is currently completing the revision of How to Cook Everything, to be published in fall 2008, the tenth anniversary of the original.
A regular on NBC's The Today Show and NPR's All Things Considered, Bittman has been profiled in newspapers and magazines including Food & Wine, Real Simple, People, The Washington Post, the Los Angeles Times, The Boston Globe, The Dallas Morning News and more.
Mark Bittman is working on his first novel, and is a licensed pilot who continues to humbly cook dinner for friends and family several times a week.