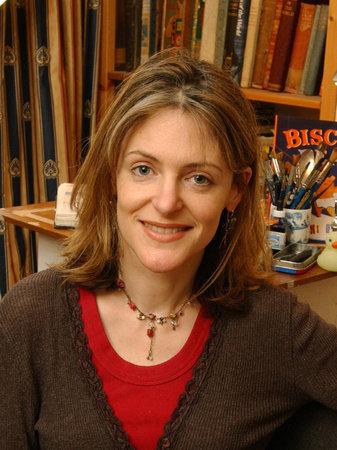 Photo: © David Fleming
About the Author
Mini was born in the front seat of a mini-car in an icy car-park in South Wales. She has two sisters and one brother, and grew up in a village in Buckinghamshire with plenty of places to make camps, climb trees and pretend to be horses. As a child Mini believed no day should pass without making something and created many bizarre objects from cardboard, clay, papier mache, dough, plaster, toilet rolls and crisp packets.

After school Mini did a foundation Course in Art, but knew she wasn't cut out to be a Fine Artist, so did an English degree at University College London. While she was there she became involved with set-building at the Bloomsbury theatre and eventually got asked to design some shows. After finishing her degree Mini worked making latex puppets in a basement in Covent Garden until she was offered a place on a theatre design course. Mini loved theatre designing because she got to make lots of models — and also real things, and paint backdrops, and create costumes. However, she did not earn much money. She trained to be a teacher and worked for six years in South London. She especially liked running after-school clubs in model-making and pottery.

Mini had always done bits of illustration in her spare time, and had an ambition to have a book published some day. She did a two-year MA in illustration, and made a strange pop-up book and an animation about it.
Mini has had four books published so far; The Pea and The Princess was shortlisted for the Greenaway Award in 2204, and her third book, Biscuit Bear, won the Smarties Prize in 2004.

Mini lives in Oxford with her partner Tony and cat Bonzetta. She likes running along the river, cycling, walking up hills, running down corridors, and playing badly on her electric piano wearing headphones.