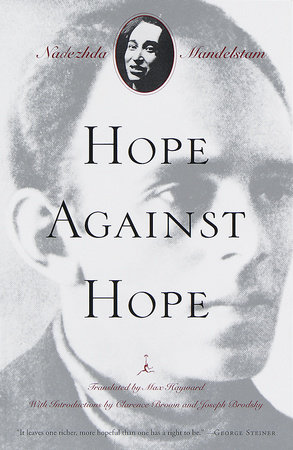 Hope Against Hope
A Memoir
By Nadezhda Mandelstam
Introduction by
Clarence Brown


Translated by

Max Hayward



By
Nadezhda Mandelstam


Introduction by

Clarence Brown


Translated by

Max Hayward




Best Seller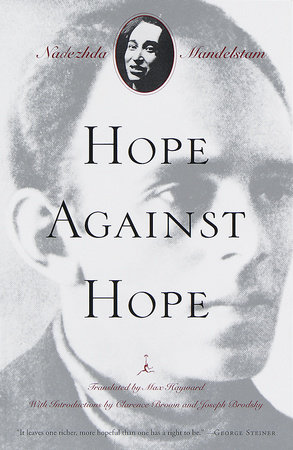 Mar 30, 1999 | ISBN 9780375753169
Buy the Paperback:
People Who Read
Hope Against Hope

Also Read
Inspired by Your Browsing History
Praise
"        Nothing one can say will either communicate or affect the genius of this book. To pass judgment on it is almost insolence–even judgment that is merely celebration and homage."
–George Steiner, The New Yorker

"        Surely the most luminous account we have–or are likely to get–of life in the Soviet Union during the purges of the 1930's."
–Olga Carlisle, The New York Times Book Review

"        No work on Russia which I have recently read has given me so sensitive and searing an insight into the hellhouse which Russia became under Stalin as this dedicated and brilliant work on the poet Mandelstam by his devoted wife."
–Harrison E. Salisbury

Of the eighty-one years of her life, Nadezhda Mandelstam spent nineteen as the wife of Russia's greatest poet in this century, Osip Mandelstam, and forty-two as his widow. The rest was childhood and youth."
                So writes Joseph Brodsky in his appreciation of Nadezhda Mandelstam that is reprinted here as an Introduction. Hope Against Hope was first published in English in 1970. It is Nadezhda Mandelstam's memoir of her life with Osip, who was first arrested in 1934 and died in Stalin's Great Purge of 1937-38. Hope Against Hope is a vital eyewitness account of Stalin's Soviet Union and one of the greatest testaments to the value of literature and imaginative freedom ever written. But it is also a profound inspiration–a love story that relates the daily struggle to keep both love and art alive in the most desperate circumstances.

Nadezhda Mandelstam was born in Saratov in 1899. She met Osip Mandelstam in 1919. She is also the author of Hope Abandoned (1974). She died in 1980. Nadezhda means "hope" in Russian.
Back to Top